Manassas, Va. —  A group of flight training school owners from multiple states along the East Coast and Mid-Atlantic region met recently as Diamond Flight Center Development Council members to plan their further growth and market expansion.
The group focused on their growth strategies, flight center best practices and utilization of Diamond programs such as DiamondShare and Lease & Learn, officials noted.
The group also explored training tools to offer their students, exchanged information about business operations and recognized outstanding achievements in flight center development among their group.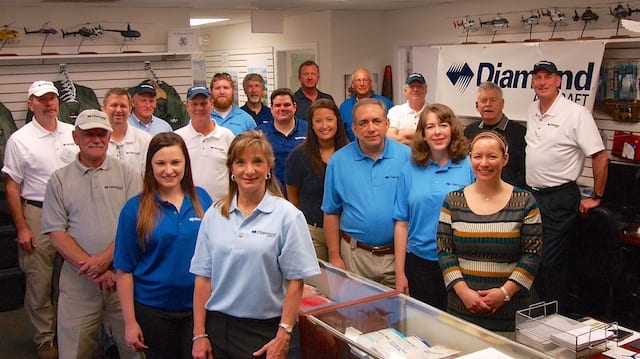 Marking the second annual meeting of the Diamond Flight Center Development Council, John Armstrong, president of the Diamond Regional Distribution Center (DRDC), Dominion Aircraft Sales, applauded the group's progress and their contributions to support each other's growth.
"Though the market continues to be challenging, this group has much to celebrate," he said. "Flight centers in our group opened new locations, added maintenance capabilities and expanded their fleets in the last year. The concept we envisioned of flight center owners working together to increase the potential of the entire group is having visible results and is highly valued by the participants."
The Diamond Flight Center Development Council has grown to double digits and includes flight centers from over a half dozen states, he noted. The group is led by Dominion Aircraft Sales, the Diamond Regional Distribution Center for the East Coast/Mid-Atlantic Region.
Ann and Kevin Rychlik and their team at American Aviation and American Helicopters at Manassas Airport served as the council meeting hosts. American Aviation provided the participants with a tour of its fixed wing and helicopter operations and provided the group logistics and meeting accommodations at their corporate offices near the Manassas airport.
"We enjoyed the opportunity to share with the group what's worked for us and hear what's working for them," stated Ann Rychlik, president of American Aviation. "The process is something we really enjoy and believe in."
Brant Howell of SML Aviation in Roanoke, Virginia, with his strategic partner Danny Kane of Kane Aviation in Salem, Virginia, was recognized with a Top 2013 Outstanding Achievement Award. In their second year of participation, they enhanced their existing Diamond fleet by adding a DA42, and two DA40s plus adding a service shop in Roanoke. They expanded from their main location in Roanoke to add a second flight training location at Lynchburg, Va.
Council members from Blue Line Aviation of Raleigh, N.C., Trey and Kelsey Walters, along with Ray Walters, were recognized with a 2013 Outstanding Achievement Award for their work and dedication to develop as a Diamond Flight Center. Blue Line started in late 2012 and dedicated themselves to offering flight training in a fun community atmosphere.
The group also recognized Glenn Lawler of SouthTec Aviation and Stuart Dillon of Dillon's Aviation for their Dedication and Exceptional Support.  
DFC Council members in attendance included:
Randy Fleming – AlphaOne Air Service; Salisbury, NC
Frank Hicinbothem – Freeflight Aviation; Medford, NJ
Brant Howell – SML Aviation; Lynchburg, VA and Roanoke, VA
Danny Kane – Kane Aviation; Salem, VA
Glen Lawler – SouthTec Aviation; Salisbury, NC
David Noble and Bob Bickford – Noble AirVentures; Stow, MA
Teen Rawls – Dillon's Aviation; Greenville, NC
Kevin and Ann Rychlik – American Aviation and American Helicopters; Manassas, VA
Trey and Kelsey Walters, and Ray Walters – Blue Line Aviation; Raleigh, NC
For more information: GlassPlane.com