"In the uniquely different manner the event is managed, there is the freedom to explore and innovate by any volunteer."
That's how Karl "Bud" Davidson begins his recounting of SUN 'n FUN's 40 years in a new book, "Unfreeze Your Bird: The History of SUN 'n FUN" debuting at SUN 'n FUN this year.
Bob Hoover put it another way: "SUN 'n FUN always felt like a homecoming for me…a warm, welcoming place to reconnect with friends and my aviation family; a real home-away-from-home where everyone knew everyone's name."
Therein are the two touchstones of SUN 'n FUN's 40 years — selfless individual initiative and a warm inviting atmosphere that welcomes all aviators.
The first is easily quantified in the hundreds of chairmen and thousands of volunteers who not only operate the event, but largely created what we see at SUN 'n FUN today. Paid staffers number only 21. There are 390 volunteer chairmen in numerous roles and thousands of volunteers doing everything from picking up trash to working at the museum.
Long-time executive director Billy Henderson provided Davidson with much of the early history of the fly-in, documenting the work of the Florida Sport Aviation Antique and Classic Association (FSAACA) and area chapters of the Experimental Aircraft Association (EAA) in SUN 'n FUN's genesis. That's fitting, since Lakeland local Henderson and his wife Adair were among key names in SUN 'n FUN history.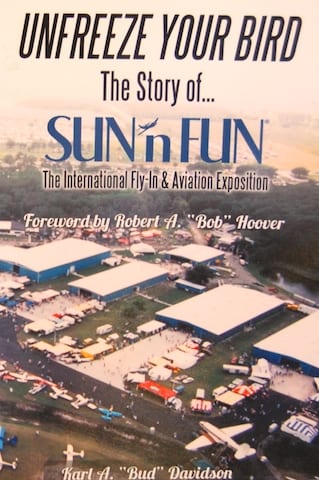 Others range from longtime board chairman Bill Eickhoff, now chairman emeritus, and early advocate "Duffy" Thompson, who is still on the board, to aviation pioneer Matty Laird (yes, that Matty Laird.)
But SUN 'n FUN was — and is — the creation of people too numerous to mention. They are exhaustively documented in Davidson's book.
Among early foundations was action by the local Antique Aircraft Association chapter to "go independent." That produced the FSAACA, which also became EAA Antique and Classic Division, Chapter 1.
Area EAA chapters were heavily involved in SUN 'n FUN's beginning. And those heading those chapters sought out the vast airshow and fly-in experience of EAA President and founder Paul Poberezny.
Martin Jones became SUN 'n FUN's first president, with Billy Henderson running the fly-in. A group led by Rocky Sawyer pioneered early development of today's SUN 'n FUN grounds, to which the event moved in 1977 from the airport's north side. (Now you know: SUN 'n FUN's Rocky Road has nothing to do with an ice cream flavor.)
Key early participants put up "about $150 apiece" to get started, according to Davidson's book.
More importantly, Davidson notes, "When someone set about to accomplish some idea, they soon found themselves listed as that chairperson." The original 30 chairpersons grew by Year Four to some 80, many self-funding their particular improvements to the event.
The first SUN 'n FUN was a three-day affair in January 1975. It was for EAA members only and attracted 1,980 guests and 365 planes. Winter bad weather in Northern Florida deterred some out-of-state arrivals, but SUN 'n FUN was billed early-on as a great winter break, combinable with Disney World, Cape Canaveral and Cypress Gardens visits.
Organizers also encouraged "early birds" to arrive a month or two in advance to help prepare the event. Hundreds of SUN 'n FUN Early Birds still do.
Nagging issues would be perennial, including: Would the event be EAA-only, pilots-only or open to the public? (Fences keeping the non-pilot public away from visiting planes finally disappeared completely in 2008.) How much airshow? How much trade show? The event would eventually be subtitled, "International Exposition and Fly-In." By 2004, more than 500 commercial exhibitors were participating, a number matched at this week's fly-in.
Then there was the question of SUN 'n FUN's official relationship to EAA. A 1989 agreement was re-negotiated as EAA separated itself from regional events, reportedly due to liability concerns. By then, SUN 'n FUN boasted significant assets it wanted to protect. The two organizations would emerge as "associated" but not "affiliated."
After the first fly-in in 1975, organizers knew "some accommodation of the non-flying public (had) to be considered." Among "non-aviation people" made to feel less than welcome, there was none other than EAA President Paul Poberezny — denied entry when unable to produce his pilot certificate. He left it in his airplane.
Moving the event to today's more spacious grounds in 1977 eventually facilitated public attendance. Parked aircraft could be safely segregated from non-pilots. The location also offered large taxiway and ramp areas left over from the airport's World War II days.
But some clean-up was required, volunteers even had to recover spent aircraft ammunition from the gun calibration range behind today's PILOT MALL Aviation Superstore.
By 1978, SUN 'n FUN was the nation's second largest fly-in after Oshkosh.
As SUN 'n FUN grew during the presidency of Oshkosh-savvy Leonard McGinty, would it stay "small and informal?"
Billy Henderson's influential view was this: SUN 'n FUN would follow the Oshkosh model IF it could retain its relaxed Southern hospitality. (It has).
SUN 'n FUN also began to pursue year-round events and links with the local community. The permit allowing a company picnic for workers at the airport's Piper factory kicked it off.
Davidson believes airshows at SUN 'n FUN began in 1977. The field was closed from 4 p.m. to 5 p.m. so attendees could show off their planes in flight. In subsequent years, several airshow acts and fly-bys were staged, including a previously banned formation of RVs and the famed races to altitude by Bruce Bohannon's Pushy Galore or Exxon "Flyin' Tiger," and Jimmy Leeward's 1600-hp P-51. Featured performers soon included the likes of Tom Poberezny, Leo Loudenslager and Kermit Weeks. Molt Taylor's Aerocar would be a most memorable SUN 'n FUN fly-by.
In 2000, Bob Hoover would perform here his last aerobatic show in the Rockwell Shrike Commander. Charlie Hillard, the first American to win the World Aerobatics Championship, would die in his Hawker Sea Fury in a freak 1996 post-show nose-over while taxiing in.
It wasn't long before January weather issues suggested a change in dates. It actually snowed during SUN 'n FUN 1977. The 1980 fly-in was moved to March.
Attendance doubled by 1985. Economic impact skyrocketed to $7.5 million that year. The Seaplane Pilots Association made arrangements for an associated "Splash-In" at Lake Parker. EAA Warbirds of America won formal participation. Suzy Eickhoff pioneered activities for women, starting with the Ladies Pavilion.
Other innovations followed, including the Airside Ground Safety "follow-me" motorcycles in 1983.
The event moved to April in 1988. By 1990, there was an extensive new campground called the "Back Acres."
By the late 1980s, air traffic controller Wayne Boggs — today, SUN 'n FUN's legendary Air Boss and director of operations — had begun to organize a cadre of FAA controller to keep arrivals and show flying in order. A photo back then shows a tongue-in-cheek banner on a truckload of FAA controllers reading, "We are here to help you – or else!"
The SUN 'n FUN grounds were reconfigured innumerable times. New buildings sprang up as the show grew exponentially. Four vendor hangars were erected one at a time through 1990, a fifth more recently. The FAA building arose in 1996. Clubhouse Row along Longcoy Creek was created in the 1990s by relocating the OX-5 and Quiet Birdmen buildings, later joined by Silver Wings, the 99s and EAA. More recently, SUN 'n FUN Radio was added to this line-up, abandoning its former trailer. The radio station also celebrates a milestone anniversary this year: 20 years.
Education was an objective enumerated in SUN 'n FUN's first official document. Many believe an early 1970s EAA chapter project, restoration of Matty Laird's Super Solution race plane, began the march towards today's museum, education and youth programs.
Beginning around 1982, a SUN 'n FUN Museum took shape in Hangar A. A charitable foundation was created in 1986 for further development. The dedicated museum building opened in 1992 as the International Sport Aviation Museum. An early coup was its acquisition of the Howard Hughes aviation memorabilia collection in 1996. The adjacent outdoor amphitheater, known by all as the Pavilion, was ready for the 2000 fly-in.
Emphasis on education was pushed further into the 21st Century by astronaut Greg Harbaugh, a SUN 'n FUN vice president through 2006. Harbaugh's long-range education plan would "drive SUN 'n FUN into the future," beginning with the inspired work of Barbara Walters Phillips.
Stunning advances then and later — from the Tom Davis Education Center to the three-story Central Florida Aerospace Academy — have made those words an understatement.
SUN 'n FUN's institutions — its events, innovations and personalities — make SUN 'n FUN what it is. The Corn Roast has prevailed since the first fly-in, for years so appropriately facilitated by volunteer Ralph Cobb. An early volunteer-built building (of so many) is the iconic "Little House on the Prairie," now demoted from flightline fixture to camping area registration. The daily luncheons and after-show Groundloop (now Tail-Dragger) Party still soothe tired volunteers. Early Bird volunteers are now supplemented by Yearly Birds" who work unpaid year-round.
Even the crummy jobs took on cache. Fred Varn, known around here as "Mean 'Ol Fred," put panache into his role enforcing SUN 'n FUN's camping rules on the ever-increasing numbers of volunteers.
Those doing unenviable "beautification work" — read trash collection — developed an esprit de corps of their own as "Rena's Refuse Raiders" boasting prestigious "Trashcan Wings." Even a courtroom judge from up North became a Refuse Raider, observing, "My God, if you can make people proud to pick up garbage, you've got something going!"
There were many marriages among the staff and volunteer corps. SUN 'n FUN's first paid employee, Wynn Dias, became Mrs. Ralph Nobriga. Bonnie Boyte became Bonnie Perkins, as well as the first chief of merchandising and later heading commercial vendor exhibits. They were many women in key roles, including long-timers Pat Quinn, Jo Thompson, Donna Bartlett Nattrass, Diane Smith, Sandy Spanier and Ann McKee.
Change and challenge have been constants over these 40 years. Billy Henderson retired from SUN 'n FUN in 2000. New executive director (later, president and CEO) John Burton promoted a period of great growth, but had to handle SUN 'n FUN's disastrous 2011 tornado. Current president John "Lites" Leenhouts has since charted a new, visionary course emphasizing education and the year-round activities.
Throughout, SUN 'n FUN progressed because of the devotion, innovation and plain hard work of true believers too numerous to honor here by name.
As Bob Hoover recently said, "Many things around the world have changed, and aviation with them…but it's great to know that we pilots will always have a place like SUN 'n FUN to call home."
Derived from Karl "Bud" Davidson's new book, "Unfreeze Your Bird – The History of SUN 'n FUN," available at the PILOT MALL Aviation Superstore and on Amazon.com