Adventure Pilot has launched iFly GPS for Android. iFly GPS is available on the Google Play Store and the App Store with a 30-day free trial.
Annual subscriptions start at $69.99, a fully-loaded IFR option is available for $40 more.
iFly GPS for Android works on most tablets and phones operating Android 4.0 or higher.
iFly GPS is full-featured on both the Android and iOS platforms, according to company officials. The app is designed to enhance the flying experience through a comprehensive and intuitive user interface, complete with larger buttons and text.
States Walter Boyd, president of Adventure Pilot: "We've had an incredible response from pilots wishing to beta test our app. We've seen thousands of downloads and have proven success across hundreds of device types. Pilots are telling us they love the charts, the features, the ease of use, and they love how we listen and respond. Creating a world class navigation app for Android is a critical priority for us, and I believe we have delivered on that goal."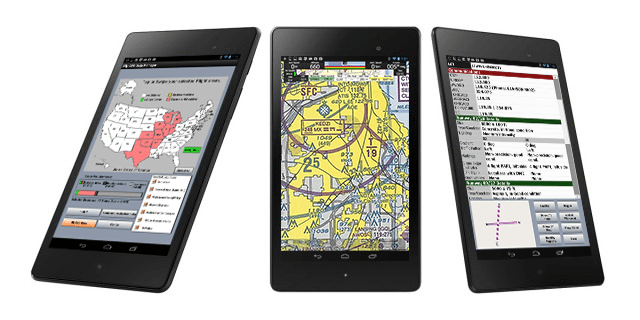 As planned, the iOS, Android and iFly GPS models will share the same look and functionality starting later this Spring, according to company officials.
iFly GPS for Android delivers the same moving map navigation found on the iPad version with features like Geo-Referenced Hi-Def Charts, Approach Plates, de-cluttered Vector Mode, AutoTaxi+, RealView and more.
Both Android and iPad versions include the company's Hi-Definition VFR and IFR Charts for improved readability. For gamer or simulator pilots, iFly GPS is endorsed by X-Plane for GPS and is fully functional when using an Android tablet in conjunction with X-Plane Flight Simulator, company officials noted.
iFly GPS offers ADS-B Transceiver integration, allowing the pilot to change the squawk code, ident and more, all within the iFly GPS App.
Adventure Pilot and SkyGuardTWX have partnered to offer the portable Vision-Pro ADS-B Transceiver on iFlyGPS.com store at a $100 savings for iFly GPS customers.
iFly GPS for Android is also compatible with Dual, Clarity, iLevil, NavWorx, SkyRadar, and SkyGuardTWX ADS-B receivers.
For more information: iFlyGPS.com