Silent Falcon UAS Technologies (SFUAS), a former subsidiary of Bye Aerospace, announced a transition to the production phase of its Silent Falcon unmanned aircraft system.
The patent-pending Silent Falcon is a solar/electric, all composite, modular small Unmanned Aircraft System (sUAS) with an interchangeable wing configuration designed for commercial, public safety and defense applications.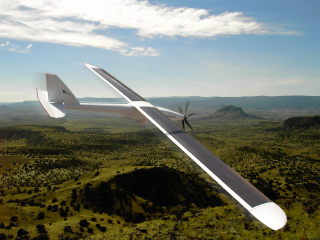 In 2010 Bye Aerospace created what is now SFUAS, capitalizing the company with a prototype electric unmanned aerial vehicle (UAV) and initial design work on solar electric hybrid propulsion.
The combination of efficient aerodynamic design, lightweight composite construction and advanced solar energy collection gives 25 lb. Silent Falcon UAS a remarkable 6 to 12 hour flight endurance.
"The Silent Falcon's unprecedented performance and value is ready for the market place as we have commenced low rate initial production, said John Brown, president of SFUAS. "Our relationship with our marketing team gives us an immediate, powerful sales organization," said Brown, noting that Silent Falcon sales teams are targeting domestic, Latin and South Asia region trade shows in the next few weeks.
Bye Aerospace, founded in 2007 and headquartered near Denver, is applying clean energy solutions to innovative aircraft designs for the general aviation and defense markets.
For more information: ByeAerospace.com