Quest Aircraft Co. unveiled its new Summit Executive interior at SUN 'n FUN last month.
The top-of-the-line interior features club seating with a recline function, folding tables, forward cabinets, enhanced soundproofing and other amenities. The Summit, which is expected to be fully certified during the second quarter, is a derivative of the Timberline interior.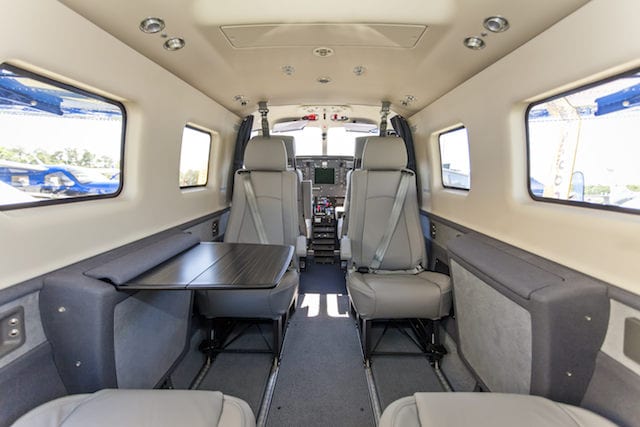 Last year, Quest enhanced both the Timberline and Tundra interiors. The changes included refining the headliner to give the cabin a more open feel and replacing the Kydex panels with composite panels, contributing to a weight reduction and improving the useful load. S
everal other new amenities, which are incorporated in the Summit, were added to the Timberline, including storage pockets in the sidewall beside each chair and cupholders, both in the cabin and the cockpit. The cockpit chairs in all three interiors feature an improved headrest and center pedestal closeouts have been added.
All three interiors are available in a warm beige and cool gray color scheme. The KODIAK on display at SUN 'n FUN featured the gray interior and showed the aircraft in a five-place cabin configuration.
The Summit will be available on new KODIAKs coming off the production line following certification and can also be installed in existing KODIAKs with minor modifications.
For more information: QuestAircraft.com