Embry-Riddle Aeronautical University and Cessna Aircraft Co. have signed a long-term purchase agreement that includes the delivery of 29 Cessna Skyhawk model 172S aircraft this year and 28 next year to upgrade the school's current Skyhawk flight-training fleet at its campuses in Daytona Beach, Fla., and Prescott, Ariz.
"The Skyhawk is the workhorse of our flight program," said Jerry Kidrick, chair of the Flight Department at the Prescott Campus. "The aircraft is reliable, tough, forgiving in the learning environment and is a proven design similar to the first production aircraft. A typical student gets the majority of their cumulative flight time in the aircraft at completion of their time with us."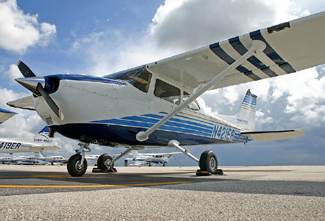 Kidrick's counterpart at the Daytona Beach Campus, Ken Byrnes, agrees.
"With its time-tested design, the Skyhawk is integral to our mission of developing the finest aviators on the planet. We've also found Cessna's customer support very responsive and professional.
The new fleet features such modifications as reconfigured seating for easier student observation and ride-alongs and a newly branded paint scheme to be used on the new Cessna aircraft at both campuses.