Two new watches from Sporty's Wright Brothers collection free you from batteries.
The Citizen Eco-Drive Field Chronograph and the Citizen Eco-Drive Avion never need a battery. Citizen Eco-Drive technology harnesses the power of light, and converts it into energy, which is stored in a rechargeable lithium-ion cell. The batteries recharge continuously in any kind of light.
The Citizen Eco-Drive Field Chronograph has a stainless steel case, a scratch-resistant mineral glass crystal, and a black dial with silver tone luminous hands and white markers.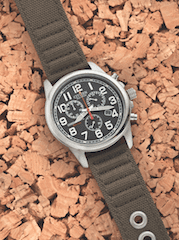 The Field Chronograph has an olive strap, a charge indicator, a time reset advisory, a date window and a one-second chronograph that measures up to 60 seconds. It is water resistant up to 100 meters with a case that measures 40 mm wide by 10 mm thick.
The Citizen Eco-Drive Avion is a vintage-inspired timepiece reminiscent of transatlantic flights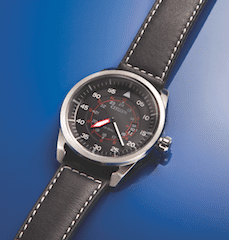 from the 1950s. With a black leather strap with contrast stitching and buckle clasp, the watch face features oversized luminous numbers and date function. Other Avion features include 12/24 hour time, insufficient charge warning, quick start function, minute markings at the 5s, hour, minute and second hands, and quartz movement. Measuring 45 mm wide by 12 mm thick, the Avion is water resistant to 100m.
"One word of caution to our customers," says Sporty's Vice President John Zimmerman. "There are cheaper watches which have knocked off the look of Citizen so don't be deceived by reproductions. Sporty's is an authorized Citizen dealer and these watches come with a five-year guarantee.
The Citizen Eco-Drive Field Chronograph [2886W] is available for $189.99 and the Citizen Eco-Drive Avion [2053W] is available for $185.