Saturday at the U.S. Sport Aviation Expo in Sebing, Florida, dawned sunny and warmer. The show itself seemed sunnier with a weekend crowd. I can't understand why organizers scheduled so many weekdays and omitted the Sunday of a three-day holiday weekend. The trade show element (industry meetings, et. al.) can surely be done on Thursday and Friday, leaving Saturday and Sunday for good weekend crowds.
Although Saturday attendance wasn't what I'd call robust, there were people enjoying and learning about aviation. I was happy to see some of the stalwarts of the Light-Sport Aircraft (LSA) world holding their own.
Staff attending the Sport Cruiser, the Searey amphib and many other ready-to-fly favorites were busy explaining their wares. The successful Cub-clones were much in evidence, of course.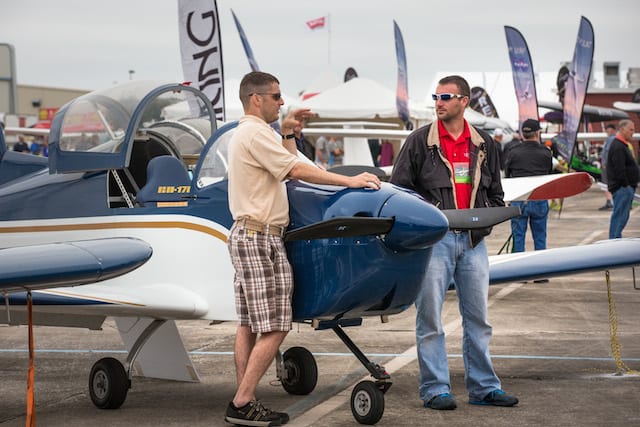 Understand: Sebring is still a small show hanging its hat on a largely capital-poor industry. But Sebring also offers a peek at what could be. Exhibit A is the airport's newest tenant, the substantial new home of Tecnam USA.
An impressive office and hangar building now houses assembly operations for everything Tecnam builds in Italy and ships to the U.S. The clean-as-a-whistle facility also serves as showroom for Tecnam's product line, from neat taildragger and impressive modern singles to its Rotax-powered twin.
Around the show, I was drawn to the beautiful shape of the Stelio Frati-designed F-30 presented by KIT Airplanes of America of Dublin, Georgia. Fans of the SIAI Marchetti SF-260 aerobat will know what I mean. You may have seen a photo of the F-30 in aviation magazines when it was new.
As I admired the Italian beauty, along comes old pal and aero consultant Bob Anderson to comment on the F-30's solid, all-metal frame and titanium trailing link landing gear. Bob said there were just two planes at this Sebring grabbing his attention, and this was one of them.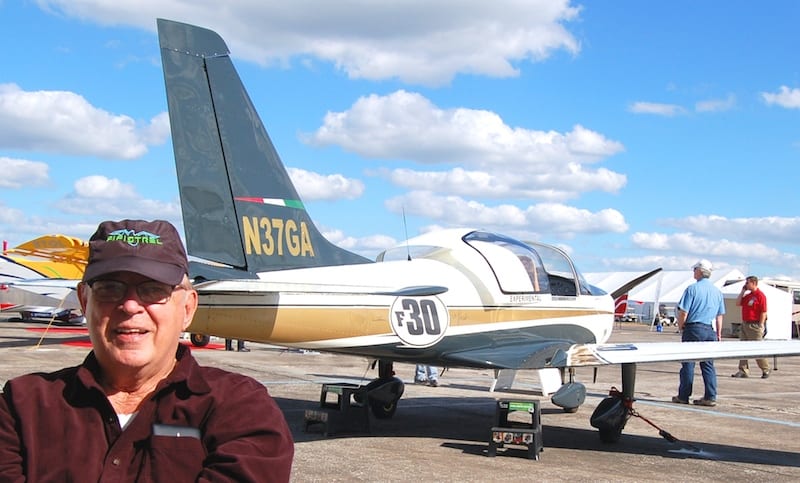 Approaching 80 now, Bob goes way back in GA and aerospace. He was a regular at General Aviation Manufacturers Association meetings and other gatherings pondering the secrets of mass-appeal GA products and flight training. In recent years, he's advised many an emerging effort on building affordable aircraft for a national flight training chain. Addressing the perceived weaknesses of some products for student training, Bob noted the likely durability of that F-30 airframe and its tough main gear. And those looks would certainly attract customers.
I just stared at KIT Airplanes' sole demonstrator (F-30 Serial Number 004CE from Golden Avia in Italy) and its fetching, curved instrument panel. Pride of ownership alone would justify this purchase, I thought. I was further intrigued when KIT Airplanes' Arthur Childers cited the hypothetical resale of a finished kit for $120,000. That would be a nice LSA north of $100K!
Anderson also clued me in on the Commuter Craft booth in the exhibit tent. Here, they showed off what's been cooking in Woodstock, Georgia, north of Atlanta.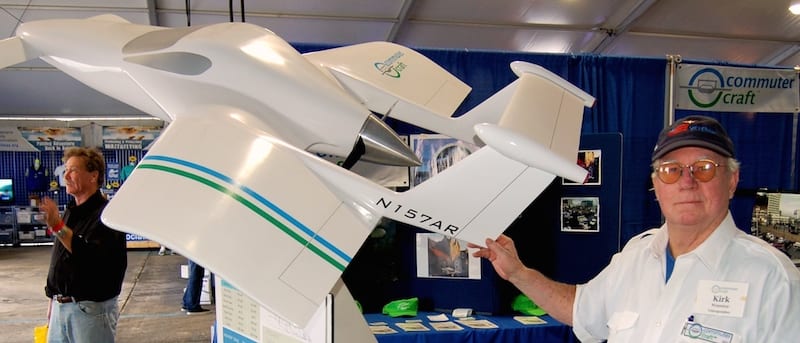 A large model illustrated the Commuter Craft's three-surface layout. An interior section hinted at a remarkably wide cabin for two. Their fuzzy retouched photo depicted Commuter Craft's eventual solution to wing folding for economical storage or flying car concept.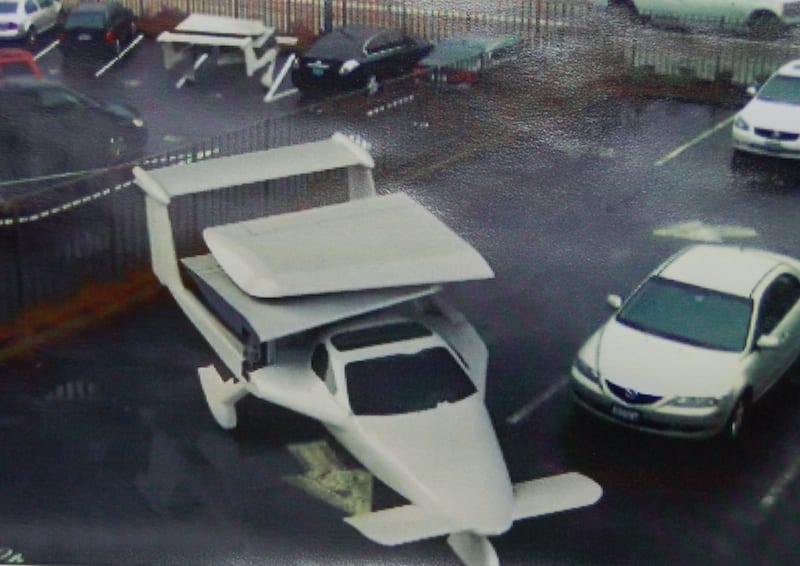 We'll see where this goes. They want to fly soon. You do have to build it yourself, but they propose a builder-assist/fast-build methodology.
Wandering the show, I lastly came across one of those beautiful LSA production fuselages in new form. It was the Bristell USA taildragger with its alluring, swooping lines culminating at a tailwheel. The versatility of composite construction allows all these innovative shapes. But throughout the LSA world, practical issues of durability and repair demand careful examination.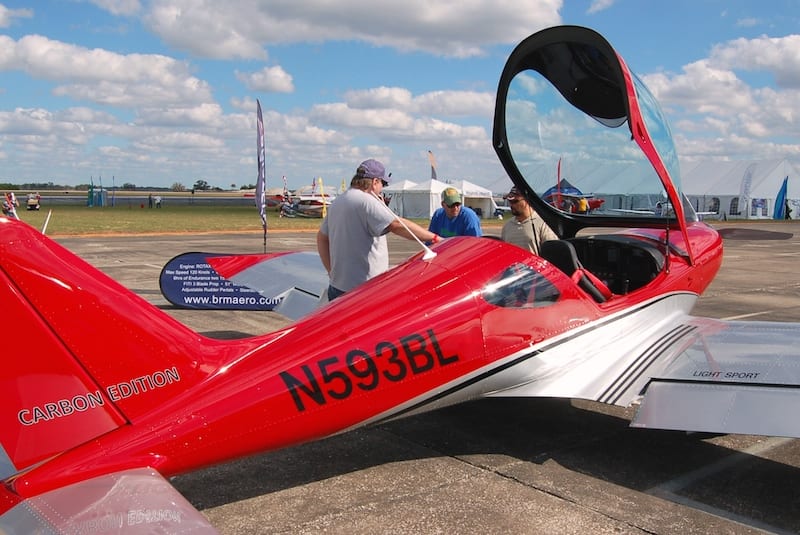 So does the issue of how the Sebring show is doing. According to one long-time observer, this year's crowds were way down. I think organizers would do well to de-emphasize the weekdays and hold a Thursday- or Friday-to-Sunday event.
And they could do a formal tie-in with the famed Sebring International Raceway next door. Concurrent with the LSA show was frequent weekday racing at the Skip Barber driving school there. On Saturday, the venue was really hopping with the Sports Car Club of America's Central Florida Region race weekend. Both would be "active lifestyle" attractions. (I saw quite a few airplane people dawdling in the parking lots to watch the nearby racing.)
I took advantage of open access to the race event, drove around the infield paddock, found some great spectator corners and reveled in memories as the track announcer barked out lead changes. All the while, local Oldies station AM 1050 pumped my car radio with some of the best old Rock-n-Roll I'd heard in ages. Couldn't we put all this together in a fun package?
As I motored north at dusk, I relaxed. Busy U.S. 27 through Sebring and Avon Park turned into the freshly paved "Claude Pepper Highway" honoring this area's long-lived Congressional legend. The drive went quickly this time. I began to think I'd be back, perhaps for the fabled 12 Hours of Sebring race (March 18-21) or maybe another go at the U.S. Sport Aviation Expo.
This year, organizers heeded sage advice and expanded the concept into "the Affordable Aircraft Show." Next year, perhaps there will be more execution on that theme, more promotion, and perhaps some smart tie-ins to draw a larger crowd down U.S. 27.
See Part 1 of this series here.
© 2015 Drew Steketee All Rights Reserved