ASA has seven new apps for Android operating systems to help students study for the Private, Instrument, Commercial, Flight Instructor, ATP, Helicopter, and Multi-Engine checkrides, as well as an app for pilots preparing for a Flight Review.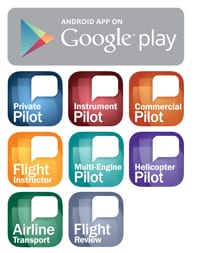 Based on the Oral Exam Guide Series by Michael Hayes, ASA Checkride Apps list the questions most likely to be asked by examiners, and provide responses, according to ASA officials. The apps use a question and answer flashcard format.
Each app is $9.99 on the Google Play store.