Garmin has unveiled Garmin Vantage, a family of existing Automatic Dependent Surveillance-Broadcast (ADS-B) solutions for a variety of aircraft, including experimental, general aviation, helicopter, business and transport category aircraft.
For aircraft without modern display technologies, the GDL 84 presents many aircraft owners with a cost-effective solution to meet NextGen requirements without the need to overhaul the panel of the aircraft, Garmin officials said.
The GDL 84 offers experimental and general aviation aircraft an all-inclusive option to wirelessly display weather and traffic on a mobile device, while meeting regulatory requirements for ADS-B Out when operating below 18,000 feet.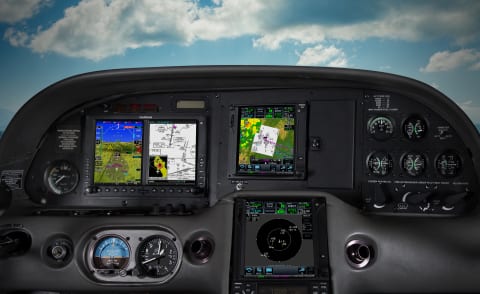 Additionally, for aircraft owners who do not already have a compatible WAAS GPS position source on board their aircraft, the GDL 84 offers a built-in WAAS GPS receiver.
The GDL 88 goes one step further to provide the benefits of ADS-B on a compatible display installed in the panel.
These Garmin Vantage ADS-B solutions are approved for hundreds of aircraft makes and models.
Thousands of customers already equipped with Garmin avionics in their panel are provided an upgrade path to meet ADS-B airspace requirements.
Aircraft owners who already have a GTX 330 or GTX 33 transponder can pursue an Extended Squitter (ES) upgrade for $1,200 (plus installation). When paired with a compatible WAAS position source, this upgrade provides the transponder with the appropriate transmission capabilities to meet ADS-B Out requirements. For GNS non-WAAS customers, a path is available to upgrade existing avionics to WAAS for use as an approved ADS-B Out position source.
Many aircraft manufacturers are pursuing transponder-based solutions such as the GTX 33 ES, which are becoming available as an ADS-B Out compliant option for aircraft with a WAAS-enabled Integrated Flight Deck. For aircraft without WAAS, the GDL 84 can offer ADS-B Out compliance and ADS-B In capabilities for display on a mobile device. Garmin continues to work on solutions for Integrated Flight Decks that will be made available to aircraft manufacturers.
Garmin Vantage ADS-B solutions are further extended to experimental amateur-built and light sport aircraft (LSA). Pilots who install the non-certified G3X and G3X Touch systems can become ADS-B Out compliant with the remote-mounted GTX 23 ES transponder, when paired with an approved WAAS position source, such as a GTN touchscreen navigator. Transponder control is provided on the display of G3X and G3X Touch, giving pilots convenient access to this remotely installed solution.
Minimally intrusive ADS-B solutions provided by Garmin Vantage are available to aircraft owners who do not wish to modify the panel of their aircraft. The GDL 84 and GDL 88 contains patented AutoSquawk wireless interrogation technology, which interfaces with existing equipment to synchronize the squawk code between the transponder and the ADS-B Out solution, eliminating the need to install a separate dedicated UAT control panel. These Garmin Vantage ADS-B solutions interface with a wide range of general aviation transponders so pilots are offered flexibility without the cost of a major installation.
Garmin plans to conduct a series of online ADS-B webinars for customers. These webinars will discuss the technicalities surrounding ADS-B, address commonly asked questions and highlight a variety of Garmin Vantage ADS-B solutions that can help aircraft owners receive added safety benefits while satisfying global ADS-B requirements.