We're all connected…somehow. A July 1987 entry in my logbook proves it.
I was barely 17 years old and had flown our 1946 J-3 Cub on July 17 from our airpark home – Shady Acres – to the annual Arlington Fly-In. My logbook notes, "massive headwinds, heavy x-wind when landing." At this point, I was still a student pilot, and was signed off for the 70-mile cross country flight two days before.
In those days, as now, we attended the Arlington Fly-In to meet with subscribers, advertisers and have some fun.
Mom and Dad had been at the fly-in since the start and I flew up to be with them for the weekend.
As often happens at these types of events, we reconnect with old "fly-in friends" and also make new ones.
Those "fly-in friends" would lead to a flight of four Cubs leaving together Southbound on the show's closing day. We all had different destinations, but for the first 40 or 50 miles, we'd fly together.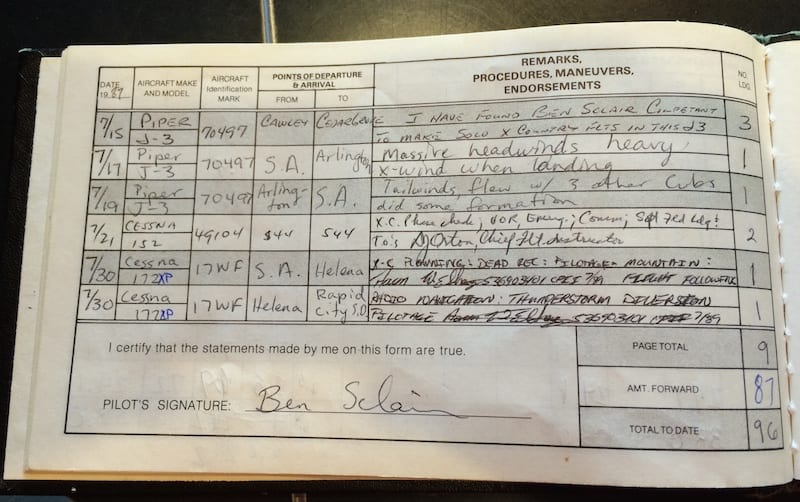 July 19, 1987, Piper J-3 Cub, N70497, Arlington to Shady Acres, "Tailwinds, flew with 3 other Cubs did some formation," one landing, .9 flight time.
Fast-forward 27-plus years later…I'm in need of a Flight Review.
A friend recommends a local airline pilot and flight instructor named Ryan Weir.
Like me, Ryan grew up on an airpark, Crest Airpark in his case, and is a hopeless airplane addict.
Like all good instructors, he tailored the Flight Review to my style of flying. Low, slow and local.
Flight Review accomplished and the Cub safely tucked away, and a cold beer now in hand, we embarked on an age-old pilot tradition…hangar flying.
Having grown up in the same aeronautical area, we had a few common experiences. Ryan then asked, "Do you remember flying home from the Arlington Fly-In, years-ago, with three other Cubs?" On the spot, it rang true, but that memory was hazy. After all, that was a long time ago. "Yeah, I seem to recall that," I replied.
"Well, my Dad was flying one of those Cubs and I was with him in the front seat." Turns out Ryan was 11 at the time.
See, my logbook proves we're all connected. Thanks for the Flight Review Ryan. I look forward to making a few more memories — hopefully with our kids in tow.