You know the drill. The neighbors complain about the airport because it's populated entirely by spoiled, rich white guys who get their kicks by flying low over the neighborhood and making lots of noise.
We can disagree, we can explain, we can put thousands of hours of effort into going door to door to tell our story – but none of that will change the general public's disdain for the local general aviation airport. We're the pariah of the municipality. Noisy, expensive, and very nearly useless.
Or at least that's how most of our neighbors see us.
There is another perspective of course. And it doesn't have to be limited to the aviation enthusiasts among us.
Consider this: The airport offers wide open spaces and plenty of parking. Often the field is completely fenced in, which can make it an outstanding venue for large events that are open to the public — the same members of the public who see no good use for the airport.
Ladies and gentlemen, may I introduce you to the Golden Opportunity of your dreams. It's called the Wingin' It Festival — a celebration of great food, live bands, beer tents, wine tasting, and general awesomeness that airports around the country would do well to emulate.
The Wingin' It Festival 2015 is slated for Winter Haven's Gilbert Airport (KGIF), on Friday, April 10, and Saturday, April 11. Come see it for yourself and fact check me on the whole thing. You'll be glad you came by, I have no doubt.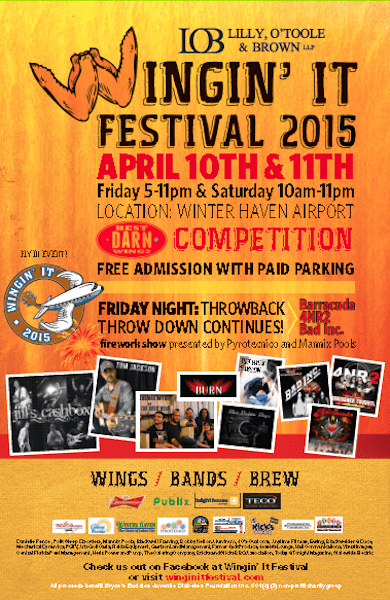 The thing of it is, Wingin' It isn't really a party, even though it looks like one, feels like one, and sounds like one. It's actually a fundraiser for Bryce's Buddies Juvenile Diabetes Foundation, a 501(c)(3) non-profit. The goal of this grass-roots, family-based organization is to help the families of children diagnosed with Type 1 diabetes to live as normal a life as possible. They work to finance, educate, and nurture support groups for those afflicted and affected. They provide scholarships to diabetic summer camps. Bryce's Buddies has also been involved with dispensing insulin pumps, medical co-pays, diabetic supplies and even gift cards for food and gasoline needed by families who already have so much to deal with.
As I said, the Wingin' It Festival looks like a party, but it's not. It's an amazingly heartfelt effort to help people in need, and to have a good time in the process.
Imagine the audacity of using your local general aviation airport as ground zero in a program designed to gather thousands of people together to have a good time, raise a stake for the coming year, and do some real good for kids and families that could really use a helping hand. The fact that guests have one heck of a good time is beside the point. Or maybe it is the point. I can't tell. Either way, it's a great time held specifically to fund a great organization – and it happens once a year at Gilbert Field right here in my home town of Winter Haven, Florida.
Understand, the organizers of the event are not pilots. But by holding the annual event at the airport, on a large grassy expanse of land in clear view of the highway that runs beside the field, they can accommodate tremendous numbers of visitors who arrive on two or four wheels. Being located within sight of the runways and ramp also means those who wish to fly in can do so just as easily as the automotive based visitors can. Maybe even more easily.
Wingin' It is held on the airport because doing so maximizes the entertainment factor while simultaneously providing guests with the most diverse and attractive transportation options possible. It's genius. It's fun. And you can feel good about every dollar you spend on chicken wings, cold beverages, and sundry items of interest while you're there.
Who knows, folks might even wander into the main terminal building and find the restaurant, the FBO, the rental car office, or the airplane ride business. They might just come away with a rosier picture of what general aviation is all about. All because the airport and the event organizers went out of their way to welcome non-pilots onto the airport grounds in large numbers.
Over time there is no doubt the value of the airport has been enhanced because of events like the Wingin' It Festival. For the pilot population, it gives us one more destination to visit, and one more good reason for having a vibrant and well run airport on the outskirts of town.
For the non-aviation centric community, it provides an opportunity to get up close and personal with the airport, without any pretense of going flying or needing to understand any aspect of aviation. Yet they get a great view of airplanes, seaplanes, and helicopters taking off, flying the pattern, and landing.
It doesn't take much imagination to consider what it must be like to pilot an aircraft, as guests wander the grounds, eating, drinking, dancing, and enjoying each other's company. Literally thousands of people who haven't set foot on the airport grounds all year, find a reason to drive over, park nearby, and spend the day in an aviation rich environment – all for a good cause.
Now that's progress. That's good use of a public facility. That's what general aviation can do for a community, when we put our minds and our facilities to the task in an imaginative and welcoming manner.