By IVY McIVER.
Talking about flying with non-pilots reminds me of just how foreign the concept of general aviation is to most people.
The ease of traveling in one's own airplane is wildly different from most non-aviators' experiences of flying. I remember being in the front row at a comedy show, and the comedian began his routine about how painful commercial travel had become by asking the audience "who likes flying?" Without thinking, I nodded and smiled — of course I like flying! Cue the relentless teasing and heckling.
But what many non-pilots don't know is that there is an exceptional network supporting the flying community and making air travel enjoyable and convenient.
A private pilot can walk out to a plane, takeoff and fly to a destination, land and borrow a car, drive to a nearby restaurant for lunch, return to the airport and fly home — all without filing a flight plan or organizing a rental car. Quite amazing when you stop to think about it!
When I talk about the network of FBOs and amenities that are available to private pilots, I am peppered with questions: You can just borrow the car? They have coffee and cookies waiting for you? You can sleep there? There is a fireplace and a TV? Yes! Sometimes. Other times, it is not so glamorous.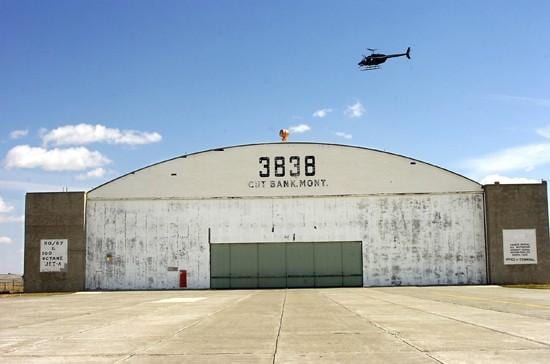 One winter evening, I landed in Cut Bank, Montana, to clear customs. The customs officer, the only other soul at the airport, reviewed my required documents and asked if I was staying the night or heading elsewhere. I explained that I was planning to fuel quickly and continue my flight to Salt Lake City. As the officer walked to his car and drove away, I taxied to the fuel pump, topped off my tank, and re-checked the weather on my iPad. The weather was starting to deteriorate and since my route flew over harsh mountainous terrain, I decided that staying the night would be preferable to continuing the flight that evening.
I tied down the plane and walked across the ramp to an old, empty, dark building with no one inside. I was getting hungry, I was pretty tired, and the airport was not walking distance from anything, so I was hoping to find a more inviting FBO.
Inside, around the corner from the front desk, I found a small room with a single bed and a mini fridge with 2 cans of beer. While beer for dinner and a free place to sleep sounded like a viable option, I did manage to find the keys to the crew car attached to a clipboard. I left a note explaining that I would be back before 8 a.m. and drove into town, where I secured a hotel room and had dinner at a local restaurant.
The crew car in Cut Bank was a red van with 150,000 miles on it and a driver's seat that listed slightly to the left. It paled in comparison to the brand new Hummer H1 I had once borrowed from the FBO in Cedar City, Utah, but was infinitely nicer than the grey Lincoln in Moab, Utah, that required a screwdriver and a battery cart with jumper cables to get it started.
To date, my favorite crew car is the AMC Eagle in Great Falls, Montana. Affectionately called "The Babe Magnet," I drove it to the Montana State Fair where I ate fried Oreos and watched the rodeo, but sadly did not attract any babes.
There have been other times when I was not fortunate enough to secure a crew car or a hotel. I landed in Pueblo, Colorad0, after a long day of flying, looking forward to a good night's sleep and some food that did not come from a vending machine. The FBO had closed for the night, so after I secured the plane I called a nearby hotel to ask if they had an airport shuttle. I was told they did not have a shuttle nor did they have any rooms available. Subsequent calls to other hotels yielded the same result: There were no vacant hotel rooms within 200 miles of the airport due to a big car show in town.
After several more phone calls, I managed to cobble together a plan of sorts. I called a taxi and went into town for dinner, then came back out to the airport where I was told there was a hangar at the end of the taxiway near the FBO that might have a couch in it. As I walked by the FBO, I tried the door and found that it was unlocked!
The inside was clean and nicely upgraded with leather recliners in the pilot lounge and a freezer full of ice cream in the lobby. It may as well have been the Ritz Carlton. I slept so soundly that I barely stirred when the LifeFlight pilots arrived for their flight the following morning.
Sometimes, I'm just looking for fuel and a snack. On a recent flight from Minnesota to Washington, I planned to make a fuel stop in Montana. When I called ahead to inquire about their hours, I was assured that they would be open when I arrived, but when I taxied to the FBO I could see that there were no lights on inside nor was there any activity on the ramp. I popped inside just to see if anyone was around, but the FBO was quiet and dark, so I fueled the plane myself. By the time I was done I could not feel any of my fingers.
I ran back inside to thaw out and grab some dinner — Peanut M&Ms and a Diet Coke — but the vending machine was broken. "See font desk staff" read the note on the glass.
I had another long leg ahead of me and was really hoping to find a snack, so I looked behind the front desk, but was unsuccessful. I had been in and out of the building for about 15 minutes in total, so imagine my shock when I turned the corner near the restroom and a dark figure emerged from the doorway at the end of the hallway.
I screamed, he gasped and turned on the light, and the only thing I could manage to say was: "I'm just looking for some candy."
I'd like to think that he was just as startled as I was, but I didn't stick around to find out.