Sporty's Instrument Proficiency Check and Flight Review Apps are now available for Android.
Using a visual menu system, the Instrument Proficiency Check app is divided into six subject areas and 27 individual video segments. Based on Sporty's Instrument Rating Course, the IPC app contains more than 160 minutes of 3D animations and in-flight video.
The Flight Review App is also divided into six segments and 42 topics, including aeromedical factors, airspace, publications, regulations, airport signs and markings, and weather. Each of these areas is then broken down to sub-topics within each category.
"The combination of these two apps provides a focus for your flight review prep," says Sporty's Vice President John Zimmerman. "The menu system allows you to hone in on your weaker areas to make the most of your test prep time."
Both apps also include interactive review quizzes to reinforce key concepts. The Instrument Proficiency Check app comes with a bonus: The FAA publication "Instrument Proficiency Check Guidance." This guide is useful for both students who are getting ready to complete an instrument proficiency check, as well as for flight instructors preparing to give one, he noted.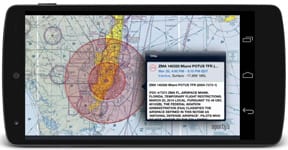 These two apps, which join Sporty's existing Flight Review and Instrument Proficiency apps for iPad and iPhone, work on Android phones and tablets.
Sporty's Flight Review Android App [91005A] is available for $29.99 and the Instrument Proficiency Check [91006A] is available for $39.99. Both may be purchased at Sportys.com or at the Google Play Store.