EAA AVIATION CENTER, OSHKOSH, Wisconsin — The "Mystery Box" from last year's Gathering of Eagles fundraiser at EAA AirVenture Oshkosh is heading to Georgia to benefit an education program for young people, thanks to the combined efforts of the Experimental Aircraft Association, Sonex Aircraft, and longtime aviator Ron Alexander.
The contents of the "Mystery Box" — a full Sonex Aircraft kit — was officially handed to Alexander by EAA and Sonex during a program at this year's SUN 'n FUN. The kit will be used as part of the youth mentorship program at historic Candler Field in Williamson, Georgia, designed to inspire and support young people with an interest in aviation.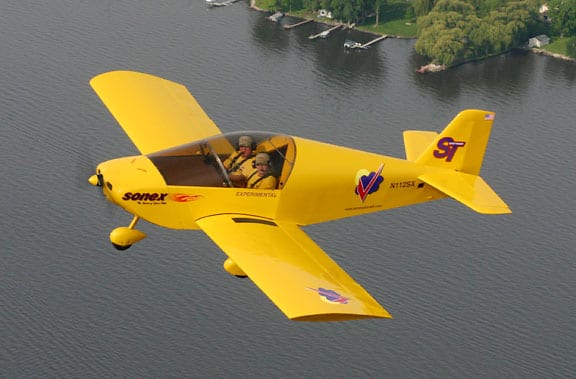 "I can't imagine a better home for this aircraft kit than the Candler Field Youth Mentorship Program," said Jack Pelton, EAA's chairman of the board. "It shows how what we do at Oshkosh during the Gathering of Eagles brings all of us together for a single purpose and has a direct influence on developing a new generation within aviation."
Following SUN 'n FUN, the aircraft kit will be delivered to Candler Field, which is located just south of Atlanta. Later this year, it will become part of a program that teaches aircraft building and restoration skills under the supervision of adult leaders.
The Sonex aircraft was auctioned on July 31, 2014, and purchased by bidders who donated it back for an educational purpose.
Alexander, who is renowned for his interest in aviation history and education, represented the Candler Field youth mentorship program. Alexander is a major force in the preservation of Candler Field, located just south of Atlanta, and establishment of the Peachstate Aerodrome and aviation museum there.
"We at Sonex truly believe in making flying affordable, attainable and fun," said John Monnett, Sonex founder and president. "We know that this project will get young people to that 'A-ha' moment when they discover the how that they can put something together that will take to the sky. We're excited to watch the progress of our aircraft as it takes place."