By ROB STAPLETON
In its most successful Aviation Hall of Fame to date, the Alaska Aviation Museum honored Oren Hudson, George Pappas, and Frank Dorbandt at the Wings of Freedom Hangar at Merrill Field on March 26 in Anchorage. About 300 people attended the event, which included a sit-down dinner and live and silent auctions.
"This is by far the most successful Hall of Fame that the museum has ever produced, "said Shari Hart, executive director of the museum. "We owe a big thanks to board president Chuck Miller and past president Bill Odom and all of our sponsors and donors who supported this fundraiser for the museum."
Museum staff said the fundraiser exceeded the museum board's goal of raising $50,000, with auction items that raised nearly $60,000.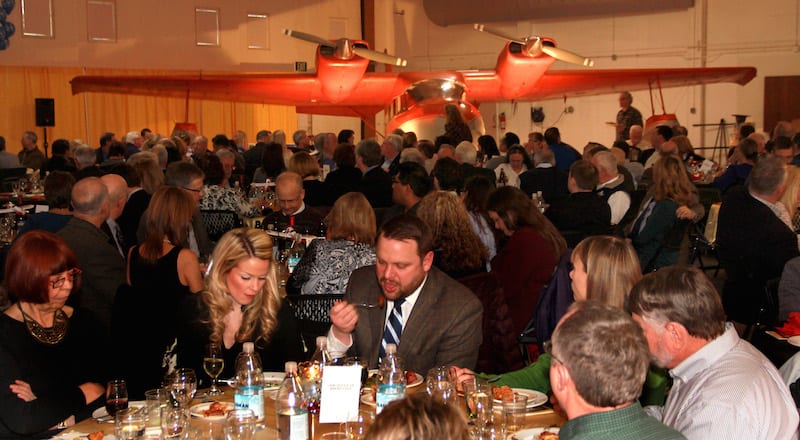 Honorees Hudson and Pappas, whose lifetime accomplishments were presented by video, were hailed to the stage by emcee and museum board member Rick Morrison. Hudson, Pappas and Dorbandt received legislative citations form the State of Alaska and plaques commemorating their contributions to Alaska aviation history in front of their families, friends, and fellow aviators.
Legendary pioneer pilot Dorbandt (born Floyd Andrew DeHay) was honored as an "Explorer and Pathfinder Pilot." He died in 1935 after a career of flying for the Army, working at the Stinson aircraft company, as a pilot for Wien, and the founder of Ptarmigan Airways. He also flew Father Hubbard, "the Glacier Priest," around Alaska.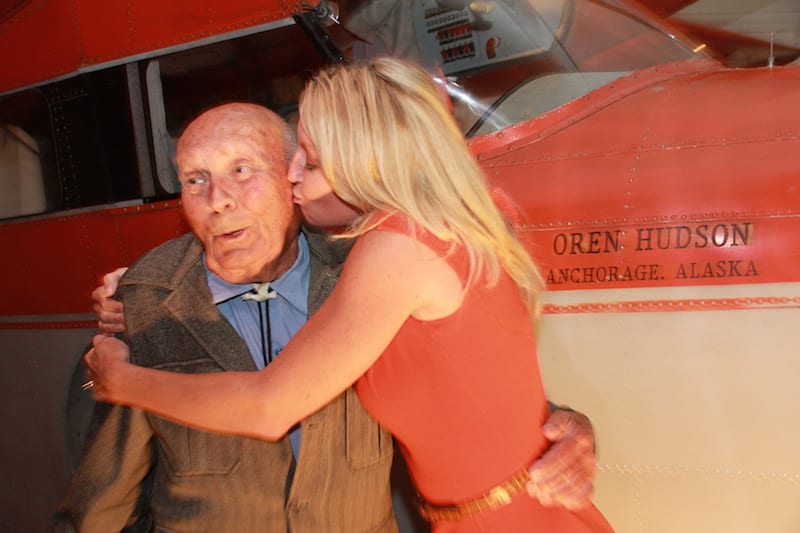 Oren Hudson, who settled in Iliamna in 1949, was honored as the "Entrepreneur Builder and Pilot." He celebrated 50 years of ownership of a Widgeon, N302, and his accumulation of more than 36,000 flight hours. During his career, Hudson flew dozens of life and death medical evacuations at any time of night or day in all kinds of weather.
Now 94, Hudson has served as national president of the exclusive OX-5 Club, and he is still the president of the Alaska Wing of that organization.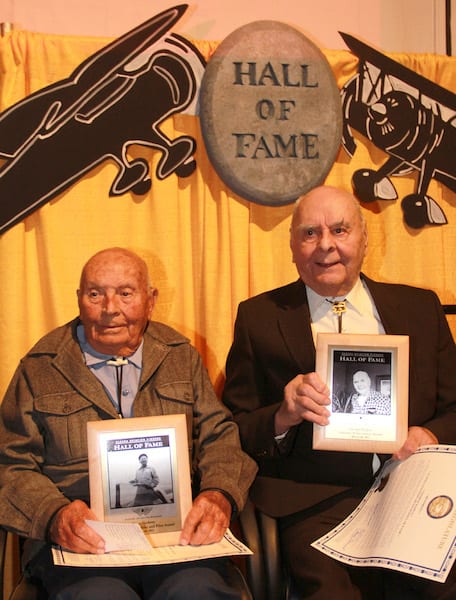 George Pappas, nicknamed "the Wizard of Sheet Metal," repaired many aircraft, ranging from Taylorcraft to Twin Otter and the Grumman Goose. He also modified the wing tips of Northern Air Cargo's DC-6s so that they would fit into the company hangar.
He was honored with the "Lifetime Achievement Award for Outstanding Contributions to Alaska Aviation" in the Merrill Field hangar that he once owned, and was originally built by Reeve Airways. Pappas donated hundreds of hours of his time and talents to the Alaska Aviation Museum by fabricating parts for many of the museum's airplanes.
Funds raised at the event will be used for new exhibits that will feature notable Alaska aviation greats such as Noel Wien, Bob Reeve, and Alaska Native Bush Pilots.