This is not your grandfather's Mooney …
The distinctive "backwards" tail remains, but a full-scale mock-up of Mooney's new M10 model, which made its U.S. debut in April at SUN 'n FUN, revealed an important part of the company's vision for the future.
Dr. Jerry Chen, Mooney's CEO, wants pilots to progress from trainers to high speed cruisers while staying within the Mooney product line.
"The M10T and M10J are bringing new technology and innovations to general aviation and Mooney aircraft that have not been seen before," said Chen, a native of Taiwan who came to the U.S. in 1996 for college.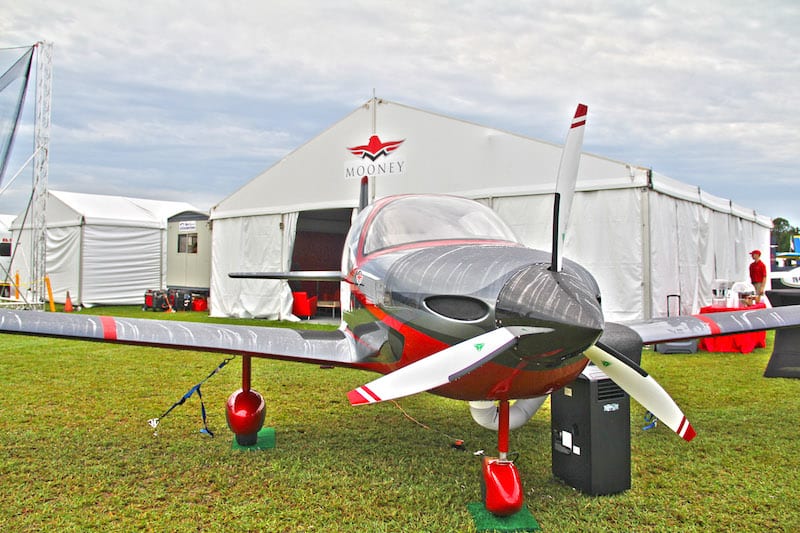 As anticipated, the new model will eventually be made in China.
"The M10 will be certified in the U.S. and made in the U.S. first," noted Chen. "In the future, we will manufacture the M10 in China to serve the Asian markets. The future western market will still be fulfilled by Mooney factories in the U.S."
The two new smaller and less-expensive M10 models represent significant firsts for Mooney, with modern carbon fiber construction, double doors, side-stick controls and Continental turbocharged diesel engines.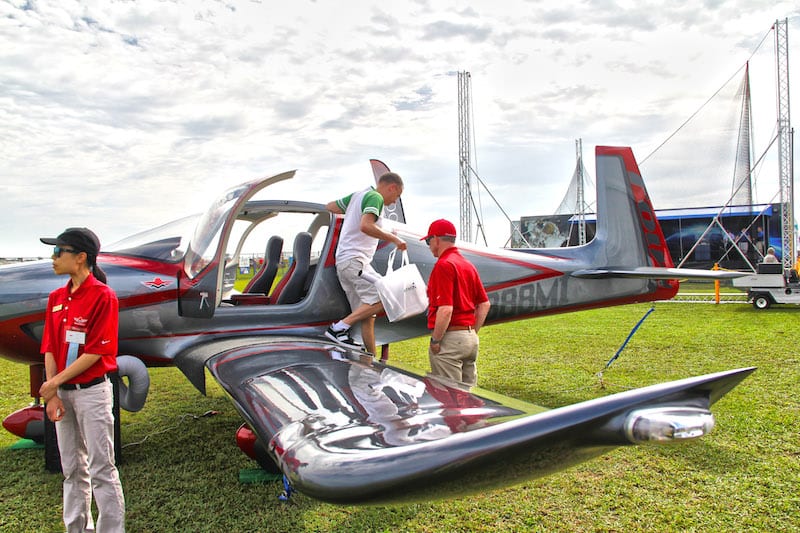 Unlike the unique M20 trim system design that has been produced for decades, tails on the M10 will not be moveable.
Pricing has not been announced, but the 135-hp, three-seat, fixed-gear M10T is aimed at the trainer market, with a student pilot and instructor up front and an observer in the rear jump seat.
The retractable-gear M10J model is aimed at the owner-pilot and includes expanded fuel capacity (44 gallons versus 22), a larger 155-hp turbo diesel, and retractable landing gear.
Chen hopes to have the proof-of-concept M10 flying this summer, which could lead to FAA certification in late 2017.
"Growing up in Taiwan, I could only dream of aviation," said Chen, who focused on building models as a youngster. Now he has a Ph.D. in aeronautical/aerospace engineering and additional masters degrees in both electrical and mechanical engineering.
Chen was first exposed to Mooneys during the nine years he was an instructor at the University of Southern California, when he rode in one owned by a friend.
"I like the unique tail — the plane looks like a sports car," he said.
In 2010, after hearing that production had ceased at the Mooney factory, Chen studied other aircraft manufacturers and started writing a business plan when he determined the company could — and should — be rescued.
Chen took charge of Mooney in late 2013, when he and a Chinese investor group purchased the iconic Kerrville, Texas-based company, which had operated under previous ownership for five years with a skeleton crew that focused on supporting the fleet rather than producing new planes.
Fortunately, the FAA type and production certificates were properly maintained and subsequently transferred to the new owners, Mooney International.
Since then, an aggressive 10-year business plan developed by Chen has been steadily implemented by his experienced management team. Chen reports a 20-year plan is now in the works.
Leading the way at the Kerrville factory is Mooney veteran Tom Bowen, who returned as Chief Operations Officer after several years at other aircraft manufacturers.
A significant infusion of capital allowed long-overdue modernization on the factory floor, including new production machinery and improved lighting.
Mooney's speedy all-metal M20 Ovation and Acclaim models remain flagships of the fleet and both are now back in production in Kerrville. At 242 knots, the turbo-normalized Acclaim still has bragging rights as the fastest certified piston-powered aircraft, single or twin.
Chen has focused on modernizing the Mooney Ovation and Acclaim manufacturing process to reduce the labor content of these high performance single engine planes, which are essentially hand-made.
Although the Kerrville workforce has increased from eight to 136, that's far from the 450 employees that once produced 60 to 80 Mooneys per year.
"We cannot live with high production costs and employees are cross trained to do multiple jobs on the production line," Chen explained, noting an average of 1.5 planes per month are now being produced.
A new 70-employee R&D center in Chino, California, produced the modern new M10 design and a small but growing sales office in Beijing, China, shows Chen's focus on that emerging market for personal aircraft.
On the day before SUN 'n FUN opened, a new Mooney Acclaim scheduled for display at the show suffered an unexplained power loss on approach to Lakeland Linder Regional Airport (KLAL) and crashed-landed short of the runway, but the pilot walked away and news reports indicated he was OK.
The unique internal tubular steel "roll cage" structure of the Mooney M20 has long been credited for its ability to protect occupants and save lives.