When you get right down to it, politics are not really about Republicans and Democrats, Greens and Libertarians, Socialists and Capitalists. It's about people. Individual people and how they interact with other individual people, and how those people plan, debate, and ultimately work together as their numbers grow into an ever larger group.
The study of politics can be as simple and basic as a discussion about how people interact in groups. There are politics at play between husbands and wives. Politics are in the mix when employers deal with employees, and vice versa.
Politics are at the root of so many interactions we engage in throughout our day we don't even notice it anymore. We default to a position, an attitude, a perspective that allows us to succeed, or at least make progress with a minimum of fuss, and we do it almost unconsciously.
A successful salesperson does not greet a potential customer with a long litany of what's bothering him or her today. Instead they put a smile on their face and forge ahead with the assumption that this interaction will be a good one. They do this even if their dog died, a pipe burst in their basement, and their youngest just called to let them about some sort of incident they would prefer not to explain in great detail, but one that does require a call to the insurance agent — quickly.
Incidentally, in case you don't think this applies to you, it does. We are all salespeople on some level. Every day. Believe it.
An undeniable facet of politics is peer pressure. You simply can't get a community of any size motivated to wipe out an entire population without bringing peer pressure into the picture. This has happened repeatedly throughout human history. Genocide wasn't a 20th Century invention. We've been at the business of trying to dominate, subjugate, or annihilate individuals and groups we perceive as being different than we are forever. It's in our nature.
Fortunately, humans have a great gift in the roundish blob of goo that sits atop our shoulders. Encased in a protective layer of collagen, calcium phosphate, and calcium carbonate there is an amazing device known as the human brain. When used well, it allows us to harness fire, decorate the Sistine Chapel, design the Brooklyn Bridge, and invent a machine that weighs hundreds of tons, but still has the ability to fly through the air.
The brain is a remakable thing. Brian Wilson used his to write "God Only Knows," which may be one of the best pop songs ever written. Josef Stalin put his to work doing things that were far less catchy and far more damaging to the public at large.
Ironically perhaps, both Wilson and Stalin benefitted to some degree from peer pressure. In Wilson's case, the peer pressure was more or less positive. It urged adolescents to idolize and and swoon over fashionably dressed singers with high-pitched voices performing tunes with a great hook. This is the same peer pressure that eventually led to the popularity of the Bay City Rollers, Britney Spears, and Justin Bieber.
Sometimes you get a classic. Other times, not so much.
Stalin used peer pressure too, in much the same way Hitler, Kim Jong Il, and Robert Mugabe did — much to the detriment of those who were unfortunate enough to raise their ire.
Of the two I prefer positive peer pressure. It can give us the strength to persevere when we might otherwise quit. It provides an incentive to achieve our goals, even when our detractors do their best to thwart those attempts.
And, sometimes, it encourages us to sit back and watch a little television while chatting with new acquaintances — especially if the alternative is potentially life threatening.
This past week I saw that last sentence play out in person. I found myself in Panama City, Florida, under cloudy, but not particularly menacing, skies. Yet, to the east, north, and west, thunderstorms raged for hours. The weather radar was filled with an array of colors that would make an art student giddy.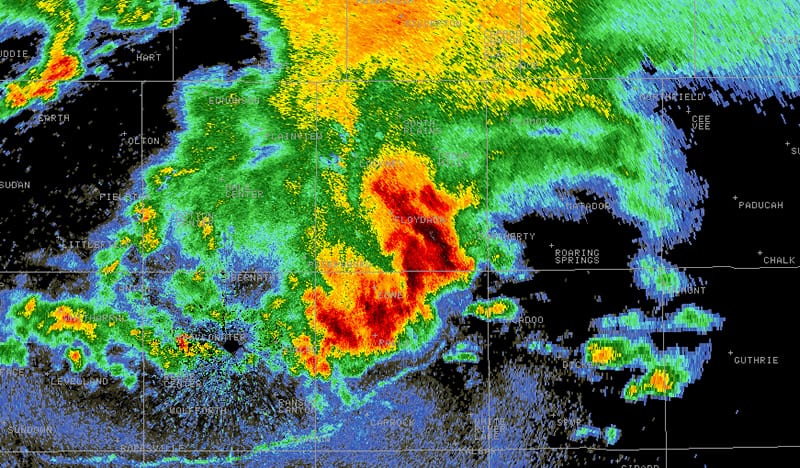 To a room full of pilots those same colors were significantly less appealing. They said stay on the ground. Wait it out. Get a hotel and go out to dinner. Do something, but don't fly into that mess.
The conversations were universally supportive. Each new arrival reviewed the weather along their route, then opted to wait. This process began in the early afternoon. By dinner time the FBO was cluttered with waiting pilots, the ramp lined with dormant aircraft. The flight students from Georgia waited with their instructors. The helicopter pilot ferrying a new purchase from south Florida to Texas chatted amiably. The corporate crew en route to New Jersey sat patiently watching reruns on television. I felt right at home.
Nobody challenged anyone to go. None of the grounded pilots got antsy and began to pre-flight their aircraft. To a man and to a woman, they waited. Impatient, bored, and frustrated as they might be, each one supported their peers' decision to wait it out, tacitly agreeing to the decision-making process of the others, and using that decision to help support their own.
Nobody flew. Nobody got hurt. Everybody benefited from positive peer pressure. And there wasn't a teenager in the bunch.
Go figure.