I was once blinded by my best friend while flying at night. He was trying to help me read a map. We were out of KDAL, heading to KSMO.
Inbound to KSMO, at night, over California's high desert, the earth below looked black as pitch, the sky above a planetarium ceiling's worth of stars. I'd purposely kept cockpit lighting low to preserve my night vision.
When ATC descended us from12,000 to 8,000, I dropped my sectional. Thinking he was being helpful, my non-pilot friend saw this as an opportunity to show off the new, high-intensity headband flashlight he'd brought along, the kind intended for caves, not cockpits.
"Check this out!" he said. I turned toward him just as he flicked on the flashlight.
"AHHH!" I screamed and jerked away, but not before being blinded completely. My twitchy reaction threw us around the sky and in the cockpit, too. That's when he realized his mistake. Thankfully, some of my left eye's vision came back soon enough.
Those were some tense moments in the cockpit. Scanning the six-pack of IFR instruments with one marginal eye was grueling work. We were already on the Fernando Arrival inside Avenal. By the time we got to PIRU, I knew I was in no condition to fly a non-precision approach, the only kind available at KSMO.
I declared an emergency and told ATC I needed to divert to KVNY for one of its ILS 16 approaches. I held over Fillmore and set up for an ILS 16R. ATC vectored me from there in shallow turns outside of Umber for the intercept.
Thank goodness for late night calm winds over Southern California. We came down the approach like the airplane was on rails. Still, I thumped the landing.
I was lucky. Within three hours, my eyesight had completely returned. In researching "bright lights in the cockpit," I came across several reports to NASA's Aviation Safety Reporting System where pilots were struck in the eyes by lasers and suffered much worse effects.
In one case a pilot witnessed lasers "being fired" roughly three miles from his aircraft position during the approach phase of flight. His captain instructed him to stay on the instruments and avoid looking at the lasers. The captain reported the lasers to Tower.
Tower asked the crew to gauge the distance of the lasers' location from the runway. So the flying pilot got off his instruments and looked for the lasers to verify their location. At that point, the lasers fired at the aircraft and hit the cockpit.
The pilot wrote: "I felt a flash in the cockpit but did not feel that it had affected me. We landed the airplane safely. While taxiing, I began to feel a slight pain and itching in my left eye. I discussed it with the captain and felt that I had sustained some trauma to my eye. An eye specialist reported no permanent damage to the eye, but suggested I rest it for five days. As of this report, I am still experiencing pain and light sensitivity in my left eye."
On the one hand, non-laser artificial light — like from a flashlight — can temporarily blind, but not damage, the eye by overwhelming the photoreceptors. Photoreceptors help us process light. Overwhelmed, they shut down momentarily. Usually, unless they are actually burned by intense light at close range, the photoreceptors will recover.
A laser beam, however, differs from other sources of light in that it emits light coherently. In physics terms, that means a laser can be focused to a tight spot, enabling applications such as laser cutting and lithography. So a laser can easily and permanently damage the eye, resulting in vision alteration or total blindness. In fact, a 50 mW laser pointer or stronger will burn or explode human tissue. Pupil contraction or snapping your eyelids shut in defense are about as effective as holding your hand up to stop a bullet.
Laser strikes against pilots and aircraft are not limited to low altitude approaches either. A laser's cohesive property allows the beam to stay narrow over great distances. One flight crew experienced laser tagging at 36,000 feet.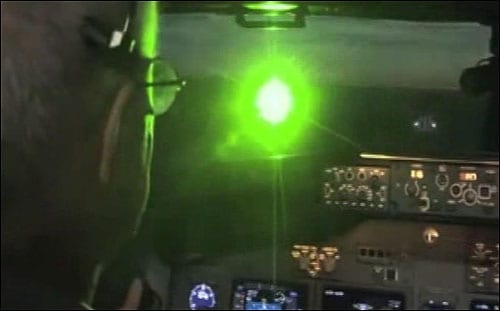 A member of that flight crew wrote in his NASA report: "The captain was looking out of the left cockpit side window at the moment I saw a flash and asked me if I saw it. I informed him that I only saw the reflection. We were in visual meteorological conditions, on top of a layer of very thin cirrus in dark conditions. The cockpit lights were off with very low integral instrument lighting. After several minutes, the captain complained of less than clear vision but nothing 'too serious.'
"During the remaining flight, the captain complained of sensitivity in his eyes, particularly the right eye, while also stating that his vision seemed to be OK. We landed on Runway 14R at KORD approximately 50 minutes later. Once on the gate, it was obvious that the captain's eyes were extremely bloodshot with what appeared to have been blistering and possible bleeding at the inside corner of his right eye.
"The captain was then complaining of increased discomfort in both eyes and blurred vision in the right eye. During the parking maneuver, it was necessary to aim the cockpit towards fluorescent lights on the terminal building. These white lights caused the captain significant discomfort. I accompanied the captain to the hospital near the airport so that a physician could examine his eyes."
A former military physician examined the captain's eyes at the emergency room. He verified damage to the exterior of the captain's eyes. While the retina was not damaged, his normal 20-15 vision was temporarily reduced to 20-60.
In a follow-up interview, it was determined that the FBI contacted the captain about this event. The light appeared to have a greenish white hue emanating at or near the aircraft's flight altitude. It's possible that the laser was fired from the ground or from the passenger compartment of a passing airplane. Scary.
If polled today, many pilots might say that drones pose the greatest safety threat to pilots, passengers and aircraft. Until I researched this topic, I would have agreed. Not anymore. I would argue that the greatest single threat to aviation today is the proliferation of lasers.
A 5 mW is the U.S. legal limit for laser pointers. Even so, portable lasers of 500-600 mW are available via the Internet. 500 mW is enough power to set paper on fire, pop balloons and cause potential burn-in on wood. Right now those lasers are used for government-approved applications in astronomy research, and they cost a bundle — $1,500 to $2,500.
But "the cool factor" of these lasers cannot be understated. Like drones and computers before them, their prices will fall as their power increases. As such, lasers will continue to gain popularity and availability as recreational devices. What's more, these portable lasers are powered by lithium batteries and are the size of a small flashlight. That makes them easy to deploy, easy to move, and easy to hide.
What can we do to protect ourselves? Laser goggles do exist. Wearing them could protect a pilot during an attack, but only if the pilot is wearing the right pair. Unlike sunglasses, which can protect from UV rays across all colors in the visible light spectrum, laser goggles can't.
Lasers emit light in one color. Laser goggles transmit light — in other words, they block specific colors of the spectrum while letting other colors pass through. Laser protection involves purchasing goggles that are the color farthest from the offending laser beam. Blue-violet goggles would protect against red laser light. Red laser goggles would not. A red laser would pass straight through. The point is that you'd have to buy, and simultaneously wear, a pair for every possible laser beam color to be fully protected. Impractical.
Lasers are a significant enough hazard that the U.S. Air Force is studying laser encounters as a potential national security threat. Its National Air and Space Intelligence Center (NASIC) currently collects information related to laser incidents, both military and civil.
According to NASIC's Public Affairs Office, civil aviation pilots are encouraged to report incidents directly to the local FSDO, another way to protect ourselves. The laser reports will be captured by the FAA and sent to NASIC.
Right now, while GA lobbyists weigh in on drones and the threat they pose to bring down aircraft, pilots are being injured by laser attacks. Right now lasers pose a greater threat to aviation safety than drones. A drone has yet to take out an aircraft. Lasers have already incapacitated several pilots.
The significant rise in laser reports by pilots should raise concerns about the increased likelihood of both members of a two-person crew, or a solo pilot, getting blinded by a laser and the possibility of real damage to the general community and the GA community, too.
Let's make some noise before we all get fried.