Radio-controlled (RC) flying is a popular hobby for full-scale pilots and non-pilots alike. For those full-scale pilots who haven't had the pleasure of flying an RC, I thought I'd share a recent conversation with Seattle-area full-scale and RC pilot Doug Wilson.
General Aviation News: You're a pilot. Tell me what certificates and ratings you hold.
Doug Wilson: I obtained my first rating (PPL-ASEL) in 1993, when I was 17. I now have a total of four ratings: Aircraft Single Engine Land, Aircraft Single Engine Sea, Glider, and Rotorcraft-Helicopter.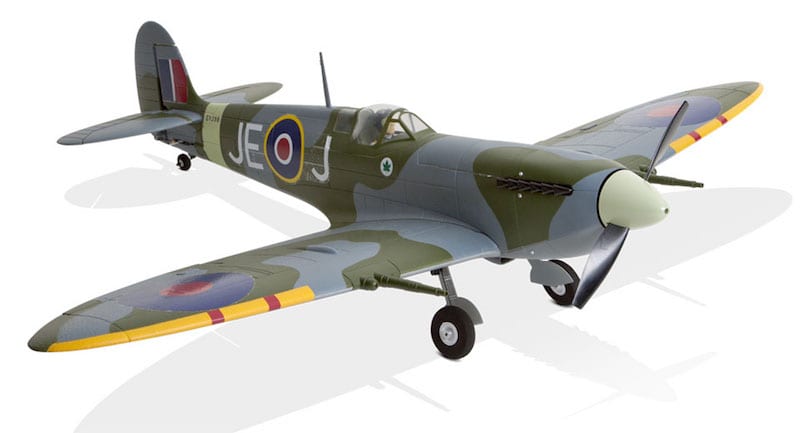 GAN: How'd you get started in RC flying?
DW: I'd always wanted to fly RC, even as a kid. I had built plastic model airplanes all through childhood, and RC was clearly the next step, just out of my financial reach as a kid. I had built several of the Guillow's scale balsa series, which were mainly just large models. I never flew them.
The interest in RC never waned, and I was given an RC simulator for my birthday six or seven years ago. The simulator, made by Great Planes, was called the Real Flight G3.5, and was incredibly helpful.
Unlike full-scale aircraft simulators, it replicates the view from standing on the ground, and it is controlled through a standard RC controller. It helps teach the functionality of the controller, and the perspective of flying an aircraft you're not actually sitting in.
After a few weeks or so, and testing multiple scenarios such as engine failures, flight control failures and the like on the simulator, I bought a small Plug-N-Play RC Spitfire made by ParkZone (see above). It was quite realistic looking, made of foam, electric powered, and on the very first flight, I was able to fully control it, not once losing orientation. By the second flight I was doing loops and rolls. None of that would have been possible without the RC simulator. I probably crashed the sim hundreds of times before it finally "clicked," so to speak.
GAN: Do you build or buy your models?
DW: These days, I mainly build my models, though most are from kits, as opposed to completely scratch built. I'd liken many kits today to the 51% rule with actual kit planes. Much of the substantial structural work is done, but the rest can take between hours for some kits, to months for others, depending on how much the builder decides to customize or modify the kit. These days, I tend to build large RC airliners, and spend months customizing a stock kit: Adding flaps, lights, stretching it to a longer fuselage, etc.
GAN: How many models have you built and/or owned?
DW: About 15 to 20 aircraft total. I tend to keep about four or five flyable at all times, and another four or five on hand in various stages of building, retirement or otherwise.
GAN: What's a decent budget someone should have in mind if they want to get into the hobby?
DW: The hobby has become incredibly inexpensive by comparison to days past (as I understand them through those in the hobby longer than me). Depending on the type of aircraft one wants to start with, a very respectable radio that can grow with the owner's skills, and a small training aircraft ready to go can be between $200-$300 total. That said, I highly recommend spending the first $150-$200 on a simulator.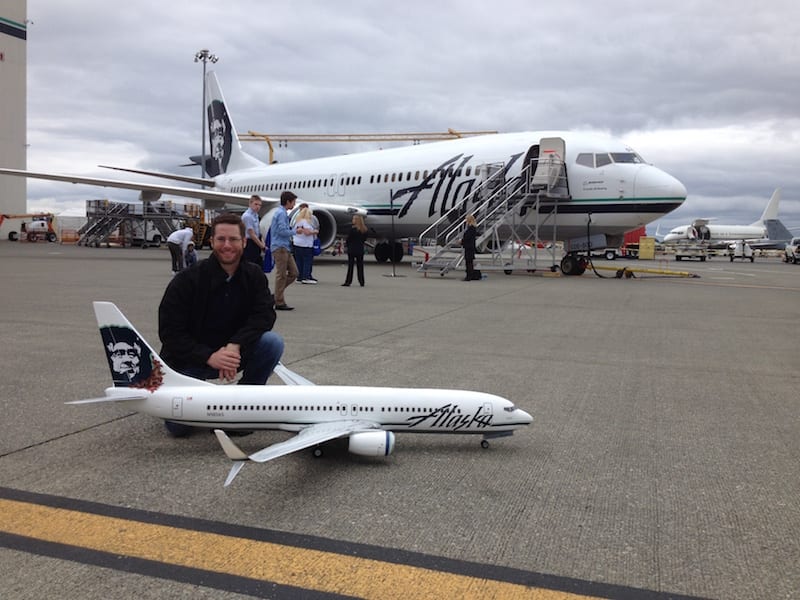 GAN: What's the biggest model you've built and/or flown?
DW: The RC airplane I am currently flying is probably the largest and most complex to date. It's a scale 737-800, that is about 81" long, and has a 76" wingspan, and weighs about 10 pounds.
GAN: Any unique experiences you care to share?
DW: Sure, I've had two memorable ones, one quite recently. Early in my RC flying, I was into RC warbirds, and was flying a gas-powered Spitfire that was an especially fast model. During a shallow dive – at full power of course – I heard the strangest harmonic buzzing sound from the airplane for a few seconds and then saw a large section depart the airplane in flight. As the controls felt mushy thereafter, I throttled back and decided to land to inspect it. Upon landing, I found the entire right horizontal stabilizer and elevator had departed the aircraft due to flutter.
The second and more recent situation occurred in March this year. I was performing the initial maiden flights of my 737-800. On only its second flight, I had a catastrophic engine failure which — thankfully — was audible from the ground as it helped me recognize the situation immediately. I simply "flew the plane" as they teach us all in full scale and landed uneventfully. A friend was recording the flight and we captured the entire situation on video. It was nerve-wracking, but felt rewarding overall. I have since swapped out the motor and have been flying it again.
GAN: I've seen a number of YouTube videos showing crash compilations. Ever crashed an RC?
DW: Next question, please. Just kidding, I have crashed my share of RC aircraft, though I am happy to note, none were due to disorientation. Did I mention the simulator helps? I've had a couple failures of the radio signal to the aircraft which resulted in a crash. That is an awful feeling, as there is nothing you can do but watch it crash. I've had a few flight control failures, as well. A runaway pitch servo on one airplane that didn't end well.
GAN: How long did it take you to feel proficient flying an RC?
DW: Like full scale flying, I'm always learning. I do feel pretty proficient at this point though, primarily because I've been flying progressively more complex RC aircraft each year. My first RC plane was a simple, single engine, belly lander, meaning it is designed to land in the grass, without landing gear. These days I'm flying ducted fan jet twins, with flaps, retracts. It's like full scale in that respect, start small and move up as you gain comfort.
GAN: Are there any great RC resources (hobby shops, websites, other) you can recommend?
DW: HobbyKing.com is aptly named and comes to mind. RCGroups.com is a great forum where builders exchange ideas, kits are reviewed, etc.
GAN: Has anything from RC flying translated to your full-scale flying?
DW: Interestingly, yes, and I'd honestly say it's easier to fly full scale aircraft — the raw, tactile part of flying — than RC. What has translated the most to full scale flying from flying RC is a better understanding of surface winds, and mechanical turbulence from surrounding terrain, buildings, and other surface objects.
In RC aircraft, a couple knots of wind can be a big deal, and 5 knots or so can make RC flying a questionable proposition. To that end, if you "scale" up to full size aircraft, 5-10 knots can have the same effect to full size light aircraft, such as piston singles or helicopters. I pay so much attention now to the slightest breeze, and there are times I feel I can better visualize the wind as it flows across a field, around a hangar, or a stand of trees because of RC flying.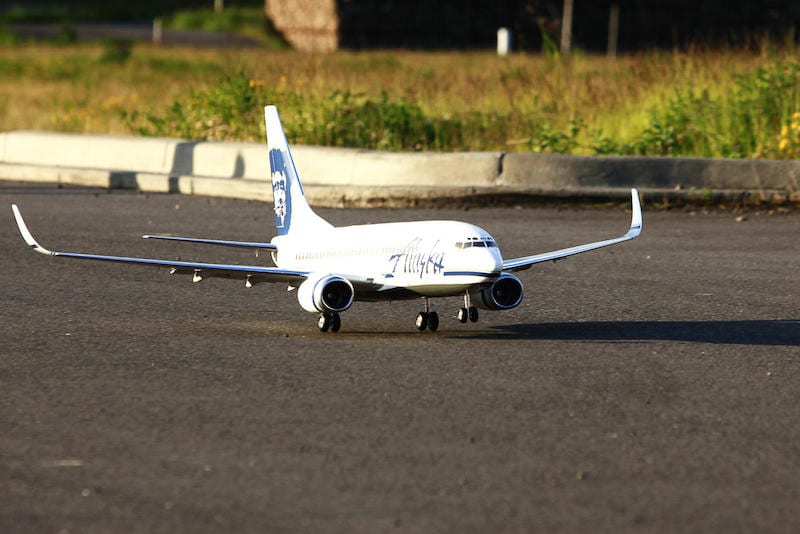 FACT SHEET: RC Alaska Airlines Boeing 737-800, N583AS
Length: 81"
Wingspan: 76"
Weight: 10 pounds
Engines: Two HET 2-W20 Brushless electric motors, 3400kv each, 4 bladed Electric Ducted Fan (EDF6904). Each engine produces approximately 2.2 pounds of thrust.
Power: One 4 cell, 5000 Milliamp battery, 45-90C rating
Power/electrical system: Two 75 Amp Electronic Speed Controllers (one per engine), one 10 amp battery elimination circuit (BEC, an electrical failsafe)
Takeoff roll: 75'
Max Speed: Approximately 90 mph
Range: Line of sight only
About the Aircraft: This aircraft is a modified kit of 1:18.5 scale 737-700 available through Windrider RSB of Hong Kong. It is primarily made of EPO foam. Modifications to the kit include: A fuselage stretch of 6.5" forward and 5.6" aft, fowler flaps, ground spoilers, nose gear retract doors with sequencer, LED lighting kit, split scimitar winglets, and aesthetic details such as the APU and custom Alaska Airlines graphics representing N583AS as it appears today. Graphics were created by Callie Graphics of California.