Breitling has introduced the Emergency, a watch with a dual Personal Locator Beacon (PLB).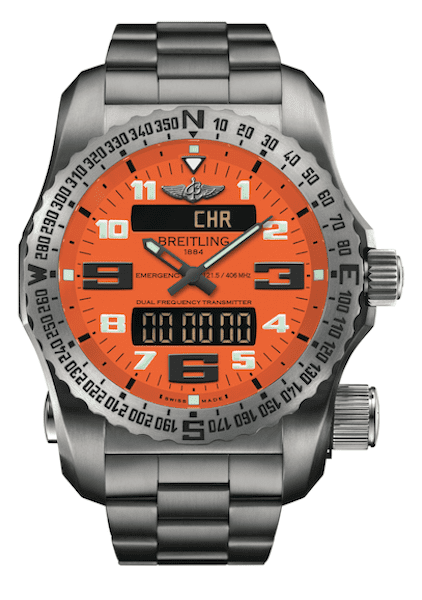 The watch, which recently gained FCC approval for sale in the U.S., features a PLB operating at 121.5 MHz and 406 MHz, meeting Cospas-Sarsat standards.
The dual frequency micro-transmitter is able to send a distress beacon to rescuers on land, ships at sea and airborne aircraft through the 121.5 MHz frequency and satellite transmissions through the 406 MHz frequency.
Breitling designed the Emergency to be simple to use, according to company officials. The dual antenna design, which is housed in the lower part of the watch, deploys when the cap attached to the main antenna on the right-hand side is unscrewed. Once the user extends it to the correct length, a second cap on the opposite side releases. This automatically activates the transmitter.
"Perhaps some of you have heard of the Breitling Emergency when it was introduced in Switzerland in 2013 and are wondering why it is just being announced in the U.S. now," Breitling USA President Thierry Prissert said. "Well, because a watch is so much smaller than a traditional locator beacon it took longer than anticipated to get approval from the FCC, but Breitling was able to satisfy the commission that the Emergency can properly send alerts and the watch performed perfectly during their exhaustive testing."
The Emergency is also an electronic chronograph featuring the functions useful to professionals and adventurers: 12/24-hour analog and digital display, 1/100th second chronograph, alarm, timer, second time zone, multi-lingual calendar and battery end-of-life indication.
The Breitling Emergency will be available for purchase at Breitling boutiques in New York, Orlando, Las Vegas and Miami, as well as authorized retailers throughout the U.S.
Prices start at $15,000.