Piper Aircraft reported at last week's AirVenture that FlightSafety International has signed an agreement to purchase 20 single-engine Piper Warrior and six single-engine Piper Arrow aircraft.
The new aircraft will begin to enter service at the FlightSafety Academy in Vero Beach, Florida, later this year.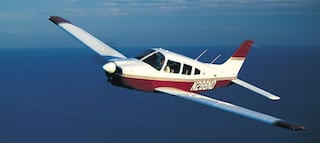 This initial order for the trainer aircraft is part of a fleet replenishment initiative agreement between the two companies. FlightSafety has an option to acquire 20 additional Piper Warrior airplanes in 2016.
All of the aircraft will be equipped with Garmin G500 avionics suites and ADS-B. The aircraft will have satellite enhanced dual antenna traffic awareness technology, enabling one-second updates for traffic situational awareness. All aircraft come equipped with GTN 650, replacing the GNS 430.