NEW RICHMOND, Wis. — Engineered Propulsion Systems (EPS) mounted the first in a series of pre-production diesel engines on a test stand, and turned the key on Sept. 20.
"The engine started smoothly and ran great," said Michael Fuchs, president and CEO. "We will begin the testing procedures tomorrow."
Based on data collected from two earlier "concept engines," EPS initiated a number of refinements in the design and assembly of its series of pre-production engines. After extensive tests on the Mobile Engine Test Laboratory in the U.S. and a Dynamometer facility in Germany, the engine will be shipped to Mojave, California, and mounted on an EPS-owned Cirrus where it is expected to satisfy certification criteria. Dick Rutan will conduct the flight tests.
The Graflight V-8 engine was started as a blank sheet design. The company has worked closely with Bosch to integrate new computer hardware and software that brings new levels of efficiency to diesel performance, according to company officials.
Capable of 320 to 450 horsepower, the engine was initiated as an aviation project, instead of using an automotive conversion. Spearheading the design team are two engineers, Michael Fuchs from Germany and Steven Weinzierl from the U.S., who have had experience in developing new engines ranging from one to 16 cylinders and bringing them to a production line.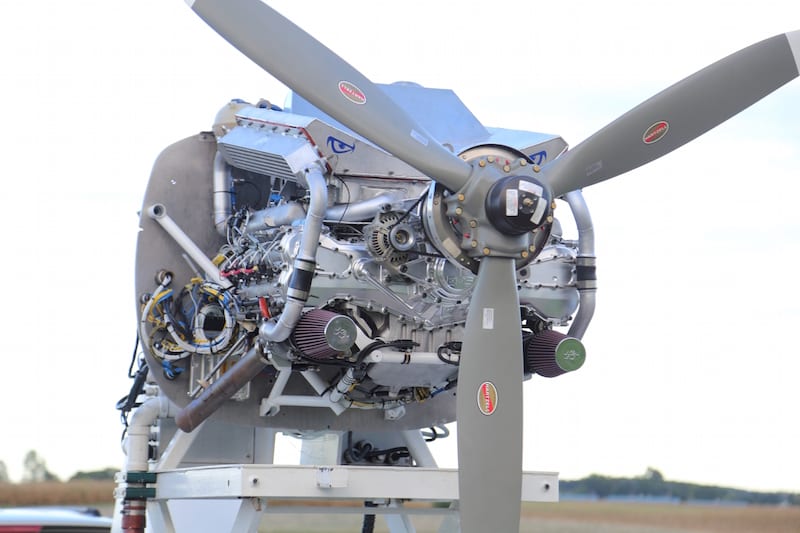 "Outside of Europe and North America, diesel fuel is dominant in aviation," said Fuchs. "The day may not be far off when it becomes the global standard, which will make the Graflight V-8 a necessity in high performance aircraft for general aviation."