WASHINGTON, D.C. — New figures from the General Aviation Manufacturers Association (GAMA) show that total billings are up for the first nine months of the year, even though deliveries dropped 6.5%.
So far in 2015, the GA industry has shipped 2,243 airplanes and rotorcraft for a combined value of $18.5 billion.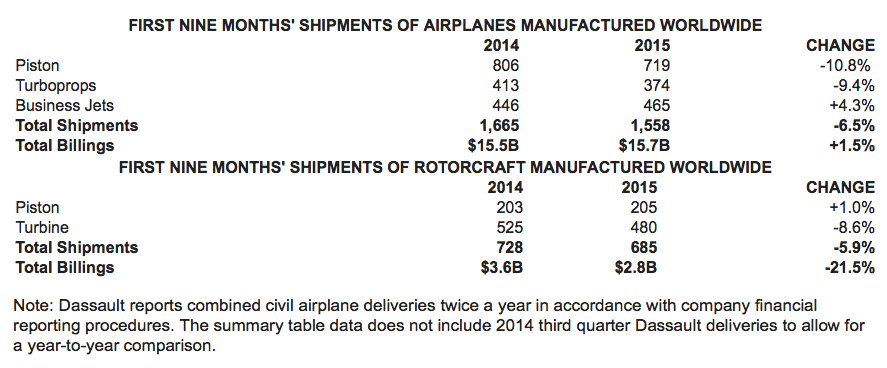 "Although the industry's performance among sectors in the third quarter remained mixed, new and recently certified business jet models helped raise overall billings," GAMA President and CEO Pete Bunce said. "In the turboprop market our agricultural aircraft sector has been particularly hard hit by the U.S. Export-Import Bank's inability to make new financing guarantees since July 1. Therefore, we are very encouraged by the strong bipartisan support in the U.S. House of Representatives this month that complements U.S. Senate support in late summer to renew the Ex-Im Bank. We are hopeful that the Surface Transportation bill to which Ex-Im re-authorization is attached will be conferenced quickly and sent to the President's desk for his signature. We also hope Congress will move quickly to extend critical tax policies, providing greater certainty to the market going forward."
For the first nine months of this year, business jet deliveries were stronger, with 465 planes delivered compared to 446 in 2014, a 4.3% increase.
Piston rotorcraft matched last year's shipment rate at 205 aircraft year-to-date.
However, piston airplane shipments declined from 806 to 719, a 10.8% reduction, and turboprops declined from 413 to 374, a 9.4% reduction.
The industry shipped 480 turbine rotorcraft, down 8.6% compared to last year.