ONTARIO, Calif. — Yuneec International is collaboratimg with Ocean Alliance. Ocean Alliance will use Yuneec's Typhoon and Tornado drones to collect data from whales in a non-invasive way, making the collaboration an important breakthrough in whale research, according to Yuneec officials.To conduct the research, a petri dish will be attached to Yuneec multicopters flown into the cloud of spray exhaled by whales when they surface. Essentially, the Typhoon and Tornado multicopters will fly into a cloud of snot, which is why Ocean Alliance refers to their Yuneec drones as "snot bots."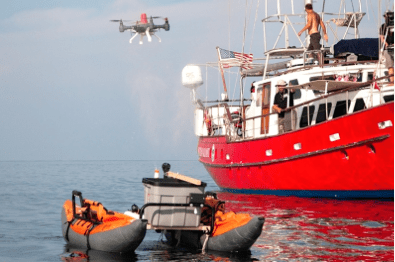 "Yuneec is giving us state-of-the-art drones to conduct marine mammal research that exceed our mission parameters," said Iain Kerr, the CEO of Ocean Alliance. "This is a lottery win for us as a company, the animals we study, and ultimately, humanity."
The samples collected can tell scientists about the health and fitness of the whale. Yuneec's near silent multicopters allow scientists to retrieve this data without the whale taking notice, preventing the infliction of stress upon the whale. "Snot bots" hover several yards above the surface of the water while human operators are close to a mile away.
In contrast, most current methods of physical sample collection involve pursuit in a motorized boat and firing a biopsy dart from a crossbow. In addition to causing stress to the whales, it is believed this approach can skew results, especially with regard to understanding stress levels for whales outside of captivity.
"Snot bots are designed to remove the potential harm caused to whales during the research process. After an extensive search, we determined the Yuneec product line of quiet and sophisticated drones gives us the best possibility of success," Kerr added.