The Inspection Authorization Test Prep is now available in eBook PDF format.
The eBook provides aviation maintenance technicians (AMTs) with the resources needed to pass the the FAA's Inspection Authorization (IA) Knowledge Exam, and helps candidates become familiar with the privileges and limitations of the highest level of maintenance certification.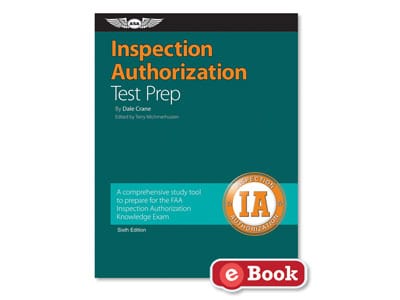 The IA exam remains a "closed test" — the exact database of questions is not available to the public. The more than 450 sample questions typify those that candidates are likely to encounter when taking the IA Exam, according to officials with ASA.
The questions and answer choices are supported with explanations, and the FAA references from which the questions are derived are identified for students who wish to study them further.
Price: $34.95.