Introduced in February 1930 at the St. Louis Air Show, the Aeronca C-2 was the first lightweight aircraft to be type certificated for production.
Coming as it did during a time of economic distress that affected everyone in aviation, the low-cost, low-upkeep Aeronca C-2 put flying within the reach of many. It was available for $1,245 in 1931, at a time when the average car sold for $670.
Flying time could be had for $5 an hour, so many could afford to now and then do a few turns around the airfield.
Despite its low power, the C-2 was a capable aircraft and its performance spurred many to set flight records in this minimal machine. Soon this lightplane held title to many official and unofficial records.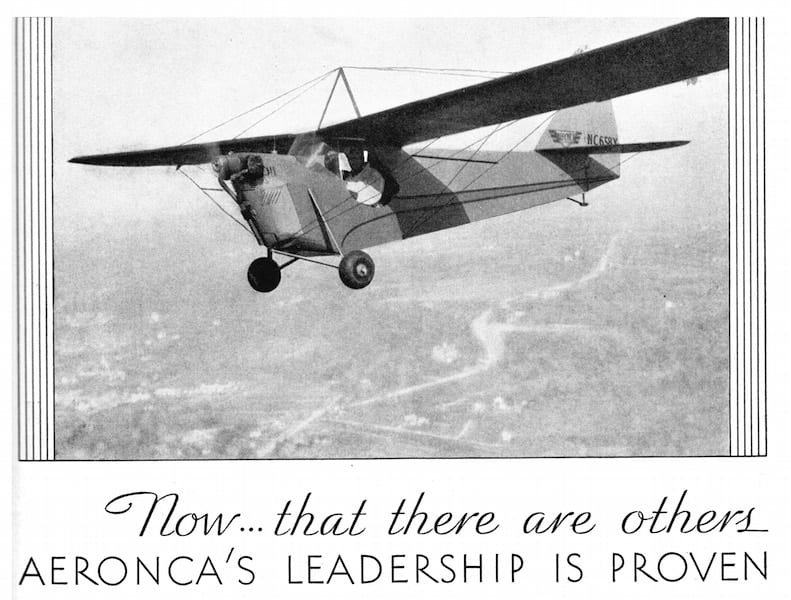 Records set included an altitude record of 19,425 feet, an altitude record for junior pilots of 10,525 feet, a 500 km speed record of 70.49 mph, and a single-seat seaplane altitude record of 15,082 feet.
By 1936, 12 of the 33 lightplane class records held by Aeroncas were recognized by the National Aeronautics Association. By the time production ended in 1937, that number was up to 19.
Perhaps the greatest demonstration of the plane's capabilities came when an English owner flew his Aeronca on a 10,000 mile trip from London to Cape Town, South Africa.
LIGHT WEIGHT VISION
The Aeronca C-2 first built in 1929 was a refined version of the 1924 homebuilt design of Jean Roche, a senior aeronautical engineer of the U.S. Army at McCook Field in Dayton, Ohio. Roche later joined Aeronautical Corporation of America (Aeronca) to develop a production version of his design.
The single-seat, steel-tube, three longeron fuselage was in a triangular form, which lead to the nickname "Razorback." Because of its lumpy design, it was also nicknamed the "Flying Bathtub." The wings were of wood construction with wire bracing to a pylon at the top of the wing.
Basic instrumentation included an altimeter, tachometer, and oil and pressure gauges. The plane was powered by a 26-hp Aeronca E-107A horizontally opposed engine.
It had a length of 20 feet and a span of 36 feet. It had an empty weight of 398 pounds and a useful load of 274 pounds. It cruised at 65 mph and landed at 32 mph.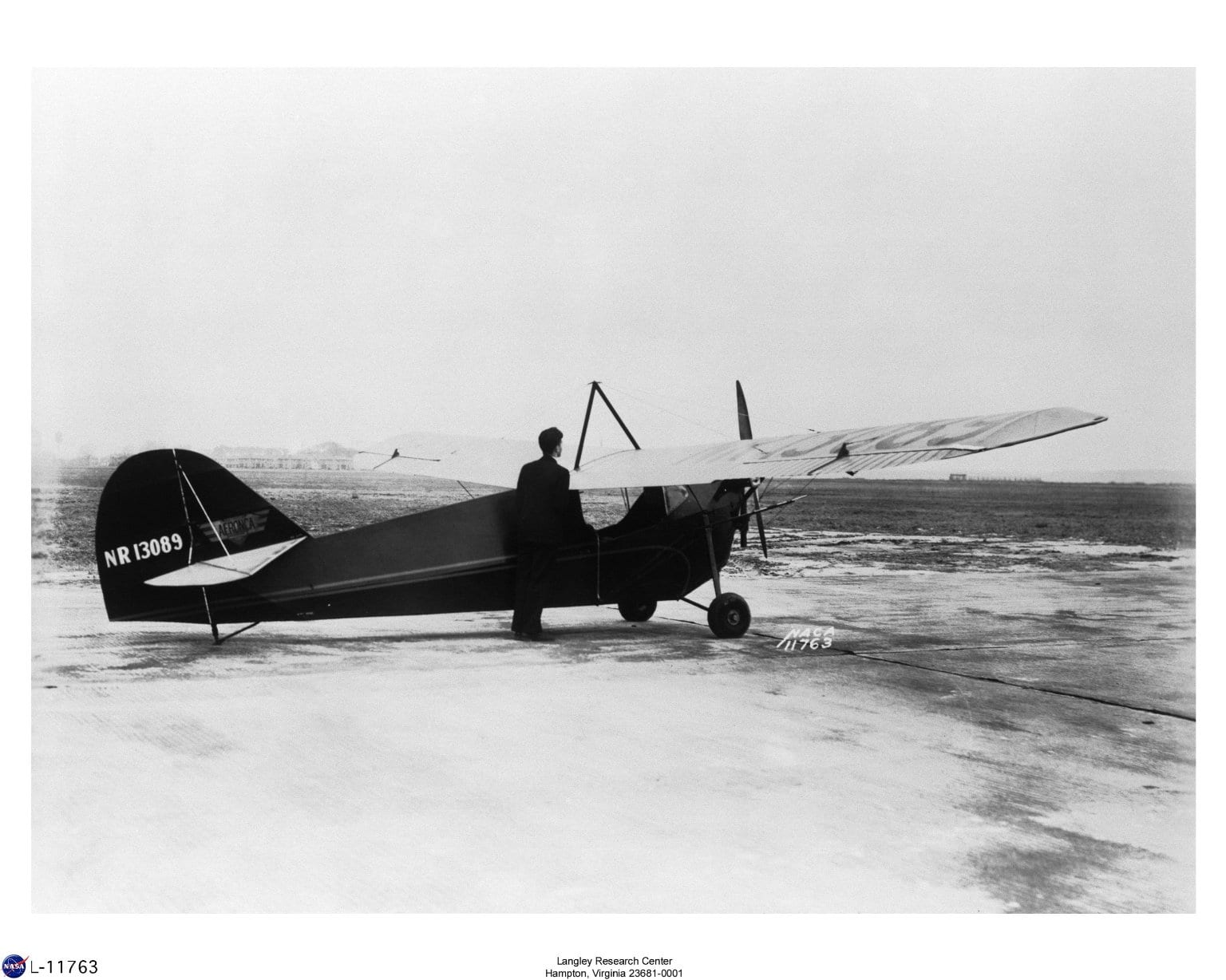 FRESH FROM THE FACTORY RECORD
Only a few C-2s had been manufactured when Stanley Huffman, a partner in the Vermilya-Huffman Flying Service in Kentucky, decided to put one of the new machines to the test. At the break of dawn on April 9, 1930, he took off from Lunken Airport and flew non-stop to Roosevelt Field in New York.
The flight took 10 hours and 10 minutes. Huffman said he enjoyed the entire trip and that he had complete confidence in the little ship.
The C-2 only held eight gallons of gas and, even though it only burned 2 gallons per hour, it was only enough to get half way to New York. Huffman carried extra cans of gasoline along and used an inflight refueling system to keep the gas tank full. The New York Times reported the flight cost only $9.60 in gas.
The flight was covered by other newspapers and trade journals, which provided publicity for the new airplane.
RANGE RECORDS
Pushing range records became a challenge for Aeronca owners. Edward Stitts flew his C-2 from Toledo, Ohio, to Lawrenceville, Virginia, for a distance of 529 miles. Later he flew from Columbus, Ohio, to Des Moines, Iowa, for a new record of 584 miles.
Later Robert Bryant flew from Rock Hill, South Carolina, to Miami for a distance of 635 miles.
TEEN AGE RECORD BREAKER
One of the more interesting of the Aeronca record breakers was Paul Clough, a 16-year-old Garden City High School student, who flew an Aeronca C-2 to a height of 10,525 feet to break the junior altitude record.
When Clough was in the eighth grade he had his first close-up view of an airplane at Roosevelt Field on Long Island. As he watched the planes take off and land, the flying bug hit him hard and all other interests faded away. Clough would take aviation by storm, making a solo flight after three and a half hours instruction, obtaining three pilot's licenses and establishing an altitude record before he became a junior in high school.
On the afternoon of Oct. 26, 1930, Clough took off from Roosevelt Field in an Aeronca C-2 of 30 horsepower. After a climb of nearly two hours, the plane stopped climbing with the altimeter indicating 11,000 feet. After landing the official barometer carried on the plane demonstrated that Paul had broken the junior pilot altitude record.
Clough received his transport license at the age of 18 and later became a captain for American Air Lines.
NOW THAT THERE ARE OTHERS
The Aeronca C-2 was very successful in the market, with 164 sold the first two years of production. This was during the height of the Great Depression. And then came the competition.
The C-2's cost and performance inspired others, with more than 20 new lightplanes entering the market. The appearance of all these new lightplanes was termed the "flivver-plane movement."
An Aeronca advertisement from 1931 headed "Now…that there are others" refers to the "scores of light airplanes being hurried to the market" and that these airplanes "are tributes to the epoch making accomplishments of the Aeroncas."
Among the new flivvers were the Buhl Pup, American Eaglet, Cessna EC-2, and the Taylor Cub. The appearance of these new planes collectively took away from Aeronca its dominance of the lightplane field.
In an era of the open-cockpit biplane, the Aeronca C-2 sparked the growth of the light cabin monoplane, which helped spark the rise of general aviation in the United States.