Just introduced to the U.S. is the Merlin PSA, a single-seat Personal Sport Aircraft.
The all-aluminum aircraft features a cantilevered wing and a 120 mph cruise speed. Price is under $35,000, which includes the builders' assistance program in Florida, according to company officials.
The Merlin PSA is available now as a quick-build Experimental Amateur-Built aircraft.
The design was created on 3D CAD/CAM equipment, resulting in easy-to-build matched-hole assemblies that require no fixtures, so build time is measured in days rather than months or years, company officials said.
The Merlin PSA fits inside the Light-Sport Aircraft (LSA) weight and performance box, so it can be flown with a Sport Pilot license, which means no medical is required.
The company also has introduced matching amphibious floats for under $10,000.
Other options include glass panel, autopilot, BRS rescue system.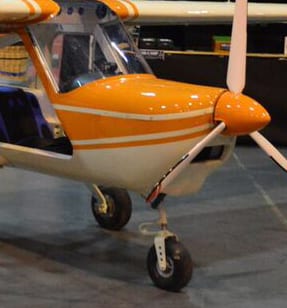 Both tailwheel and tricycle-gear configuration are available, as well as three choices for power: The 2-stroke Rotax is available now and a 4-stroke aircraft engine coming in January, plus an electric Merlin is in development.
The Merlin PSA will be officially introduced at the 
US Sport Aviation Expo at Sebring beginning Jan. 20.