Avfuel has revealed that James Bennett is the lucky pilot who won a two-year lease on a brand-new BMW in the Avfuel booth at the 2015 National Business Aviation Association's Convention and Exhibition held in Las Vegas last month.
After a month of logistics, the car arrived at Bennett's home in the Pacific Northwest just in time for the holidays."I never win anything," said a stunned Bennett.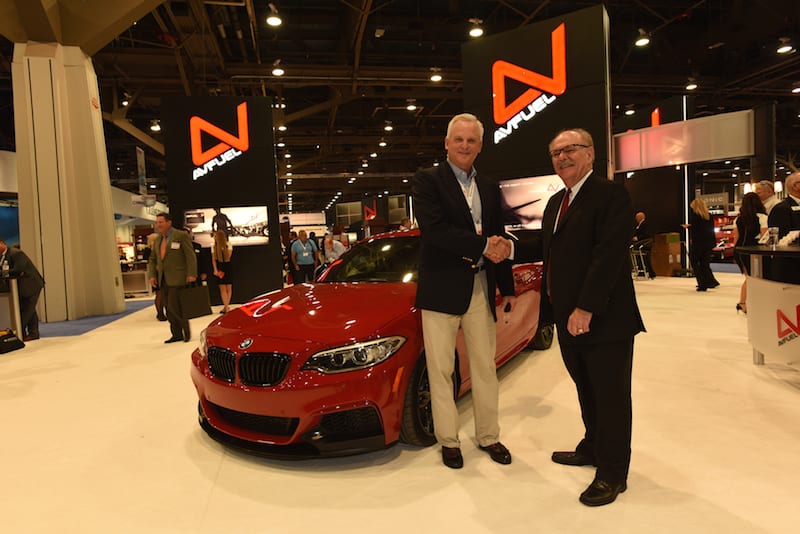 Bennett's entry was chosen out of approximately 1,000 entries in the raffle.
Conference attendees earned chances to win the car by cruising over to Avfuel's booth, then stopping by its branded network of FBOs. Each FBO visited was one chance to win.
"We saw a huge crowd at the convention this year," said Marci Ammerman, vice president of marketing for Avfuel. "Of course people wanted to know more about the car, but they were also interested in learning more about Avfuel's network and aviation solutions. Some of our guests were long-time customers stopping by to chat with the Avfuel team and the FBOs they fly to most often. Other guests were new friends. We loved the opportunity to meet with them all."
Avfuel provides fuel and services to the global aviation industry and is a leading independent supplier in the United States. Established as a supply and logistics company nearly 40 years ago, Avfuel now has a fueling network of more than 3,000 locations worldwide and more than 600 Avfuel branded dealers.