What does an average engine overhaul cost? Now you can see actual numbers from projects that have gone through OverhaulBids.com.
Alan Depauw, Overhaul Bids founder, said jokingly, "Don't ask me how long it took to do this. I'd rather forget."
"We already have a complete directory of all overhaul shops in the country and wanted to give people a price list too," he continued.
The price lists are a great way for anyone looking to buy an aircraft, or just for long term budgeting, he adds.
For those who need their engine overhauled within the next six months, Overhaul Bids just launched a new feature to get quotes in an easy to understand apples and apples comparison.
"After quoting the first $15 million of overhaul projects, we know what to look for when comparing quotes to one another, but the average person doesn't," Depauw said. "So we spent thousands of dollars and hundreds of programming hours to build a matrix comparison structure that includes all the major factors needed to compare options and find the best value."
Upgrades are offered in two levels: Premium ($49.99) and Top Gun ($99.99). Both have the same display of quotes, but Top Gun allows the whole thing to be exported to Excel so the user can add local options to a spreadsheet and make modifications. Also with Top Gun, the user gets Depauw's cell phone number for unlimited support.
"We're finding that 25% of our projects are upgrading and they are really happy with the support," he said.
"One example of someone who upgraded to Top Gun saw the value in it right away," he reported. "He had a cracked case and in five minutes I made contact with him to get pictures. Once I had the pictures, I forwarded them to all my shops and he got nine different opinions on whether or not it was repairable. I took the phone calls and discussed the situation with my shops so he didn't have to. Within two days he had five quotes and after several phone conversations we had options customized to his changing situation as more info came in. According to him, it was worth every penny. He said he wanted to look his wife in the eye and say that he has considered all options."
When Overhaul Bids first started, quotes looked like this: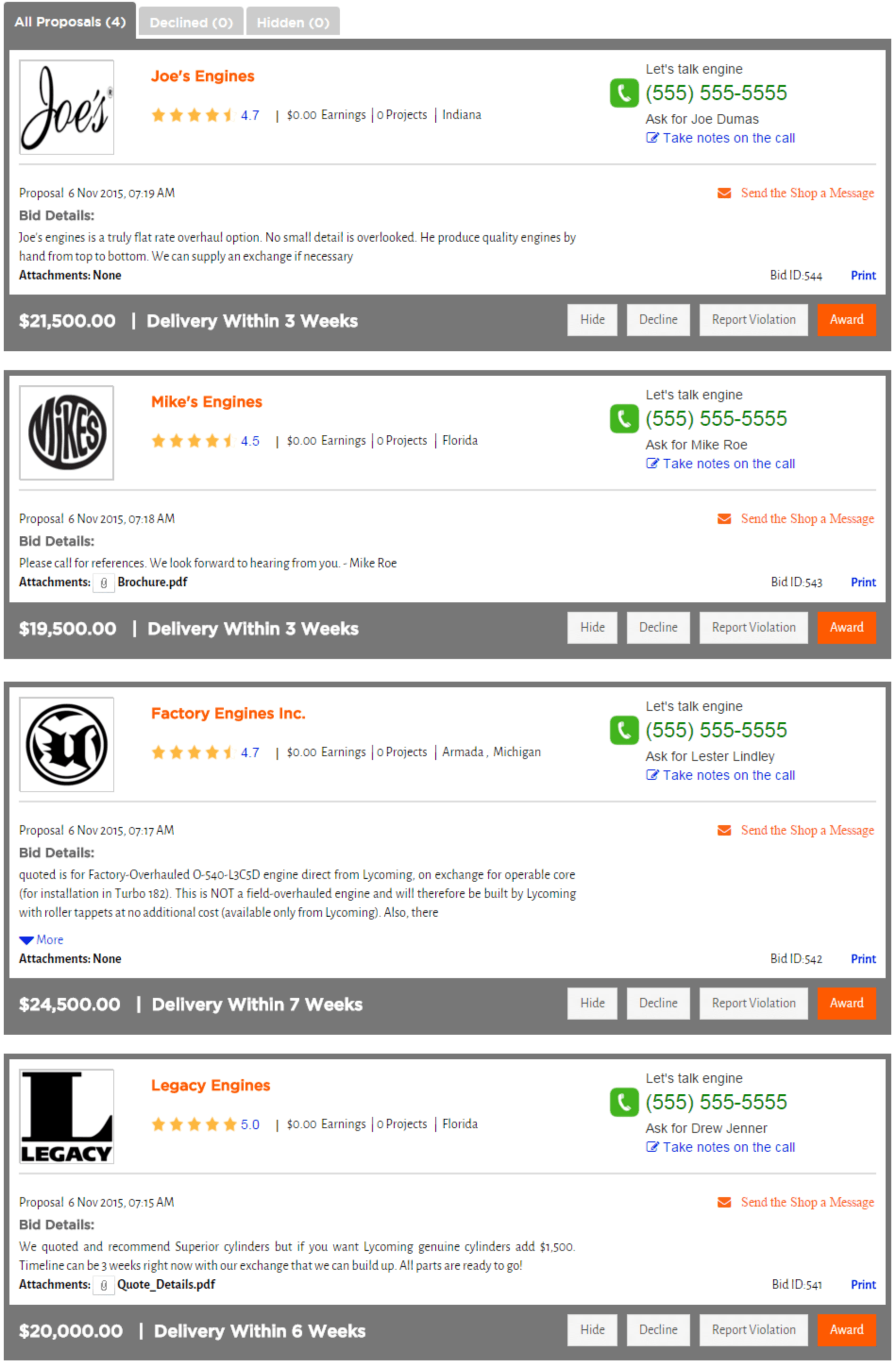 Now with the new upgrade feature you can get quotes like this: