SEATTLE – SkyVector has added Flight Plan Export capability to its feature set. Users can now export their flight plan to ForeFlight, as well as avionics from Garmin and Dynon Avionics. The new "export and share" feature is available to all SkyVector users.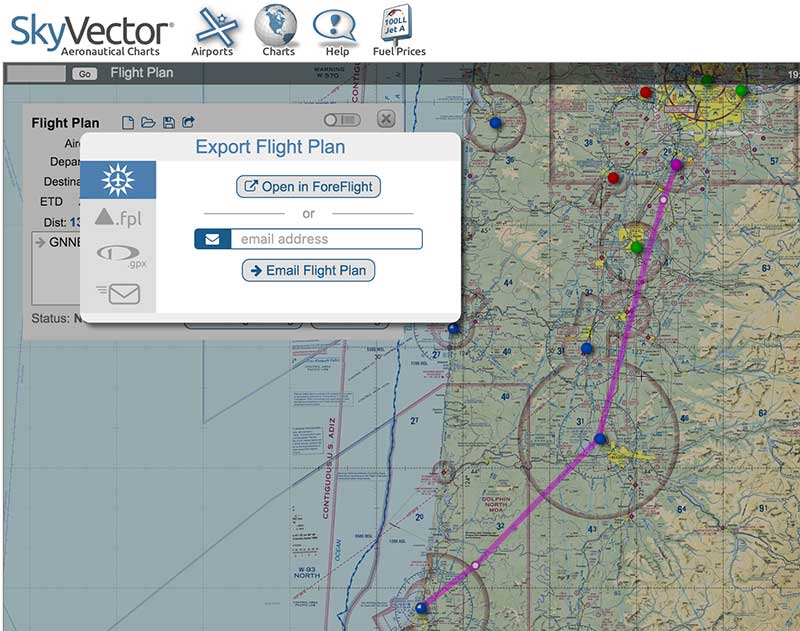 For users of ForeFlight, SkyVector presents an "Open in ForeFlight" button that will launch the app with the plan fully populated.
For cockpit avionics, pilots can download .FPL or .GPX files directly onto a compatible memory card to transfer their flight plans to their panel. Initially compatible with the G1000 series of Garmin flight decks as well as any device supporting the open standard GPX format, "support for other formats and platforms are in the works," according to SkyVector Founder and President David Graves.
"Our new 'export or share' feature is what pilots requested soon after we launched our filing features in July 2015," continued Graves. "I'm pleased that we've been able to respond so quickly, because, among the many features exclusive to SkyVector, this one is a game-changer for the pilot and scheduler community."
For flight departments and Part 135 operators, SkyVector's "share" feature enables collaboration in flight planning. A flight plan can begin on a scheduler's desktop, then shared with the flight crew who optimize and file it, then transferred to tablets or memory cards for dispatch.
"This latest feature complements existing applications and flight decks and enriches the SkyVector experience for our 400,000 monthly users."