By JEB BURNSIDE.
One of my earliest aviation memories is of a family holiday trip from our home in Illinois to Florida, spending the season with not one, but two, grandmothers and relations.
Any Christmas dinner for 30 or so members of the same family won't be without its drama, and I'm sure that one didn't surprise. But my memories of that December were more focused on the transportation: A Cessna 205 with an N-number ending 99Z.
My father was the pilot, and I was self-loading freight. Age-wise, I was in single digits, and certainly not tall enough see over the glareshield. (This was the mid-1960s, but I guess pillows and booster seats hadn't been invented yet. Neither had GPS.)
I have no memory of the actual flights down and back, how long they took, where we stopped or how badly the weather sucked. But, boy, do I remember that N-number, and the aircraft type.
Fast forward 20 years. I'd earned my private, instrument and commercial, and was married with child. Both sets of in-laws were far enough away to make driving impractical, but the distance was Mama-bear right with a decent cross-country airplane.
I'd been in and out of various flying clubs, but at that point I was a renter, and my FBO's offerings in equipment, scheduling, and expense just weren't working for me, so I started looking for a better option.
I didn't have a specific airframe in mind, and I don't remember where I learned about a 205 being available. I had never flown one, but a local owner wasn't flying his enough to make it worthwhile, and was selling shares of his.
As all-metal Cessnas go, the Model 205 isn't that well-known. The type's formal designation is 210-5(205), reflecting that it's derived from the retractable Model 210 but with fixed gear. It was made in 1963 and 1964, before Cessna refined the concept into the Model 206.
It has a 260-hp Continental IO-470, and seats up to six people if the last two are small. Rear-cabin access is through a door much larger than standard. Think Skylane on steroids. Think the box your Skycatcher came in.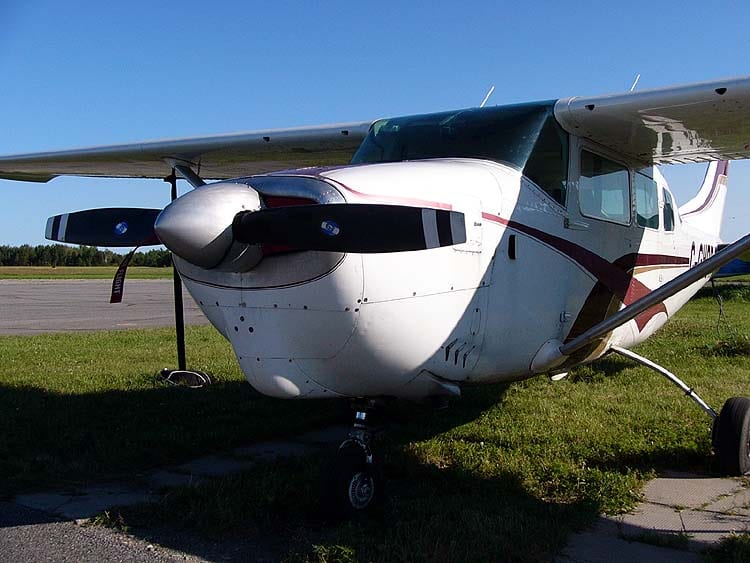 I contacted the owner and made arrangements to look at the airplane at a non-towered airport in the suburbs. It had a funky split switch for the navigation lights, allowing them to be on, off, or flashing, like a poor man's strobe system. It also had something like 1,500 pounds of useful load.
Another interested pilot joined us and after all three of us poked and prodded the airplane a bit, we decided to take it for a quick flight. I had the most ratings and recent experience, so I got the left seat.
Shortly after takeoff, we discovered the engine oil dipstick hadn't been secured during what passed for a preflight inspection. We knew this because there was oil on the windshield — a lot of it. Since there was an airport right behind us, I reduced power and we staggered back around the pattern and onto final. I had to stick my head out the open pilot's side window to see the runway.
I got it over the numbers, but ended up dropping the old girl in from 30 or 40 feet high. One of my worst-ever landings. An easy 7.0 on the Richter scale. But a go-around wasn't happening.
We didn't break anything and after adding a couple of quarts of oil, the airplane could be used again. (By the way, the oil was relatively fresh and clear, but the slipstream disturbed it, like ripples on a pond, distorting the view and making that openable side window my new best friend.)
I should have taken that flight as a sign this particular airplane wasn't the best solution to my dilemma. But the idea of flying the same type of airplane as on that long-ago trip was stronger. And it won.

The owner and I, plus a couple of other pilots, worked out a club agreement and started flying the airplane. Soon, a club member took it on a business trip to the Midwest. Of course, the engine broke somewhere in Missouri and the airplane was grounded a thousand miles away.
Perhaps knowing he had us by the delicates, the local mechanic wanted real money to put it back together. After some indecision and negotiation, the original owner airlined out with some tools and parts, helped hang a cylinder on it, and flew home.
And he almost made it. While performing a dusk landing at home plate after a non-stop flight from Missouri, he reportedly caught a wingtip on a tree near the runway. He was uninjured, thankfully.
I have no clue what really happened, but there were no trees within a wingspan of the runway. There was enough damage that the insurance company totaled the airplane and paid the claim.
I had managed to put several hours on the airplane before it flew to Missouri — all my subsequent landings were better than the first, by the way — so the whole thing was basically a wash. I got back my "investment" and never saw the airplane again, though it was repaired and is still on the registry. The club was disbanded and we all went our separate ways.
Looking back on that experience, I learned a lot about who gets to do the preflight, and about airplane ownership.
And I'll always have a soft spot for 205s. That holiday trip in 99Z helped plant in my young mind how personal airplanes can be used, and a generation later it was a cool idea to try using another 205 for the same basic purpose.
The idea wasn't bad, but its execution was imperfect. Some things just aren't meant to be.
Niner-Niner Zulu gets a lot of the credit (or blame) for getting me into this aviation thing. Thankfully, it's still registered, also.