Reality TV strikes again — this time with Discovery Channel's Deadliest Job Interview.
In the first episode, which aired Friday, Jan. 29, we followed Ron Vargas to South Africa. Ron's goal is to become a bush pilot. He's in South Africa to train with Milne "CC" Pocock, owner of Bush Air.
The show isn't just about flight training. In total, the show spotlights "eight of the most extreme and perilous professions in the world."
"This six episode series (also) follows arborists climbing 200 feet high in the Redwood Forest, extreme heavy haul truckers through America's heartland, iron erectors hundreds of feet up in the air, construction divers underwater in the depths of the Pacific, volcanologists climbing to the top of the explosive Stromboli, and wind turbine technicians in some of the windiest conditions on Earth."
While I enjoyed watching the flying scenes, the shots are edited to create drama and make it appear more extreme than it truly is. I fear for the impression this makes on the non-flying public.
They see "death-defying" maneuvers… from a turn around the pattern. That's not good. But showing aviation realistically isn't the show's job.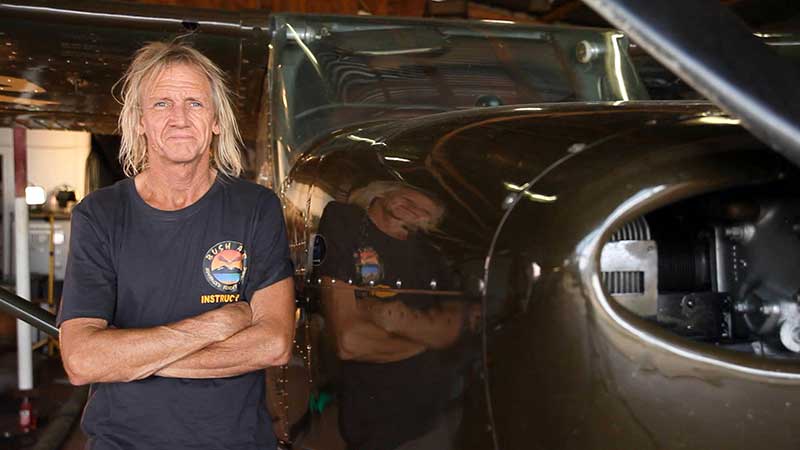 Peeking behind the curtain a bit, CC (which stands for Captain Crash, according to the show's website) is a rock-solid instructor and aviator.
Airshow pilot Melissa Pemberton ventured to CC's South African airstrip/home for training in 2009 and raves about the experience on her website.
Student Ron Vargas retired from the Army and is an "aspiring owner of a bush pilot cargo transport company." His story is similar to thousands of pilots who seek instruction from top trainers. Ron's journey to Bush Air makes perfect sense to me. It might even make for good TV, I suppose.
From the entertainment perspective, Deadliest Job Interview is OK. I have to admit, my toes curled a few times watching caver Kevin Hollister crawl through some very tight spaces the length of four football fields. I'd take bush flight training over caving any day. But I suppose that's a rather obvious statement.
Remember, this show is for non-cavers, non-divers, non-tree climbers and non-pilots. Take it with a grain of salt and enjoy.