FlightSimCon, an annual flight simulation and aviation conference for pilots and aviation enthusiasts, will take off June 11-12 at the New England Air Museum, which is on the grounds of Bradley International Airport near Hartford, Conn.
In 2015, the conference welcomed more than 320 people, with organizers saying they expect many more this year.
Registration for the 2016 event is now available at FlightSimCon.com. For $60, attendees can get full, two-day access to the conference, all events, and to the New England Air Museum's collection of display aircraft. Discounts are available for students, student pilots, and groups.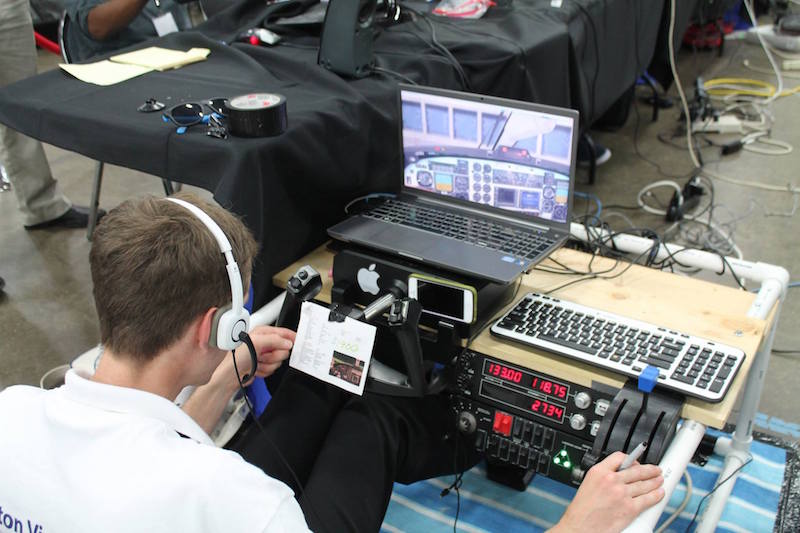 For pilots, FlightSimCon offers an opportunity to step into the virtual world. If you aren't into at-home simulation yet, you'll be able to meet with experienced flight simmers, try out different setups, meet exhibitors to see the latest releases, and listen to how-to seminars to learn more about the industry.
And if you've already tried at-home simulation, this event is a great chance to upgrade your setup or take the next step into online flying.
The event features back-to-back seminars and panel discussions from some of the biggest names in the flight simulation world. Peter "Frooglesim" Wright headlines the speaker lineup. Attendees will also hear from sim pit builders, flight dispatchers, a tactical helicopter pilot and accident investigator, developers from Orbx, the creator of X-Plane, and several flight simulation add-on and platform creators.
Prizes will be available, including games from Big Fat Simulations, a round-trip flight with Cape Air, DVDs from JustPlanes.com, and 3 TrackIR 5 PRO bundles donated by Natural Point.
FlightSimCon has partnered with the Signature FBO at BDL to offer fuel and parking discounts for pilots who are flying to the event. The host hotel for the event, the Sheraton Hartford Hotel at Bradley Airport, is located inside the airport terminal building.