What do the 1929 Powder Puff Derby, the Old Rhinebeck Aerodrome, the adventures of an airplane fanatic, the de Havilland Mosquito, and drones all have in common?
All of these topics — and many more — have recently crossed my desk over the last few weeks.
You see, general aviation is vast. Simply put, if it flies above terra-firma and isn't a commercial or military flight, it's general aviation.
At times my desk feels like a microcosm of that vastness. In just the past few weeks, I've looked at two DVDs, two books, and one interactive online course related to the aforementioned topics.
BEYOND THE POWDER
I was fortunate to see Beyond the Powder at its world premiere at AirVenture 2015. The documentary about women's air racing creatively follows the 2014 Air Race Classic while interlacing the story of the 1929 Powder Puff Derby.
The back-and-forth between historical and modern-day clips makes for interesting story-telling. The 1929 derby started in Santa Monica and finished in Cleveland. The modern day version kicked off in Concord, Calif., and ended in New Cumberland, Penn.
Beyond the Powder is sure to inspire pilots and non-pilots alike, regardless of gender.
THE RESTORERS
If shot and edited well, video can tell stories in ways mere words can't. The Restorers goes beyond words.
The first season, a three DVD set, tells the stories of Tora Tora Tora, the Sandbar Mitchell Recovery Mission, the Historic WASP Stearman Trainer, the Old Rhinebeck Aerodrome, the 68th Doolittle Raider Reunion, and no less than nine more. This DVD set stands out as a prime example of the many facets of general aviation.
DE HAVILLAND MOSQUITO
Much ink has been spilled telling stories of airplanes. One of the newest is de Havilland Mosquito by Philip J. Birtles. The first part of the book discusses the creation, design and development, while the second part dives deep into operations.
Few eras match the years around — and including — World War II for industrial and product development. While much of the energy of those years went toward death and destruction, today we can look back and marvel at what those who came before us were able to create. de Havilland Mosquito allows for a peak behind that curtain.
CHASING PLANES
When two or more pilots are gathered together… stories are sure to follow. Chasing Planes by Gordon Page is another in a long line of story-telling tomes. The sub-title really says it all: "Adventures of an Airplane Fanatic."
Page is "past president of the Colorado Aviation Historical Society, founder of the Spirit of Flight Center air museum in Erie, Colo.," not to mention an active pilot, consultant, broker and aircraft appraiser. The book is a quick and entertaining read. It cover mechanical issues, helicopters over the Holy Land, the B-29 FIFI and more. You'll fly alongside Page.
FLY DRONE SAFE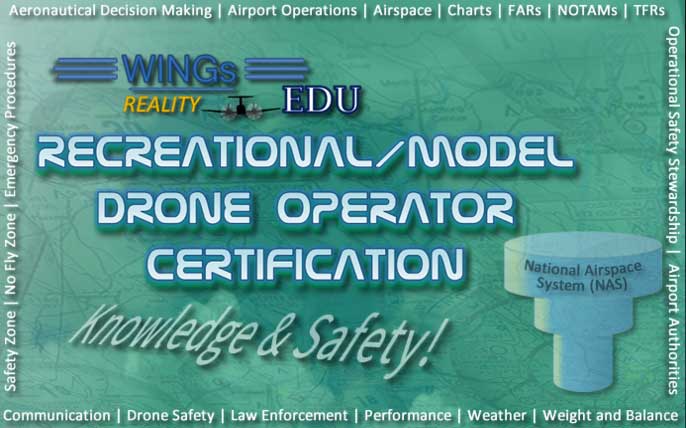 Continually seeking more knowledge is key to not growing stagnant. And today, learning new subjects is easier than ever.
I've been working through WINGs Reality EDU's Fly Drone Safe course. The online, self-paced course is made up of 12 modules that vary in length from just a few minutes to a little more than 20, and total about two hours. At the end of each module two questions covering the topics just discussed are asked.
I believe the course caters to the non-pilot "drone" operator, but there a good many refreshers for those of us who fly inside the aircraft as well.
Most people stay current on what interests them most. That makes sense. And these are but a few examples of the niches within the niche of general aviation.
But we owe it to our fellow aviators to connect with them on their turf. There's really no end to the variety of general aviation. So dive in and engage.