The nation appears almost hypnotized by the ongoing spectacle of this year's  presidential debates. Sometimes these highly watched broadcasts have real substance to them, but many describe them as political theater, an apt term when a clash of personalities drives ratings as much as discussion of important current events.
At the U.S. Sport Aviation Expo in Sebring, Florida, in January, the Light Aircraft Manufacturers Association (LAMA) produced the first in a series of "Great Debates," unabashedly mimicking the presidential debates … except with a difference.
LAMA's "Great Debates," sponsored by Aviators Hot Line, seeks to deliver real information. Call them the great debates with minimal politics.
Beta Test
The first such Great Debate at the Sebring Expo was a "beta test," to borrow a term from the tech sector. Beta tests let some see what is planned before a broader roll-out.
During the ninth annual LAMA Dinner at this year's Expo, the organization presented a panel of five engine manufacturer representatives, plus one industry expert. The panel included moderator Sebastien Heintz of Zenith Aircraft; market leader Rotax Aircraft Engines' Christian Mundigler; Continental Motors — now including the potent Titan engine — sales manager John Heitland; Pete Krotje of Jabiru North America; UL Power kit engine distributor Robert Helms; and Jan Eggenfellner, whose Viking company converts Honda engines for airplane use. German publisher and subject matter expert Willi Tacke represented electric propulsion.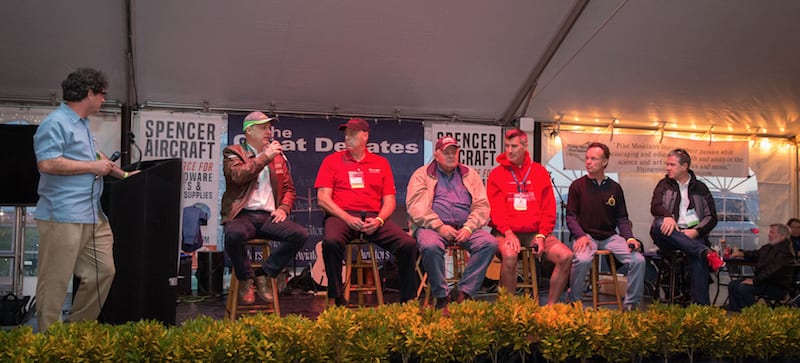 After introducing these individuals and turning the debate over to Heintz, I stepped off the stage and went to the opposite side of the large tent. I was genuinely amazed — and pleased — by the attention given each engine representative.
At previous annual dinners for industry personnel, LAMA hosted such noteworthy speakers as Aircraft Owners and Pilots Association (AOPA) then-president Craig Fuller; Experimental Aircraft Association (EAA) then-president Rod Hightower; and ex-FAA Administrator Randy Babbitt. At the time they spoke to the LAMA group, Fuller and Hightower were active in their roles.
Despite their important positions, when these men delivered their remarks, a few guests continued their own private conversations. Not so with the engine debates. Other than the speaking panelist, not a sound could be heard anywhere in the large tent. Clearly, this was a subject of great interest.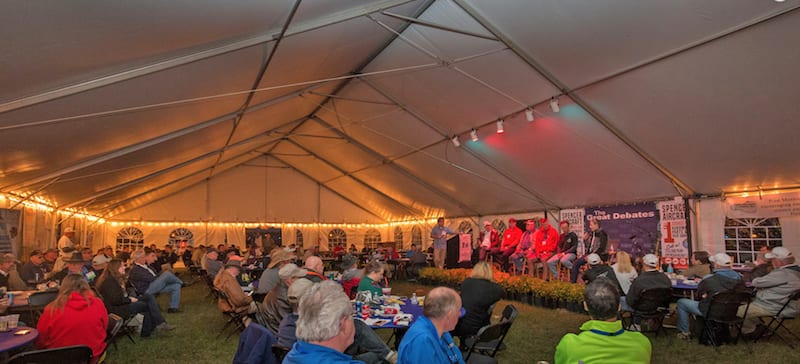 The beta test was declared a rousing success and plans were initiated for a more ambitious schedule at SUN 'n FUN 2016.
Expanding the Schedule
SUN 'n FUN is slated for April 5-10 in Lakeland, Florida. On the first five of those days, LAMA plans a series of panels in its Paradise City location surrounded by modern Light-Sport Aircraft in what's called the LSA Mall, a fixture of SUN 'n FUN since 2007.
Paradise City is something of an airshow-within-an-airshow. If you've attended SUN 'n FUN and not seen this area, you missed a real treat. This is where affordable aviation lives.
For the Great Debates at Paradise City 2016, LAMA has engaged several leading engine manufacturers for an opening day debate.
On day two, LAMA will host favorite aviation journalists — including General Aviation News Publisher Ben Sclair — talking about the future of light and affordable aviation.
On successive days, LAMA has invited avionics manufacturers and plans additional products of interest to any aviator.
The final plan will be reflected on the SUN 'n FUN daily schedule on the fly-in's website, Sun-n-Fun.org.
LAMA is further pleased to report that the daily onsite newspaper, SUN 'n FUN Today — produced by the General Aviation News staff — will have a daily article about the debates.
SUN 'n FUN Radio has also committed to do a few live remote broadcasts that can be heard on the grounds and by those not present for the show.
Changes in Paradise
Paradise City was once known as the Ultralight Area, then the LightPlane Area. However, all along it had the nickname "Paradise City" due to its special attractions. The name has stuck and now many refer to it by the unofficial moniker.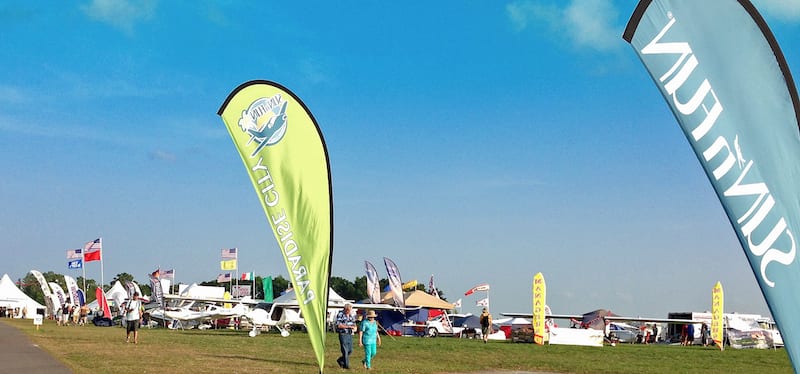 Paradise City has always had its own displays and a separate grass runway that operates simultaneously with operations on the main SUN 'n FUN runways. At different times of the day, you can see ultralights, LSA, light kit aircraft, powered parachutes and weight shift trikes, plus light rotorcraft, take to the skies. Mornings and evenings powered paragliders also fly. The whole day is most entertaining.
You can get close to the runway and watch the action, unlike on the main runway, where greater separation is preserved. Some days, the crowds at the fence at the Paradise City runway are several people deep.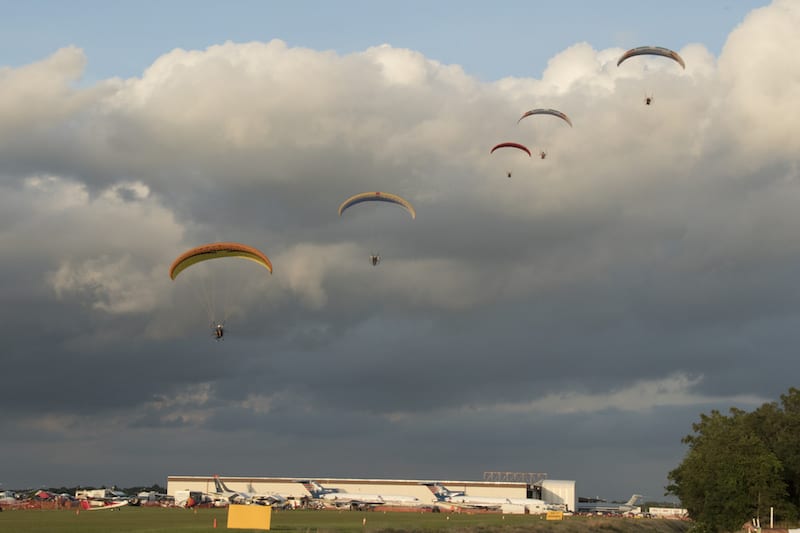 For 2016, LAMA sponsor Aviators Hot Line will also provide bleachers right at runway's edge, behind the fence line, to make viewing more fun and comfortable.
The Paradise City runway has been steadily improved over the years and for 2016 will feature several hundred feet of runway extension.
The Central Florida Aerospace Academy, a high school on the SUN 'n FUN grounds, also has a brand-new hangar nearby. That's because the newly improved and extended runway is planned for year-long use by the Lakeland Aero Club, which provides primary training to students enrolled in the aerospace high school.
What Sun 'n Fun Attendees Can Expect
For nearly all day, the Paradise City runway hums and buzzes with activity. Pilots of various aircraft types will launch and land throughout the day. You can enjoy the shaded "porch" just outside the LAMA debate tent and watch the flying action in comfort.
Plenty of affordable aviation exhibits are available near the LSA Mall and the LAMA pavilion. Food courts are readily available and, new for 2016, is a beer garden with a great view of the Paradise City runway.
If you've been to Paradise City before, come on back and see the changes and improvements, plus catch the daily debate at 1 p.m.
If you've never been to Paradise City, treat yourself to the most charming area of SUN 'n FUN. Except during the main airshow, the action is nonstop. Two six-seat golf carts, sponsored by Rotax Aircraft Engines, roam the main areas all day and will deliver you to or from Paradise without cost.
At day's end, instead of sitting in your hot car waiting to exit the crowded main parking lot, come on over and watch fun airplanes fly. The action starts up each day when the main airshow officially ends.
Enjoy some Paradise!