Story and Photos by Guy R. Maher
I must admit, it had been some time since I was last in a simulator for multi-engine recurrent training, which is the safest way to really dig deep into the emergency procedures.
Scheduling and cost are the two most common causes of deferred sim training. Most courses require time away from home of three to five days. And spending a few thousand dollars on training, plus travel, does tend to thwart some of the best intentions.
Now enter Recurrent Training Center (RTC), headquartered in Savoy, Illinois, just a stone's throw from the University of Illinois-Willard Airport (KCMI) in Champaign, Ill.
RTC was founded in 1988 by a former air traffic controller John Killeen.
"I saw how simulator training was contributing to the safety of operating the bigger aircraft, but wondered why nobody was doing this for 'the little people,'" he said.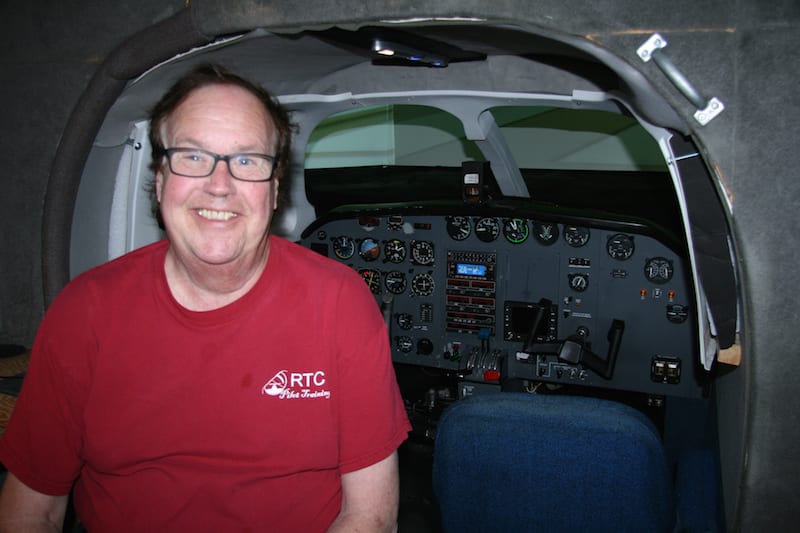 And although it calls itself "Recurrent" Training Center, it also offers initial courses for the aircraft they cover.
In 2013, RTC opened a second facility in Tampa, Florida. Available aircraft there include the King Air 200, Seneca, Cirrus, and under construction now is a simulator for the Cessna 414A. Interesting too, is that they have a simulator for the agricultural aircraft, the Air Tractor.
RTC caught my attention when I was exploring options for getting back into the simulator with its One Day Recurrent program. With the pilot doing the ground portion of the training at home on the computer, only one day is needed at RTC for the sim work.
I decided to try this program for the Cessna 340. Although I own and fly a 310, I have a few clients who own 340s. The simulator would be the same, so going full 340 would give me a nice refresher on the more complicated systems my 310 doesn't have, while still covering what I needed for both aircraft in the sim.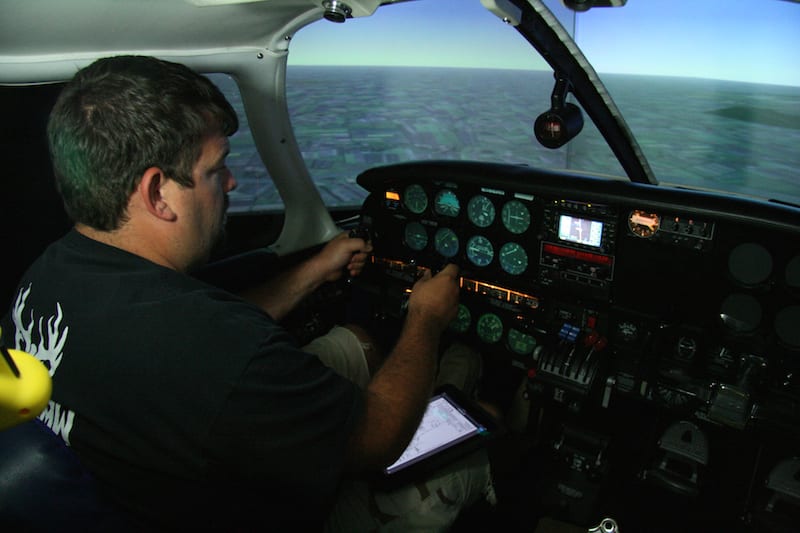 My first contact with RTC was with Mary Strauser. She has been the company's customer service and sales manager for more than 14 years. If you are going to be doing anything with RTC, you will have contact with Mary. And that's a good thing. The process was smooth and simple — she handled everything, including my hotel arrangements.
The home course takes about eight hours to complete. It is broken up into segments, and you can leave and rejoin as your schedule permits. The subjects were quite varied from standard operating procedures, to aircraft systems, to IFR operations and even a short course on GPS. At the end of each segment there was a short test.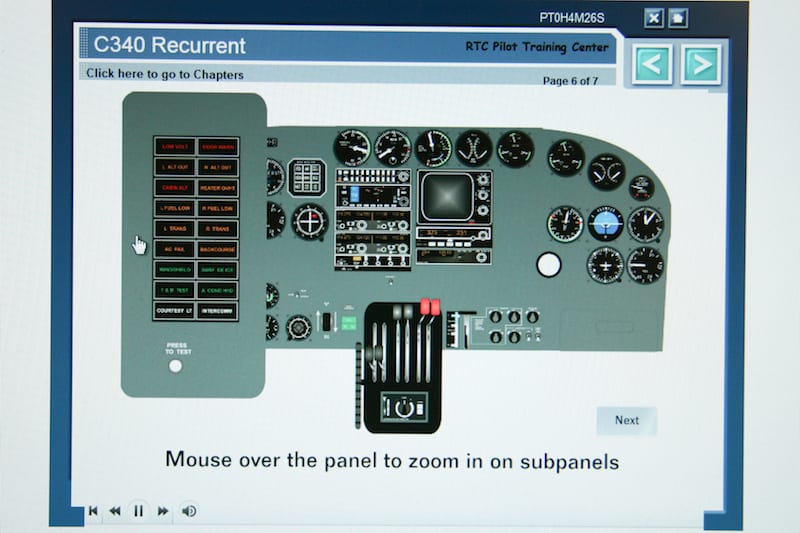 Although the video segments were a bit dated and dry, I found that overall I got a lot out of the home school training. It was on my schedule and pace and easy to repeat or review anything that I found especially interesting.
And I had my 340 and 310 flight manuals at the ready so I could apply the information to both aircraft when appropriate.
With the ground work done, it was time to head to RTC for the sim. I flew myself up the day before and got checked in. One thing about the One Day Recurrent course is that it's a strong day. They say to expect to be in the sim for six hours.
On an early Tuesday morning, I met my instructor, Mike Siegel, and we got right to business. I got comfortable in the sim, which like all of the others at RTC, is a non-motion device. While the sim doesn't move, the visuals make you think it does.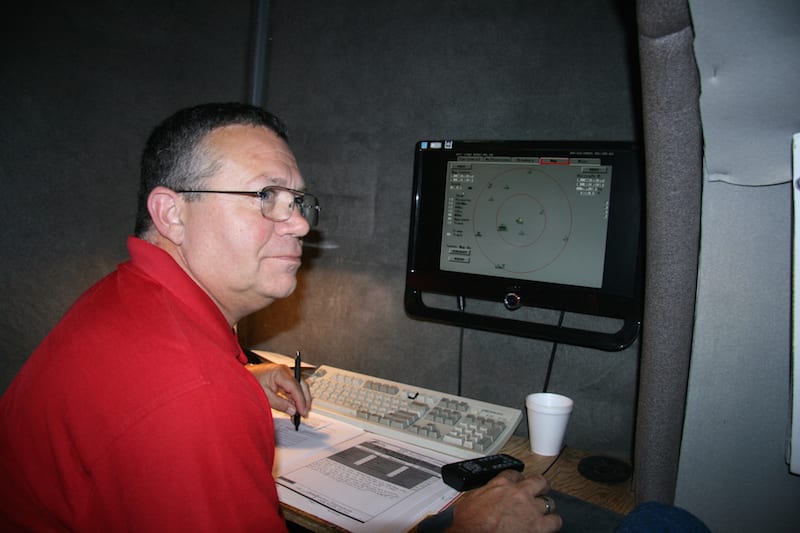 I've flown many different aircraft-specific simulators over the past 30 years and I can tell you that the quality of the training provided is far more important than whether the sim tilts or not. You know you are in a sim, so you really can't be scared. But a good sim instructor can still make you sweat and also make certain you leave really tuned up. Mike made it real.
The 340 sim is one of the older units, so it was a bit dated. The GPS in it was a King KLN 94, complemented by a Silver Crown avionics stack and mechanical HSI, so there were no big electronic maps to show the way. It was back to situational awareness by reading the instruments and looking on a chart to figure it out. The map on the KLN 94 did help, and the procedures could be loaded as well.
Actually, it was kind of fun going back to old school navigating. And it was a good thing because instrument procedures are a high priority when training with RTC.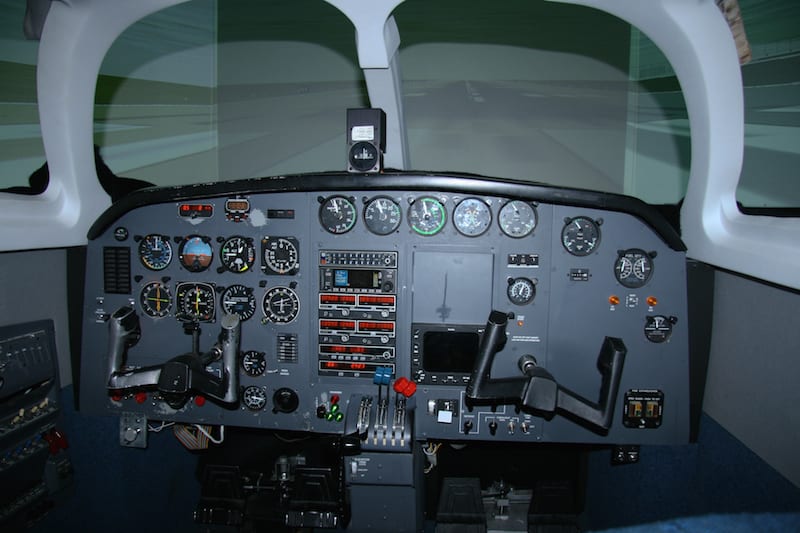 But before that, during the first hour of my initial two-hour segment — the training is broken up into three two-hour blocks — Mike just helped me get familiar with the "flying" qualities of the sim.
The truth is, it really didn't "fly" like a 340. It was much more sensitive than the 340, especially in pitch. There were a few times I got really frustrated at how the sim would react to an input. But Mike helped me settle down and learn to fly the sim just as if checking out in a new aircraft.
Now you might ask, "If it doesn't fly like the 340, what's the use?" After decades of sim training, I can say — as was the case here — it's really about nailing down the procedures and honing the muscle memory. And the cockpit layout was true to the Cessna 340.
By the end of my initial two-hour block, I was not only comfortable in the sim, but had begun to fine tune my scan, which had to be rapid and precise to react to the highly sensitive 340 sim. We dug into some basic IFR procedures by the end of the first block. But no emergency procedures were done.
The second two-hour block was focused solely on IFR currency and proficiency. Since it was less than a year since my last IPC, all of the components of that session were what I needed to start my six-month currency clock when I finished. Now, it wasn't an IPC, which cannot be done in this level of sim. Rather, it was as if I went out with a CFI and got under the hood and completed all the tasks required to be current again.
The final two-hour period is what I really came for. And that was for the emergency procedures. Mike didn't let me down. I had everything thrown at me I could have possibly imagined — and more.
There were electrical problems, turbo problems, split flaps, avionics failures and, of course, engine failures in just about every phase of flight. An engine failed before rotation, just after rotation, plus in climb, cruise, on an ILS and landing.
One of my favorites was when Mike included a rapid pressurization failure on me. When it happened there was a loud "bang" that accompanied the failure and a physical "bump" in the cockpit. Later on he revealed the "bang" was him kicking the subflooring. It got my attention.
Believe me when I say I was so busy reacting to scenarios that were very realistic that I forgot I was in a sim. And that's an important point. The emergency procedures weren't just hap-hazard events thrown at me in random fashion. Those were the old days. The emergencies were part of well thought-out scenarios during normal phases of flight and much more true to life.
And although the day was long, it was paced. In fact, if during any portion of a sim period I needed a short break, Mike just "froze" the sim so I could take a short stretch and water break, then pick up where we left off.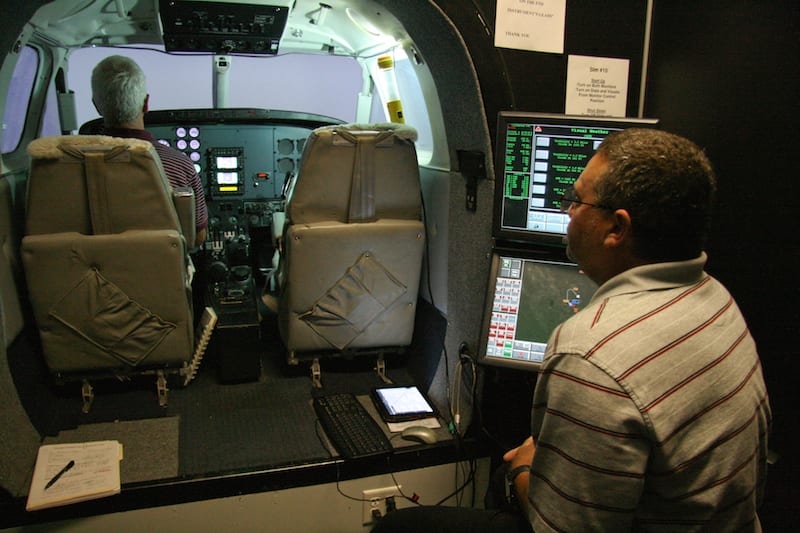 I was also surprised that even though by the end of my second period I was feeling a little drained, as soon as we began the last period I quickly caught a "second wind" to finish the training. (I did sleep well that night in the hotel!)
The following morning, after being well rested and in my 310 ready to take-off for home, I felt a renewed confidence from RTC having met all of my expectations and then some.
Clearly, I had just done myself and my future passengers a good service.