SANFORD, Fla. — Jim Hughes recently earned the prestigious Wright Brothers "Master Pilot" Award from the FAA.
The award recognizes individuals who have exhibited professionalism, skill and aviation expertise for at least 50 years while piloting aircraft as master pilots.
Hosted by Sanford's Aerosim Flight Academy, the award presentation drew a supporting crowd of more than 100 elected officials, aviation experts, flight students and colleagues.
Deemed the FAA's most prestigious award, the Wright Brothers "Master Pilot" Award honors pilots certified under Title 14 of the Code of Federal Regulations (14 CFR) part 61. To be eligible, nominees must hold a U.S. Civil Aviation Authority (CAA) or (FAA) pilot certificate; have 50 or more years of civil and military flying experience; be a U.S. citizen and have not had any airman certificates revoked.
Robert "Bob" Jex, FPM of the Orlando Flight Standards District Office and FAA Safety Team presided over to ceremony with a visual tour of Hughes' accomplishments and the presentation of lapel pins for Jim and his spouse, Wendy, the FAA Blue Ribbon package, and the "Master Pilot" plaque.
"I am truly honored and humbled by this recognition. Flying is my passion and my career in aviation has provided me with many great experiences and opportunities. My advice to the next generation of pilots is to never stop learning, challenge yourself every day on the ground and in the air," Hughes said.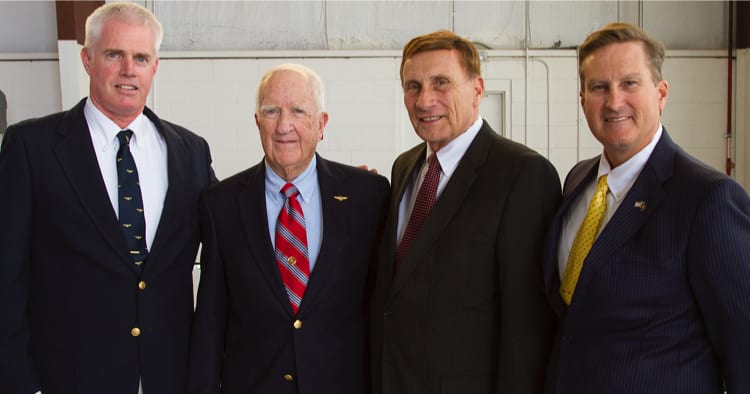 Born July 4, 1937 in Birmingham, Alabama, Hughes' passion for flight began in 1942 when his next door neighbor's son joined the Navy, was selected for flight school and went to fly Wildcats and Hellcats through World War II from a variety of Navy aircraft carriers.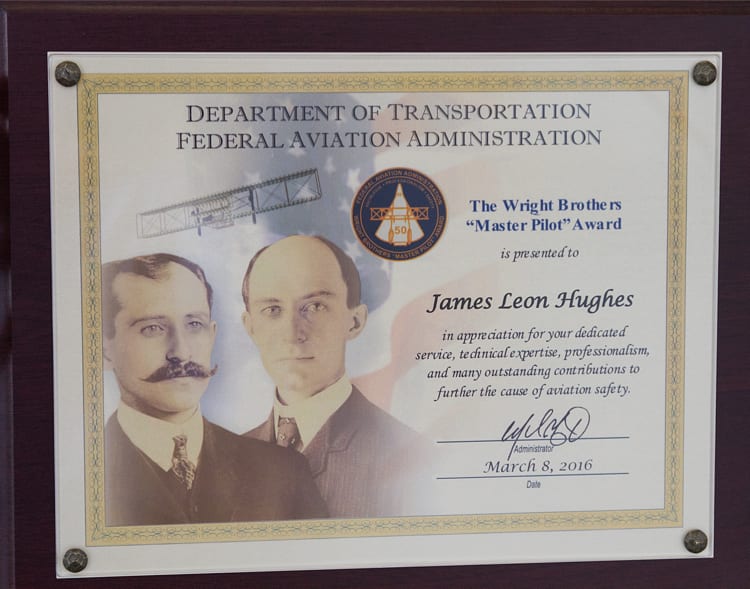 From that moment on, at age 5, Hughes vowed to become a Naval Aviator and fly fighters from aircraft carriers.
He first soloed in an Aeronca 7AC at Auburn University on March 17, 1957, but he did not start earning a living in aviation until three years later, graduating from Navy Flight Training in 1961.
Hughes' aviation service includes more than 50 years of work experience in every conceivable facet of aviation.
He was the chief pilot for a variety of flying activities including a university, a construction company, an oil company and a Fortune 500 corporation.
He also was a corporate pilot, a helicopter pilot, a flight test pilot and a military aviation maintenance manager for 3,000 airplanes and helicopters.
He also realized his dream of becoming a naval aviator and flew the Marine Corps McDonnell F-4 Phantom on combat missions off the pitching decks of aircraft carriers.
He is a graduate of the US Navy's Aviation Safety School, and served as the staff aviation safety officer for two major commands.
Hughes was the commanding officer of a Marine Corps squadron operating 11 large airplanes worldwide. His final military tour was as the senior Marine Corps liaison officer to the FAA in Washington, DC, advising the administrator on matters of aviation safety, accident investigation, and security.
Today, Hughes is an Orange City, Florida, resident and remains dedicated to the aviation profession by serving at Aerosim Flight Academy as the chief pilot for high performance aircraft. To date, he has amassed more than 29,000 flying hours. On campus, he heads the school's King Air flight training program, teaching ground school and providing end-of-course practical tests.