New educational aviation signs have been installed at the Runway Park at the Greenville Downtown Airport (KGMU) in South Carolina.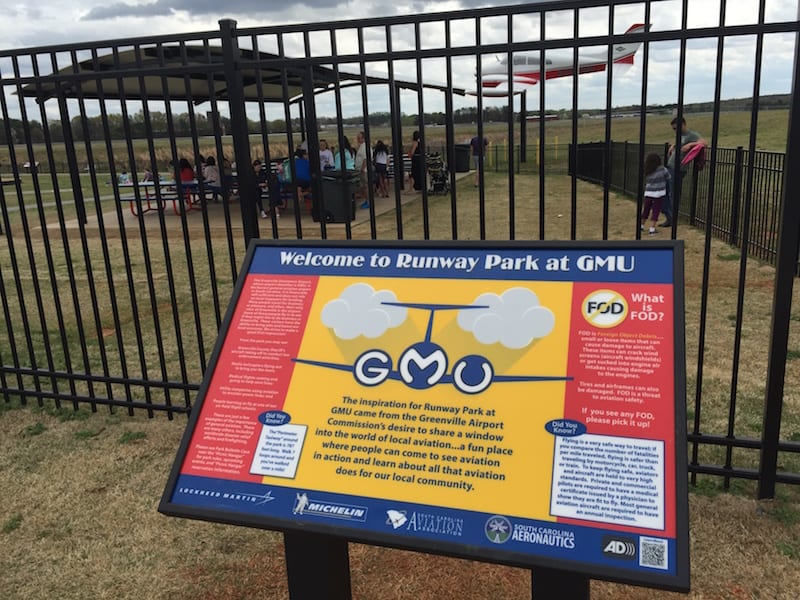 "Almost 900 children toured our airport last summer," said Joe Frasher, airport director. "People of all ages and genders are very interested in learning about aviation and our main terminal facility just can't handle the number of people that want to visit. This, coupled with the fact that our industry predicts that many career jobs will be widely available in the future is why we were inspired to create Runway Park with an educational emphasis."
"When thinking about careers in aviation, most people think of pilots," he continued. "If an individual doesn't want to be a pilot, then our industry is often dismissed. We want people to know that there are many more employment opportunities that they can consider. These are just two of the reasons why we have created, designed and installed these unique learning stations throughout our park."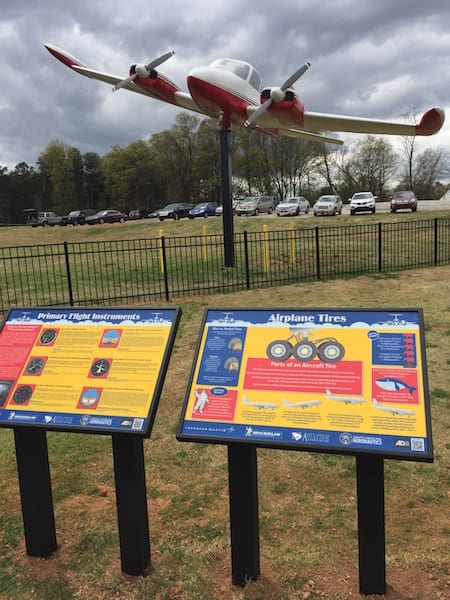 The 17 signs took about two years to make from conception to finished product, Frasher noted.
"We looked for ones that we could buy 'off the shelf' that someone else had created and we just didn't find anything," he said.
"If anyone would like to add something like this at their airport, we'd be happy to let them use the content in exchange for a donation to help us complete our park," joked Frasher. "We still need about $200,000 to level and pave a huge plot of land to make extra parking available for the increasingly large number of visitors that come by car and bus."
The signs cover topics that include careers in aviation, how runways are numbered, features of an airport, air traffic control, parts of aircraft, how they achieve flight, why aviation is important, weather and a little about aviation history.
The South Carolina Aeronautics Commission, South Carolina Aviation Association, Michelin and Lockheed Martin sponsored the sign project.
The signs can be viewed by the general public for free whenever the park is open.
"We have over 400 children scheduled to take a guided park tour this summer. In addition to seeing the signs, they will have the opportunity to climb inside of a real aircraft that was donated to Runway Park," Frasher said. "We have ordered kid friendly weather instruments that will be incorporated into their educational visit."
Tours are weather dependent since they are conducted outside. To help raise money for the parking lot and to maintain the park in the future, tours are scheduled with a $5 per person donation.
GMU is the busiest general aviation airport and third busiest airport in South Carolina. It is a self-sufficient entity with financial strength that doesn't rely on local taxpayers for funding. GMU is home to Greenville Jet Center, the largest Fixed Base Operator (FBO) in S.C., as well as more than 25 other aviation-related businesses creating 453 jobs that annually contribute more than $35.2 million to the local economy.