The FAA has released its annual Aerospace Forecast Report Fiscal Years 2016 to 2036 that finds a sustained increase in overall air travel and the use of Unmanned Aircraft Systems (UAS).A key portion of the forecast focuses on projections for the growth in the use of unmanned aircraft, also known as drones or remotely piloted aircraft. The FAA estimates small, hobbyist UAS purchases may grow from 1.9 million in 2016 to as many as 4.3 million by 2020.
Sales of UAS for commercial purposes are expected to grow from 600,000 in 2016 to 2.7 million by 2020.
Combined total hobbyist and commercial UAS sales are expected to rise from 2.5 million in 2016 to 7 million in 2020.
Predictions for small UAS used in the commercial fleet are more difficult to develop given the dynamic, quickly-evolving nature of the market, FAA officials noted.
Both sales and fleet size estimates share certain assumptions about operating limitations for small UAS during the next five years: Daytime operations, within visual line of sight, and a single pilot operating only one small UAS at a time.
The main difference in the high and low end of the forecasts is differing views on how those limitations will influence the widespread use of UAS for commercial purposes.
General Aviation Forecasts
The forecast says the the long-term outlook for general aviation, driven by turbine aircraft activity, remains favorable. The active general aviation fleet is projected to increase at an average annual rate of 0.2% over the 21-year forecast period, growing from an estimated 203,880 in 2015 to 210,695 aircraft by 2036.
The more expensive and sophisticated turbine-powered fleet (including rotorcraft) is projected to grow by 15,600 aircraft — at an av-erage rate of 2.1% a year over the forecast period, with the turbine jet portion increasing at 2.5% a year.
While steady growth in GDP and long term corporate profits impacts continued growth of the turbine and rotorcraft fleets, the larg-est segment of the fleet, fixed wing piston aircraft, is predicted to shrink over the fore- cast period by 17,500 aircraft (at an average annual rate of 0.6%).
On the other hand, currently the smallest category, light-sport aircraft, which was created in 2005, is forecast to grow by 4.5% annually, adding about 3,900 new aircraft by 2036, nearly tripling its 2014 fleet size.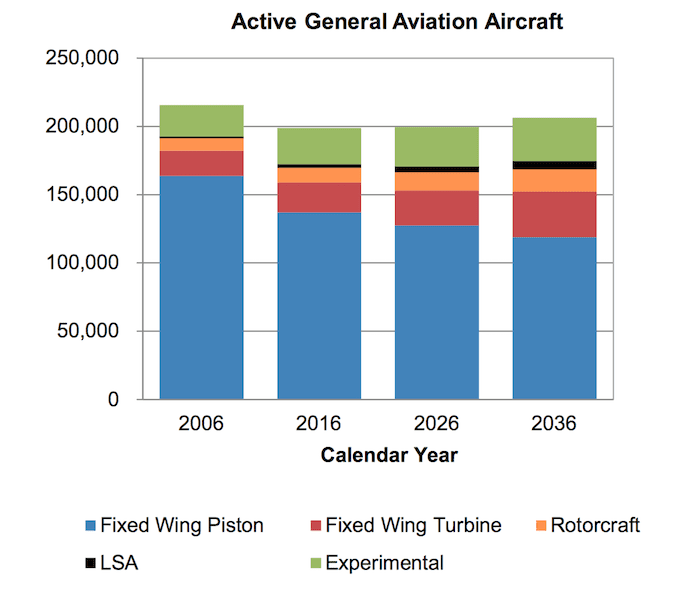 Moderate fleet growth impacts the number of general aviation hours flown, projected to increase an average of 1.2% per year through 2036.
Following the de-cline in piston fleet, fixed wing piston hours are forecast to decrease by 0.6%.
Countering this trend, hours flown by turbine aircraft (including rotorcraft) are forecast to increase 2.6% yearly over the forecast period.
Jet aircraft are expected to account for most of the increase, with hours flown increasing at an average annual rate of 3.1% over the forecast period. The large increases in jet hours result mainly from the increasing size of the business jet fleet, along with continuing increase in utilization rates, FAA analysts say.
Lastly, the light-sport aircraft category is forecasted to see an increase of 5% a year in hours flown, primarily driven by growth in the fleet.
Pilots
The FAA also conducts a forecast of pilots by certification categories, using the data compiled by the Administration's Mike Mon roney Aeronautical Center. There were 590,039 active pilots certificated by FAA at the end of 2015.
While private and com-mercial pilot categories kept their declining trends, student pilot certificates continued to increase.
Since 2011, the student pilot numbers have been rising and reached 122,729 in 2015.
The number of active general aviation pilots (excluding ATPs) is projected to decrease about 5,000 (down 0.1% yearly) over the forecast period, while the ATP category is forecast to increase by 13,600 (up 0.4% annually).
The student pilots are forecast to increase by 0.3% and much smaller category of sport pilots are predicted to increase by 4.8% annually over the forecast period.
On the other hand, both private and commercial pilot cer- tificates are projected to decrease by 0.6% yearly until 2036.
You can see the full forecast here.