Garmin has introduced the G5 electronic flight instrument for experimental amateur-built (EAB) and light-sport aircraft (LSA).
The G5 serves as either a back-up instrument to G3X or other EFIS systems or as a standalone primary flight instrument, with optional autopilot mode annunciation.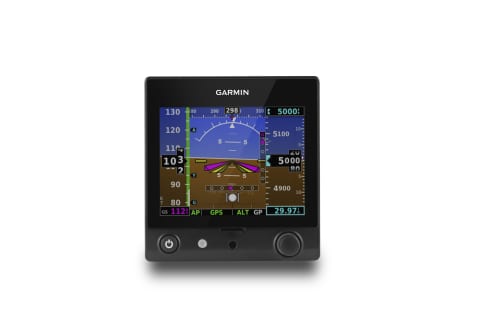 Boasting a 3.5-inch sunlight readable liquid crystal display (LCD) with built-in GPS, G5 displays attitude, ground track, altitude, airspeed, groundspeed, vertical speed, slip/skid, course (lateral) deviation, vertical deviation and incorporates a dedicated HSI page.
Even more capabilities are available when integrated with G3X glass flight displays.
Additionally, the G5 fight instrument can serve as part of a standalone autopilot solution when paired with Garmin's compatible autopilot mode controllers and autopilot servos, according to company officials.
An optional four-hour back-up battery can be included with a G5 installation to provide pilots with added assurance in the event of an aircraft electrical failure. The easy to install G5 flight instrument measures 3-inches in depth when paired with the back-up battery and 2.1-inches without the battery.
Installation is further simplified as the G5 incorporates pitot and static inputs that integrate with the aircraft's existing pitot/static system. The G5 includes a built-in GPS antenna, however an external GPS antenna is optionally available if needed.
The G5 electronic flight instrument is anticipated to be available in April at a price of $1,199. The optional back-up battery is anticipated to be available in June for $150.