Fresh off a March 31 crossing from France to SUN 'n FUN, Daher debuted its TBM 930, billed as the big brother to its TBM 900.
The difference? The panel.The 900 is equipped with Garmin's G1000 while the 930 fits the G3000 into the panel. The G3000 system in the 930 includes three 12" screens plus dual GTC580 touchscreen interfaces.
The 930 is not designed to replace the 900, but gives owners the option of the panel interface features they prefer.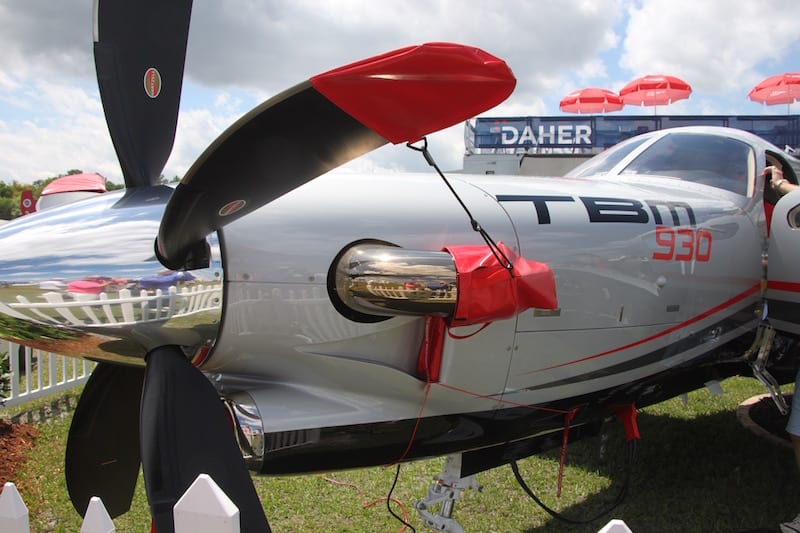 E-COPILOT
Available on both models is E-Copilot. Among the features of E-Copilot are aural alerts to replace the various bells and dings a pilot might hear. Now, a pilot will hear "Gear," "Stall," or "Use Oxygen Mask."
"We talk to machines," said Nicolas Chabbert, Socata North America CEO. "And machines talk to us," in reference to Apple's Siri and Amazon's Alexa voice commands so many of us have gotten used to.
Built into the 2016 units is Safe Flight's AOA (Angle of Attack) and Garmin's ESP (Electronic Stability Protection), USP (Under Speed Protection), EDM (Emergency Descent Mode).
PRICING & AVAILABILITY
The TBM 900 is priced at $3.9 million while the TBM 930 is priced at $4.1 million.
The 930 on display in the Daher exhibit at SUN 'n FUN  is both EASA and FAA certified. Deliveries will begin immediately to the 35 units they've sold.