By STEVE WIGHTMAN
I blame my flight addiction on Leonardo Da Vinci's famous quote: "For once you have tasted flight, you will forever walk with your head turned skyward, for there you have been and there you long to return."
Beginning with flying model airplanes in my teens, my eyes were often turned skyward. I'd read about airplanes, engines and feats in then hard-to-find aviation magazines like a bear devours chocolate bars.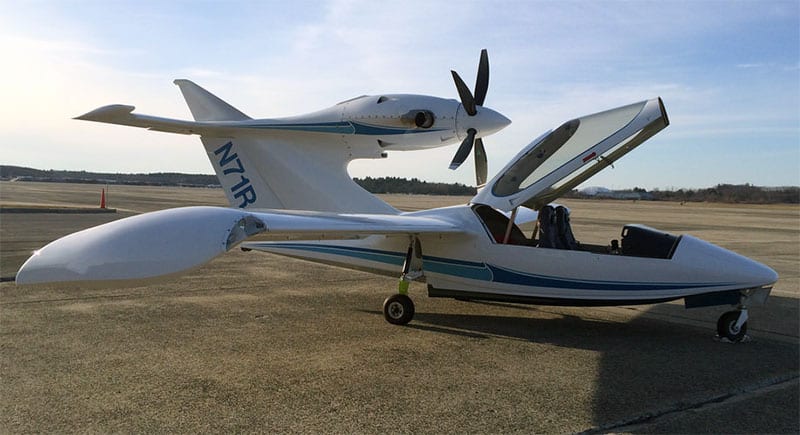 Nine months after high school graduation I joined the Army Aviation ranks as my second choice, an airplane repairman. After advanced training I was assigned to maintain and fly with de Havilland Beavers and Otters, Cessna Birddogs, Grumman Mohawks, various Beech aircraft, and an occasional rotorcraft. As an airplane crew chief, I often flew on missions day and night too. I was hooked.
WINGS AND GREATER THINGS
The Cessna 172 soon settled on its nose wheel, cleared runway 29 at Hanscom Field (KBED) in Bedford, Mass., turned to the taxiway and then the Hanscom Aero Club parking area. I cut the engine and my examiner congratulated me, "Good job, you are now a private pilot."
My nearly four-decade delayed dream now had real wings. I was elated, but the satisfaction didn't last long. I then obtained an instrument rating and tailwheel endorsement, but something was still missing…Water!
I developed a keen thirst for an airplane that could land and go just about anywhere, carry cargo, family and friends. Except for the Lake Amphibian, nothing came close to quenching my thirst. For me, the Lake was just too cramped and it could fly two, not four people.
I soon found the Seawind kit and quickly concluded it was my perfect match. This 200-mph four-seater had a 1,000+-pound payload, and up to 110 gallons of fuel capacity for a 1,000+ statute mile range with reserve. Further, it was all composite, so I knew it wouldn't rust and it would be easy to repair. I was sold on the concept. Now it was time for research.
Lots of phone calls to Seawind builders and owners and after attending Seawind fly-in events for a few years, I made the decision to buy a Quick Kit and build it within five years.
In October 2000, I drove from Boston to Seawind North America (SNA) headquarters in Kimberton, Pa. SNA loaded my Seawind kit onto a trailer. A day later I was back in New Hampshire.
SLOW PROGRESS
By 2006, with construction limited to less than half a year on weekends, progress was slow. I knew the only way to get the airplane built was via a builder assist shop. Planemakers of Sarasota, Fla., was my answer.
No longer did I struggle with inexperience, a lack of special tooling or resin unfriendly temperatures. Planemakers trucked kit 153 from New Hampshire to Florida.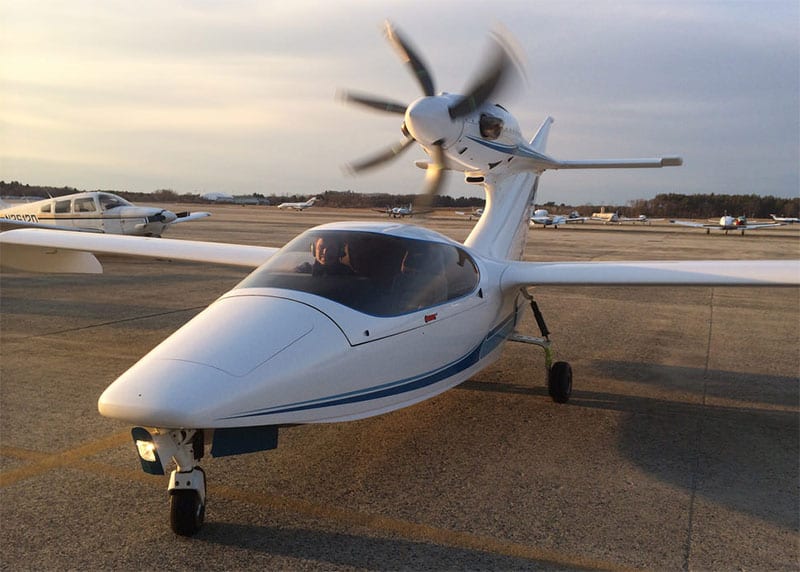 Airframe progress allowed me to re-think propulsion. I turned away from the suggested IO-540 six-cylinder, 530-pound avgas-fueled reciprocating engine in favor of a well-proven and lighter turbine, Pratt & Whiteney's PT6A-20. This engine was a little over half the weight, with nearly twice the thrust, 550 v. 300 horsepower. It also enjoyed a 40-plus year history of safe operation.
It also carried enough wallop to get a fully loaded airplane in the air on warm days or short runways and climb two to four times faster than the IO-540. Convinced, I acquired a recently refurbished and tested PT6A-20 and delivered it to my kit.
More powered required modifying the Seawind to support the -20. That meant reinforcing the vertical stabilizer, designing and constructing a new and stronger engine mount, fitting controls, cables and wiring specifically for this turbine. We also designed and built a unique carbon fiber cowling.
Fortunately, Planemakers' referred me to the now late Bud Gustin, who had a similar Seawind vision. Bud kindly supplied me with a copy of his engine mount design and mold. After a few days of fabrication and mounting, I found it balanced my -20 to the airframe exactly as designed.
I added a composite 5-blade, constant speed propeller from MT. Five 74-inch blades compensated for the restricted clearance and still handled the torque and the powerful thrust of a 550 shp engine. My baby now had bite.
BRAINS FOR MY BABY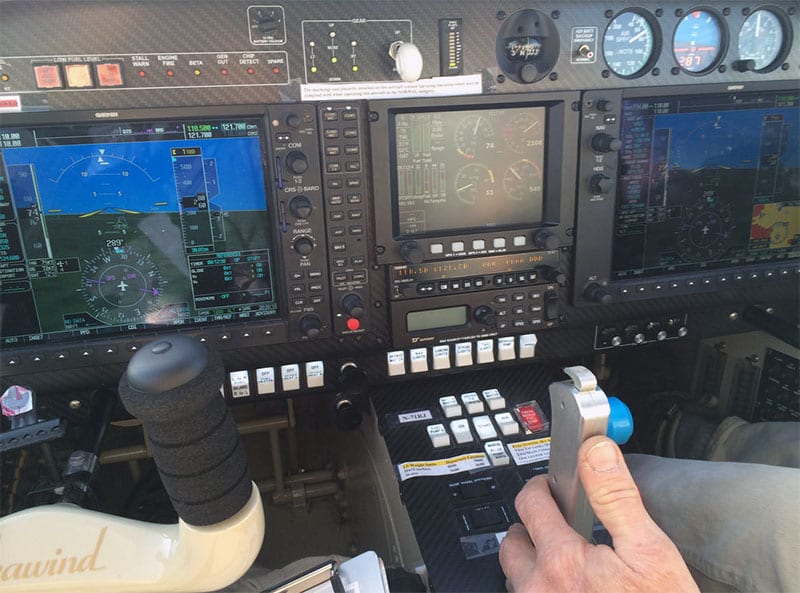 I chose Billings, Mont.-based Aerotronics to build the IFR brains of my Super Seawind. Aerotronics' Jason Smith connected Garmin's G-900X with synthetic vision, a Grand Rapids Technologies (GRT) EFIS with satellite weather capability and a two-axis TruTrak auto-pilot in my panel.
While the panel offered superb position awareness, traffic monitoring, and redundant nav/com radios, I added faithful steam gauges as well.
Additionally, each wing got its very own pitot-static system. Now my Seawind was coming alive. It could see, hear, and speak in RNAV, GPS, ILS, and VOR.
FIT, FINISH, FLYING
Finishing the airframe, connecting the wings, rudder, elevator, and control surfaces were followed by sanding. Lots and lots of sanding. And then more sanding was followed by painting. In February 2012 she got her airworthiness certificate.
On March 15, 2012, N71RJ's first flight was flown from sunny Sarasota-Bradenton International Airport (KSRQ) by Wisconsin-based CFII Jack Ardyno.
Jack's post-flight report says it all: "I've flown 27 Seawinds… I had been eagerly awaiting the test flying of Steve Wightman's turbine Seawind, N71RJ. His Pratt & Whitney PT-6-20 engine develops 550 hp, runs smoothly and on takeoff, presses the pilot and passengers back into the seats. His plane did not disappoint me. It climbed from 5,000 feet to 10,000 feet at 2,000 fpm at an almost uncomfortable nose up attitude in contrast to the 400-600 fpm of a Lycoming equipped 300-hp Seawind."
My first flight solo was at Venice Municipal Airport (KVNC). I think I was more scared than when I was serially sniped in a prior life in Panama. Lined up on the runway with 20° flaps, I advanced the throttle and pulled the yoke simultaneously full aft. 1RJ lunged forward like a racehorse out of the gate. Ten seconds later and yoke now neutral, I was airborne and climbing so fast that I popped above pattern altitude.
With my pounding heart now in my throat, I turned crosswind and then downwind and set up for my first landing. On final, I was too fast and too high so I went around for another try.
On final, I could see Jack off to the side. I don't know who was sweating more at that moment. With flaps at 40°, I touched at 70 knots and stayed on the main wheels and rolled down the runway.
From that day on, it was lots more of the same. I then graduated to my favorite, lake landings. Jack said our runway distance markers were now alligator counts.
"You should certainly be fully stopped by your 10th alligator," said Jack with a wink and a smile.
I found the combination of Garmin's G-900X and GRT's EIS made flying much easier because I had more time to watch for other traffic and enjoy the spectacular Florida suncoast view.
BRING HER HOME
It was time to take 1RJ home. In June 2012, Jack and I flew from KSRQ to KBED. At 19,000 feet and 1,900 rpm we saw 193 knots true airspeed at 78% power with flaps set at negative 10°. We made two precautionary fuel stops and landed about 40 minutes after sunset on runway 29 at KBED.
1RJ isn't just another pretty face. I plan to break four FAI/NAA world records — one each for speed, endurance, altitude and rate of climb. All are within reach for this Super Seawind. If all goes to plan, I'm planning for May record attempts.
LESSONS LEARNED
I learned a great many lessons in building a Seawind.
First, you can't be too careful. All aircraft must be respected, but high performance, complex aircraft, more so.
Second, construction takes three to five times longer and costs equally more than planned.
Third, although it put chains on my time and finances for 12 years, it's made me a better man.