Dispatch from KGYI, Sherman, Texas: I'm sweating. Figuratively speaking.
The other plane is right behind me. I strain my neck first left then right, looking out my back windows trying to spot him. I don't see him, but I know he's got to be right on my twin tails. The tower cleared his takeoff as soon as my wheels left the ground.
He's Race 94, Jack Stanton, the man I am bound and determined to beat today.
Why? What bone do I have to pick with Jack? None whatsoever.
In fact, I just met the man for the first time last night. But we fly the same airplane. I'm up against another Ercoupe for the first time, and the outcome of this aerial duel is far from certain.

Sisters, but not twins
While our planes are virtually the same, both built in the spring of 1947, there are many differences. Cosmetically, they couldn't look more different. Race 94 is butter yellow with fire engine red accents and carries her original "NC" registration number in giant letters and numbers across her wings.
Race 53 sports a more modern blue and white scheme with a large swept-back registration dominating the rear fuselage and racing stripes on her wing tips.
They look so different on the ramp that only their twin tails reveal that they're sister ships.

But to the racer's eye there are subtler differences. Race 94 has wheel pants, aerodynamic pods around the landing gear, and tires that should give her a three mile per hour advantage.
On the other hand, she also has a different seat design that makes her heavier.
Balancing that, she has the original fabric over her metal strut wings, while my wings are "metalized," so my wings weigh more.
Race 94 has a cruise prop, which should deliver more speed, while I have a climb prop that delivers more power.
The wingtip nav lights on Race 94 are the older, draggier style, but it doesn't have a venturi horn on the side like I do for gyro instruments. I've got the slicker model "E" elevator; he has the older straight elevator.
And on it goes.
When I carefully studied Race 94 on the ramp this morning I was unable to calculate a sum of the advantages and disadvantages between the two planes. Plus, there's no way to know, by simply looking, which plane has the stronger engine. One of the planes will be faster, no doubt, but it was impossible to say which one.
Of course, I'd done my homework. I had checked Jack's league stats over the last several years, and it looked like he was generally a bit slower than I am.
Still, I had no way of knowing if he'd pulled out all the stops in previous races, as planes in our category aren't that common, and sometimes he was flying unopposed.
That said, in the 2015 Texoma race for the Sport Air Racing League, he beat out Paul Tanner of Race 7 — a Cessna 140 — by a mere 0.63 miles per hour.
I assumed Jack's 100.21 miles per hour in that race was his best effort. In my last two races I'd done better than that, but there's no way to know what the winds were like on the course that year.
Plus, it didn't look like he'd taken on a fellow Ercoupe in the past, either, and that could make all the difference in the world when it comes to fueling competitive juices.
It could come down to piloting, I thought, and the desire to win.
But, as it turned out, I severely misjudged Jack Stanton as an Air Racer. More on that to come.
More sweat
Back in the cockpit on the race course, I'm literally sweating too. Profusely. My white racer shirt with its fancy logos clings to my body like a damp rag. Little streams of sweat trickle down the side of my face and into my beard. It's hot in the cockpit. And not just a little hot. It's damn hot.
The Ercoupe has a commanding view of the world forward through a bubble windshield, above and to the sides through clear canopy-like doors that slide up from the belly of the plane over the pilot's head, and behind through a pair of large windows. The net effect is a view from inside the plane that's nearly fighter plane-like.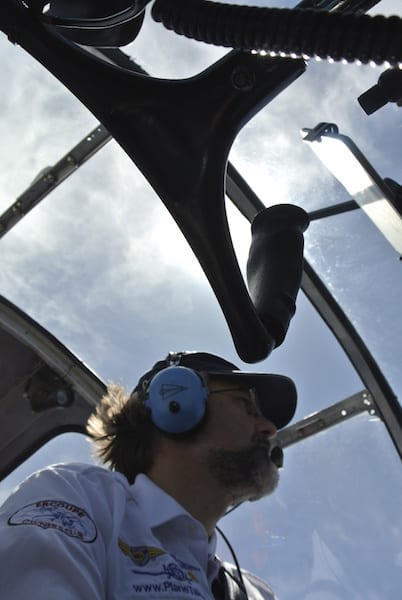 But all that glass also acts like a greenhouse in the sun, especially when the doors are fully closed.
For everyday flying, I can leave one door in the belly and slide the other all the way above me for open side "windows," or I can open both doors part way for a skylight vent of any width I want above my head, or I can leave them both in the belly and fly fully open cockpit like the biplanes of old, which is a hoot.
I usually have the doors open to some degree when I fly, but that creates drag. Drag in a race is not an option, so today I'm paying dearly for my aerodynamics.
Still, it's one of those things I'll just need to sweat out if I want to beat Race 94.
Where's Jack?
I expected a call on the race frequency at any second announcing that he was passing me as I approached turn one. I was pretty agitated.
On top of the worrying about the competition and dealing with the heat, I wasn't seeing the airspeed I'd expected. I'd covered practically every bump, crack, and seam on Race 53 with sailplane gap tape — a mistake as it turned out, as while it seemed to help some in the speed department, the tape took a lot of the paint right off the plane when I removed it later!
My ground speed sucked too, but we were all flying in the same wind, so that didn't bother me as much as the pokey airspeed indicator did.
Then, despite having pre-flown the race course, I got off track briefly by navigating to the wrong set of buildings beyond the marina on Lake Texoma, and ended up wide of the grass strip at Cedar Mills that was my turn point.
But there was no time to be mad at myself. I had to watch for the ever-present flocks of birds, focus on getting frequencies changed, and calculate a shallow dive from the first turn altitude to the second turn altitude 27 miles away to optimize my trade of altitude for speed against a headwind on the longest leg of our C-shaped course. I also needed to stay sharp for the guywires of the nearly 2,000-foot tower west of Collinsville, just to the right of my course.
I got so damn busy flying that I forgot about Jack and Race 94 until I saw him again.
The return of Jack Stanton
The finish line was glorious. From the turn over the bridge on the north tip of Ray Roberts Lake, I dropped down to blast over the finish line at TxAeroSport Aerodrome at 200 feet AGL, as instructed in our race brief.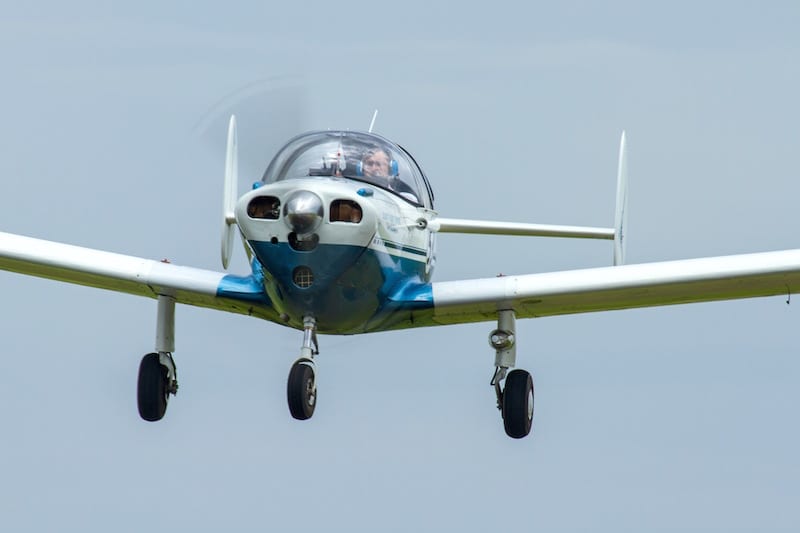 Then I pulled up, wagged my wings, and vowed to look into installing a smoke oil system in Race 53 for dramatic air show-style race finishes.
Back on the ground at KGYI (after a well-deserved tongue-lashing from ATC for entering the typical right-hand pattern instead of the left-hand one they instructed me to use due to the race launches), I refueled for the return flight to New Mexico, taxied to parking, guzzled several bottles of cold water, tied down, and started the tedious chore of de-bugging my plane's white wings.
I'd nearly finished the job when Jack Stanton in Race 94 taxied up with a big smile on his face. I tried to calculate how long I'd been on the ground and wondered why he was so late, and just where the Sam Hill he could've been all that time.
But to Jack, he was right on time.
An unexpected pair of victories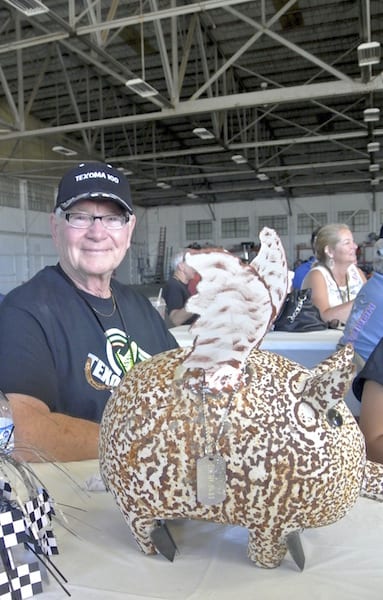 Remember the SARL tradition of having an award for the slowest racer? The one I proudly brought home from the Bob Axsom race two weeks ago?
Well, at the Texoma Race, the award is "Propwash," a metal flying pig statue. In the past, as the only FAC6 plane flying in many of the races, Jack was many times the winner of the flying pig. In fact, he's won more flying pigs than anyone, and he's developed a great sense of pride over that. So much so, that Jack was determined to do whatever it took to make sure he won the pig this year.
That 0.63 mph victory over his completion last year? A terrible mistake. Jack had planned to maintain his long-held status of slowest racer. He just accidentally flew too fast and won, which for Jack, was a loss.
Over lunch, as the long-course planes were doing recovery, Jack told me, "My intent was to come in last."
It turns out that Jack was sweating over beating me as much as I was sweating over beating him. He even revealed his race strategy to me. He flew slow, but planned to make a couple of 360s if he saw he was catching up to me.
He took off right after me to make sure that he could see that I was well enough ahead of him that I didn't pose any threat when it came to winning the flying pig trophy.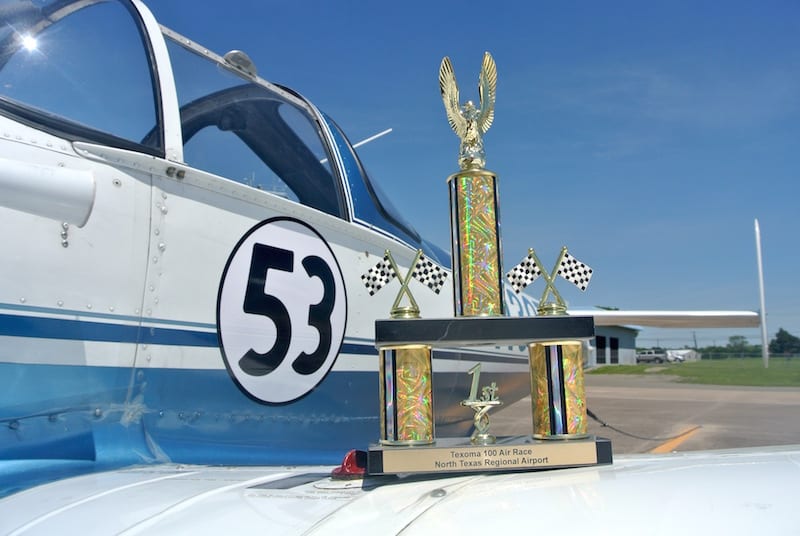 Jack's final speed in Race 94? A "blazing" 78.7 miles per hour. My official speed, my worst yet, was 111.3 mph. I wasn't at all happy about that, but it was fast enough to get me the First Place trophy in our Class that I wanted, and maximize my league points for the race. (Originally there were four FAC6 planes set to race, but two dropped out when weather pushed the race back a week.)
So the duel between the Ercoupe Race Planes was over with an unexpected outcome. Both Jack and I "won" our race against each other.
We both went home happy, each of us with the trophy we coveted. I guess there's more than one way to win an air race. More than one way to define victory.
But still, I have to wonder, if Jack had intended to win, instead of intending to lose: Which one of us would have crossed the finish line the fastest?
My League Points: 310. I got a bonus 10 points for "beating" Jack Stanton of Race 94. I still get the points even though Jack was trying his damnedest to fly slower than I did to make sure he won the slowest racer prize.
My League Standing: I've fallen from tied for first place with Team Ely of Race 55 to second place behind them in the Factory Category, as Race 55 beat out three other competitors to seal a first place in the FAC5 Class. They are now 20 league points ahead of me.

And while it doesn't account for anything officially, I was tickled pink when reviewing the race results to discover that I'd beaten out a Cherokee 140 — a plane in the next Class up — by 0.17 mph. In a similar manner, it's only fair to point out, Team Ely also "beat" not one, but three planes flying in higher classes. There's a lot more to racing that what plane you're flying.