If someone would have told me a year ago that I would be going to SUN 'n FUN to see all the airplanes, meet people with incredible flying stories, and writing for the SUN 'n FUN Today newspaper, which is produced by General Aviation News, I would have thought they were crazy.
After all, I really didn't know that much about airplanes. My initial thought of aviation was shrouded by my narrow-minded opinion that planes were built for transportation purposes, not entertainment.
A few weeks before the fly-in, I was informed by my college professor, Philip Maschke, of an opportunity to be a intern for SUN 'n FUN Today. Ambitious to get published by a newspaper, I accepted the opportunity with no questions asked.
Getting closer to the start of the fly-in, I decided to do some research to find out what SUN 'n FUN was. Once I found out it is six-day event full of a world of aviation I knew nothing about, the fear and doubt started to kick in. I could not fathom the idea of interviewing people for newsworthy information, let alone write an article about them.
Almost to the point of quitting, I decided to go to SUN 'n FUN for at least one day and if I didn't like it, then I would leave and never come back.
For the first day at SUN 'n FUN, I headed out with three other students hoping we would all have a worthwhile experience. The car ride there seemed longer than what it was supposed to, not to mention nerve-wracking, because of all the uncertainties going on in my head.
Writing for a newspaper for the first time was one thing, but writing on something I knew very little about was an additional stress.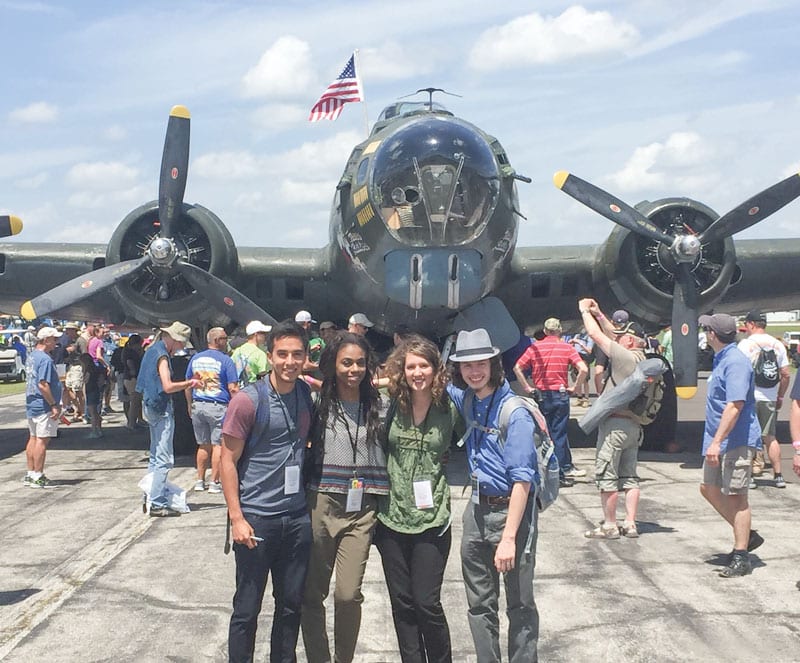 As soon as we got to the SUN 'n FUN grounds, I headed to the media center with the other students — Alexis Brim, James Barker and Sophia Ando — where we were treated to blueberry bagels, sweet muffins and, most importantly, delicious hot coffee that could wake any news writer up on any given day.
After breakfast, we met up with SUN 'n FUN Today's editor, Janice Wood, who gave us our assignments. Knowing that it was our first time writing for a newspaper, Wood really helped us with the whole process of finding out where we had to go, who to talk to, and what questions we should ask people.
When walking around SUN 'n FUN and talking to other people, I was able to take in many inspiring stories about other peoples' aviation experiences, their careers in flying, the accidents they experienced while flying, and, most importantly, all the relationships they've made, including love stories.
After seeing the willingness of the pilots to share their life experiences, I started to realize that you don't have to be a pilot or have to know the name of each and every plane that was ever made to write a story about the people at SUN 'n FUN.
All you have to do is be willing to take in all of these great stories, because everyone has a story to tell.
Poet Robert M. Hensal said, "The mind is like a sponge, soaking up endless drops of knowledge."
I came to SUN 'n FUN not knowing much about aviation and well, I still don't. However, that did not take away from the invaluable experience I had and I look forward to "soaking up" more great aviation stories at next year's fly-in.
Next year's fly-in will be held April 4-9, 2017.