In what was called a "momentous occasion," a ribbon-cutting ceremony was held during this year's SUN 'n FUN to officially open the Lakeland Aero Club's new hangar.
"This is the largest high school flying club on the planet," said SUN 'n FUN President John "Lites" Leenhouts.
More importantly, the club is the "cement that holds together our youthful aviation education programs here at the Aerospace Center for Excellence."
"Without a place for the young men and women to come to after school, there's no telling what kind of trouble they could get into," he continued. "But here they get involved in flying."
After acknowledging the people who helped make the club possible — including Lakeland Mayor Howard Wiggs, Rick Garcia of Gulf Coast Avionics, Lakeland Linder Regional Airport's Gene Conrad and Nan Walsh and John Ratta of Ratta Construction, who built the hangar in record time and under budget ­— Leenhouts acknowledged Jame C. Ray, the benefactor of so many of the youth education programs on the SUN 'n FUN campus.
"One man had a vision five years ago and we all started adding to it," Leenhouts noted. "James Ray provided the assets to make this happen."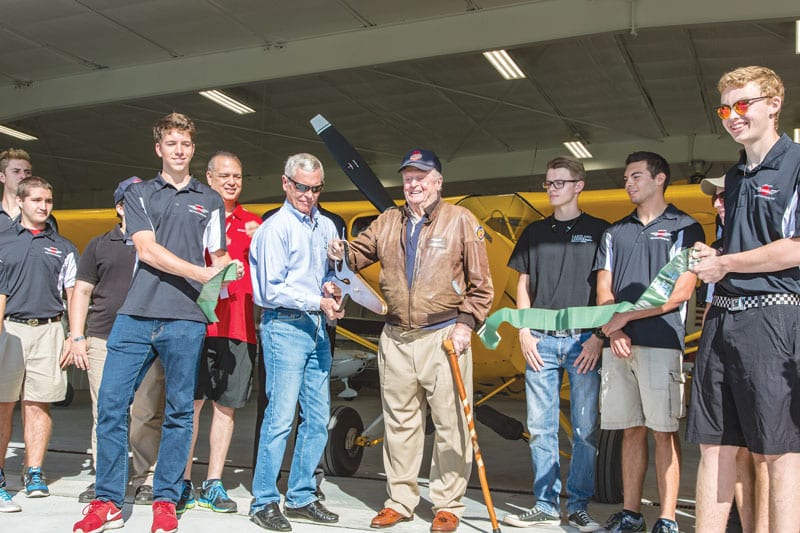 Ray's initial donation helped build the Central Florida Aerospace Academy, the aviation-oriented high school on the SUN 'n FUN campus. Since then he has continued to contribute, including providing funding for flight training and college scholarships.
Considered one of the most generous aviation philanthropists, Ray is notoriously shy about speaking at public events, but at the ribbon-cutting ceremony, he did say a few words.
"My reward is the success of these young people standing next to me," he said.
After the ribbon-cutting ceremony, Leenhouts also noted that Ray has been inducted into the Florida Aviation Hall of Fame.
Since he wasn't able to attend the regularly scheduled induction ceremony, he was presented a portrait after the ribbon-cutting ceremony. However, it wasn't the official portrait that will hang in the Florida Air Museum. That's because right under Ray's name is the only notation he wanted: Curmudgeon.
"A curmudgeon is a miserly, ill-tempered old man," Ray explained with just a bit of a smile.
A B-17 pilot in World War II, Ray eventually became a successful businessman who found a way to give back. He tells people that the one thing that changed his life was soloing an airplane.
"When you get the key, you are no longer a boy, you are a man," he said.
"His dream to make that happen is happening right here right now," Leenhouts noted. "The state of Florida is recognizing him as one of the great aviation philanthropists on the planet who gave back to help the next generation be as good as his."
After the ceremony, Ray was surrounded by students from the high school and Lakeland Aero Club. While ill at ease during the official ceremony, he lit up as the kids huddled close to get in a photograph with him. At one point, he pulled out his own cell phone and asked someone in the crowd to take a photo for him.