Dispatch from KIYA, Abbeville, Louisiana: As I turn off the taxiway for the hold-short line, I glance back over my left shoulder to watch the parade of Aeronca 7 Champions move forward. Each a different shade of yellow and red, with their stubby noses high in the air, their tails low, they look like a pack of eager puppy dogs begging for a treat.
I sigh. For me, in this race, they would have been easy pickings. Even though they rolled off the assembly line about the same time my plane did, they are a whole order of magnitude slower. Even on a bad day I could beat them all.
That is, if they actually were flying against me, which they aren't. 

Flying through the rules
The Champs are all Factory planes, in the same Class as I am: FAC6. But they also meet the FAA's definition of Light-Sport Aircraft, and can be flown as "legacy" light sports. Accordingly, Sport Air Racing League rules allow pilots to enter them as either FAC6 or LSA for racing.
The night before the race, as I was looking at the lineup of planes, I saw that all the Champs had registered as LSAs. Like the Champs, my particular Ercoupe also qualifies as an LSA, so I can race as an LSA if I choose to.
And there was good reason to consider it.
My big competitors for the first place factory trophy at the end of the season, Team Ely, were already 20 points head of me, and to make matters worse, they were flying against two planes at Abbeville that I judged they would be able to defeat. As things stood, by the end the race I'd be 40 points behind them.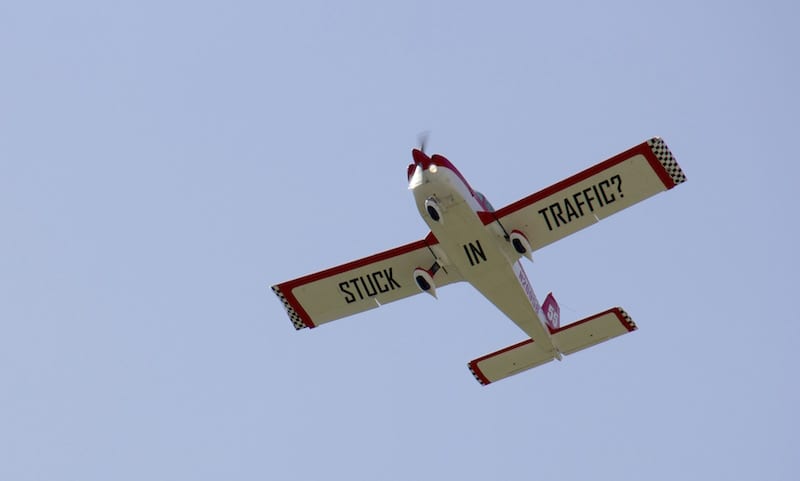 But if I switched to LSA, I had the potential to tie with the Elys again — in addition to the trio of Champs, there was also a modern Sky Arrow LSA flying the race. If I beat all the other LSAs, I'd rake in 140 points. If I stayed FAC6 I'd only gather 100 points.
Dance with the girl you brought, or win at any cost?
The rules allow planes that qualify for more than one Class to change Classes once per season. So I could do it, and I could do it at the last minute, but then I'd be locked into that Class the for rest of the season.
There was every reason to do it. In most races I'm the only FAC6 and there aren't any LSAs, at least not in the Factory Category. So in most races the most I can hope for is 100 points.
Team Ely, however, often has one or two competitors, and they are pretty much the fastest plane in their Class. To beat them at the end of the season I have to fly more races (at least two more, maybe three) to trump their point total.
The problem is that the Elys are signing up for every race in sight. They are wonderful people, but, you know, they're kinda competitive.
Of course, if you're not competitive by nature, you wouldn't be an air racer.
I was looking at a golden opportunity here that I knew was unlikely to come along again. Plus it would move me from a very wide Class where at least half the planes I might fly against can beat me, to a Class where I would likely be the undisputed king of speed.
Going with the gut
I agonized long and hard, and tried to convince myself to do it, but switching Classes just didn't feel right.
Despite all the seeming advantages of switching, I just couldn't bring myself to do it. I don't know why.
Partly it felt Benedict Arnold-ish. Partly I was afraid of making a bad call.
And while flying loops through race rules is a tradition that goes back to the earliest air races, that doesn't mean it's universally admired. I guess I worried that switching might somehow affect my status in the League.
And lastly, flying the fastest plane in a Class doesn't seem as challenging and fun. I know that in upcoming races I'll be head-to-head with planes with better speed. Winning against a faster plane by out-flying its pilot would be sweet indeed.
Of course, I could also lose, and fall yet farther behind the Elys.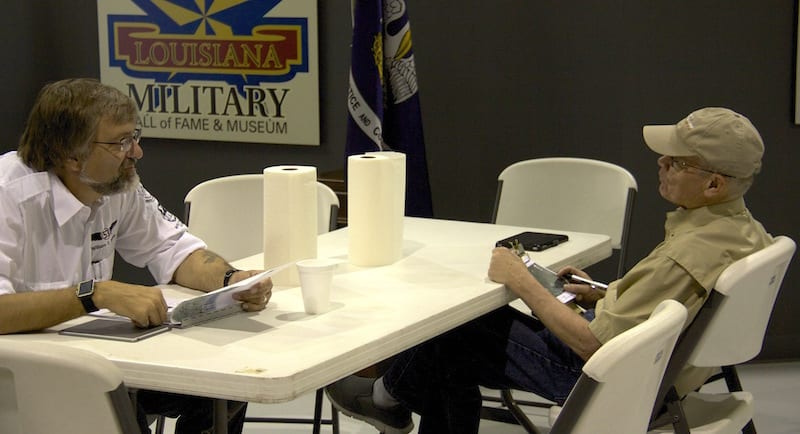 Flying against myself, with others in the way
Well, it's too late now. The ramp marshal is signaling me to take the runway. Our launch is an hour behind schedule due to a long briefing: We have a large number of rookie racers in the field and the race director wanted to be sure everyone understood what to do.
I slide my canopy halves closed, pull onto the numbers and advance my throttle to the firewall. In the thick, dense air at 15 feet above sea level, Race 53 jumps off the ground in three heartbeats.
As I cross the numbers, I bank sharply to the left and roll out onto course. It will be the only left-hand turn of the day. This race is all right-hand turns, a tricky arrangement in a side by side plane like Race 53.
Something's wrong. The sky's empty.
We are launching in 30-second intervals. There should be planes in front of me. But there are none. I double-check my heading. I scan the sky around me, then triple check my heading. I'm dead-on the racecourse, but all alone.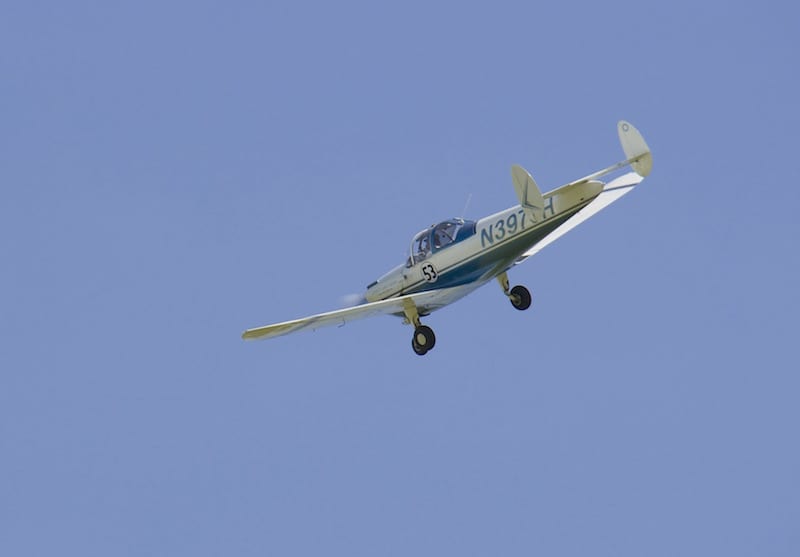 Finally I spot the two planes that launched ahead of me, both rookie racers, high and off course to the right. They are wasting speed by climbing abruptly to altitude. Our first turn is a full 18 miles from the start line. I set up a slow climb to ensure that I reach the 1,200 MSL passing altitude by the time I get there.
The trouble begins
The plane immediately ahead of me is a Piper Warrior. Once he gets his altitude, he pulls smartly away, passing the plane ahead of him, which we'll call a Skymusher to protect the identity of the pilot I'm going to rag on.
The Skymusher should have had a commanding speed advantage over me, that's why he launched two planes ahead of me. This is a plane that should have been able to do 140 mph, easy. And maybe it did. But first the Skymusher was to my right. Then he crossed the course and was off to my left.
As we closed in on Turn 1 there was very little space between us, but there was no getting around him right then. He took the turn way wide. I took it on the dime seconds later.
Turn Two was above the bridge over the Bayou des Cannes river at Lake Arthur. At first, I thought the new racer had missed the turn. I was in position, right over the turn point, about to key my mike to announce my turn when he announced, "Race Zero (not his real race number), Turn two!" and banked into the turn. I had to extend outwards to make sure I didn't hit him.
On the next turn I nearly would.
Collision course
Now on the longest leg of the short course, the Skymusher drifted so far to the left of the course that I could hardly see him, and I began to edge up on him. Slowly, painfully, I gained on him.
When I was at his three thirty, I called him on the race frequency, "Race Five Three to Race Zero, passing on your right. I'm just behind your three o'clock and 50 feet below you." The altitude was a guess; he was too damn far away to really judge.
The radio was deafeningly silent.
"Race Five Three to Race Zero, do you have a visual?"
Again, silence. Then it occurred to me that he might not know his race number. "Skymusher, do you have a visual on the Ercoupe?"
This time he came back at once, "No. Where are you?"
"Passing on your right, below you, abeam your wing."
"I don't see you, where are you?"
I got exasperated and spat out, "Right off your wing!"
So that plane can fly fast, after all
We were now nearing Turn Three, a sharp doubling-back on the course where we departed from the long course. The Skymusher was slightly behind me and wide, but closing in on me. I radioed him and told him I was taking the turn inside of him. But he abruptly changed direction to an intercept course, and in an astonishing burst of speed pulled right in front of me, radioing, "I'm taking the turn!" Then, as Skymusher filled my windscreen, asked, "Is that OK?"
I responded with a snap turn to the left to avoid taking his tail off, and let out a long litany of expletives. I went wide around the turn, then told him I was clear.
I don't know if it was the near miss or the loss of seconds that made me madder. On a 89-mile race at my speed, losing a mere 24 seconds adds up to a full one mile per hour loss in speed for the course.
Seconds are serious business.
I was unable to pass him by the next turn, so again we took the turn almost in formation, with me just behind him, but way to the outside, a maneuver that made me particularly uncomfortable, as this was the turn where the short and long courses merged again, and I knew going wide put me into the path of the faster planes.
Across the finish line
On the home stretch we were in loose formation, with the Skymusher two plane lengths ahead and well off to my left. In the end, we crossed the finish line within seconds of each other, and when he announced his finish, he let out of whoop of pure joy on the radio that couldn't help but make me smile, even though I'd wanted to ring his neck for most of the race.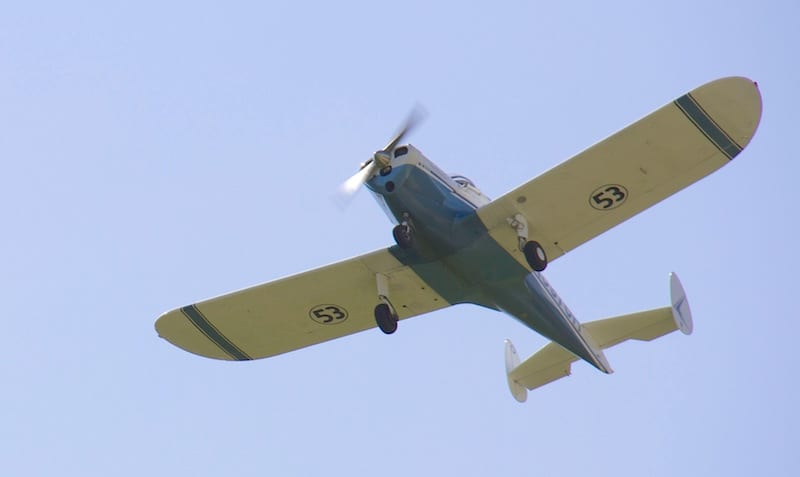 I pulled up, banked right to get the hell away from the son-of-a-bitch, then wagged my wings, part low-end victory roll, part greeting to the timers on the ground.
Back at Abbeville, after landing, I was still second-guessing my decision to stay in my Class. My official speed was 114.14 mph, my second-best of the season.
Had it not been for my troubles with the rookie on the course, I'm sure I would have clocked in excess of 115, maybe even beating my best time of 115.45 at the Axsom race.
By comparison, the champion of the Champs I decided not to take on directly posted a speed of 88.77 miles per hour for the racecourse.
As I said, easy pickin's.
A victory deserved
But in the end I'm glad I didn't change, and for a reason that I confess I never considered in advance. The official name of the Abbeville Race is the "Race for Heroes," and it was co-sponsored by the Louisiana Military Hall of Fame and Museum.
Remember that Sky Arrow was flying in the LSA Class against the Champs? Its pilot was Chris Sullivan, a disabled combat vet who lost the use of his legs after being shot in the neck by a sniper in Iraq. The Sky Arrow has been modified to let him fly with his hands. He was right behind me the whole way, and took first in LSA at 109.68 mph. To me, having a real hero win the Race For Heroes seemed fitting.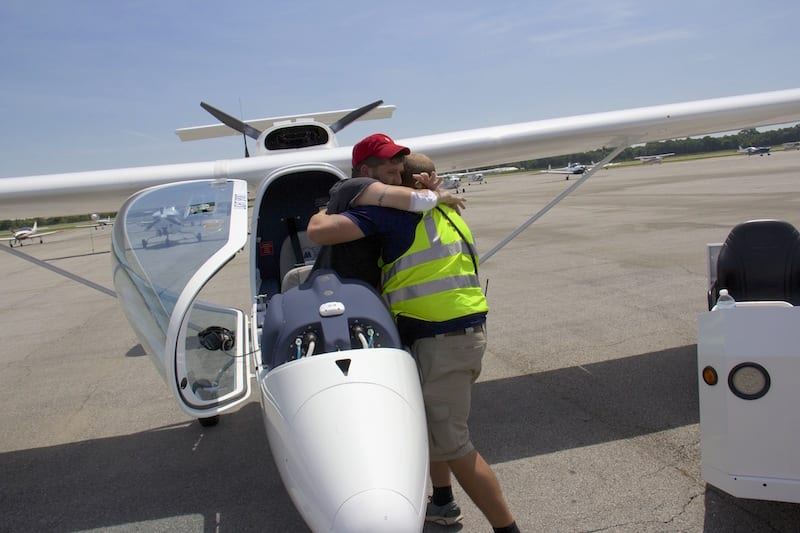 If I'd been Benedict Arnold to my Class, I would have defeated him and robbed him of a hard-fought victory he deserved. So I feel pretty good about my decision, even if noble sentiments had nothing to do with my decision-making on the ground at the time.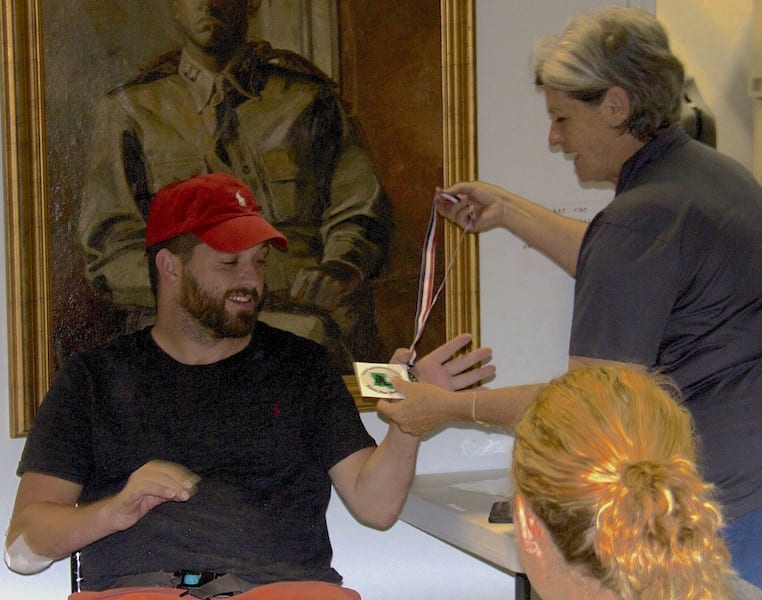 Of course, if I end the season in second place, I might feel differently, and instead of the rookie in the Skymusher, I'll be directing that long litany of expletives at myself.
My League Points: 410
My League Standing: I remain in second place for the Factory Category, but the first place Race 55 team has pulled farther ahead with 450 points. They are now in second place overall in League standings, while I've moved up into a three-way tie for third place.