Would anyone be interested in a 250-horsepower aircraft capable of crossing the continent in just over eight hours at an average speed of 252 miles per hour while using only 61 gallons of aviation fuel, about 40 miles per gallon in cruise?
That's what California aviator Klaus Savier did the day before SUN 'n FUN started in Lakeland, Florida, in the Long-EZ he built and modified for both economy and speed.
Savier, who heads Light Speed Engineering, maker of the Plasma III aircraft ignition system, said his EZ, powered by a highly modified Lycoming O-360 engine, lifted off from his home base of Santa Paula, Calif., early Monday and landed 8.7 hours later at an airpark not far from the grounds of SUN 'n FUN.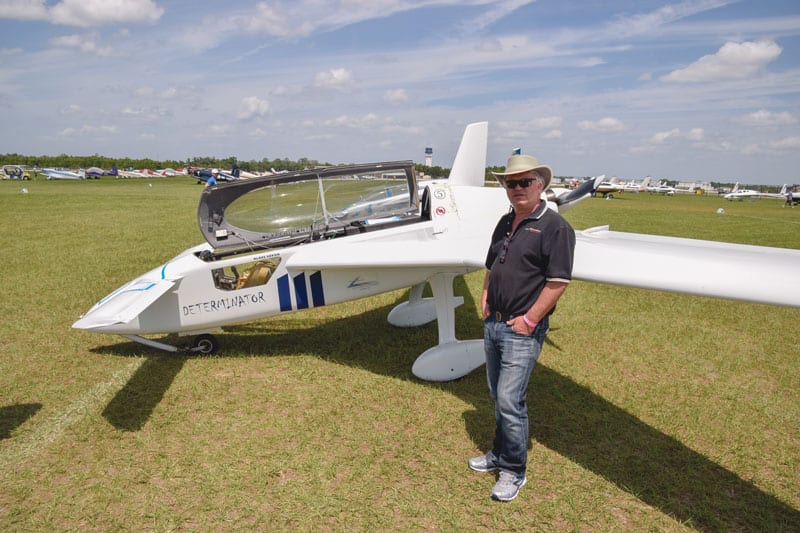 Savier is noted both for his ignition development as head of Light Speed, and as an accomplished racer. He holds three world records with his aircraft and has won a number of speed and efficiency races since 1985.
His Long-EZ is his latest flying test aircraft for speed and economy work. His first homebuilt aircraft, a VariEze, was named the Delaminator, while the Long EZ is the Determinator.
"I have been working on the Determinator on and off since 1985," said Savier.
The first flight was not until 2010. Now it has about 500 hours on it.
"On this latest trip the aircraft was traveling at about 258 miles per hour true airspeed. I had only about a seven knot tailwind and my ground speed was probably closer to 265 to 270 mph," he said. "That was just about 40 miles to the gallon in cruise."
He noted the aircraft has a 27-foot wing span, weighs 920 pounds empty and has a maximum climb rate between 2,500 and 3,000 feet per minute depending on the propeller type.
Savier arrived in Florida from California with approximately 13 gallons of fuel remaining.
"That's enough remaining fuel to go on to the middle of the Bahamas," he said.
The trip would have been quicker, he added, but he had to go around several restricted areas, including White Sands in New Mexico and an area of northern Florida.
"I climbed to 13,500 for a little bit and then 17,500 after that," he said. "It was basically severe clear all the way. But that also meant that the wind conditions were unusual. I had only a little tail wind, like I said, only a seven knot tailwind. I used oxygen the whole way."
Overall fuel consumption for the 2,200 miles was 61 gallons or about 36 miles per gallon, including taxi and climb fuel consumption, Savier said.
"But as I said, the figure during cruise showed 40 miles per gallon," he noted.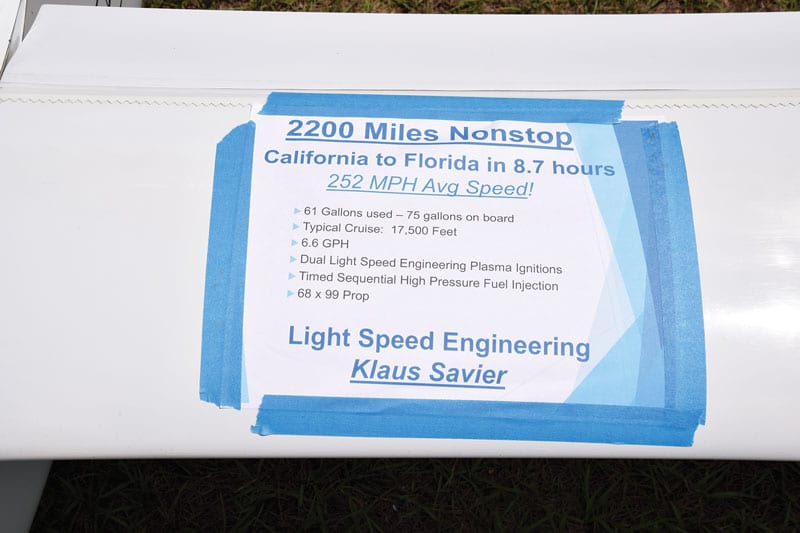 Savier's Long-EZ is nothing like the standard Burt Rutan-designed homebuilt.
"A lot of the structural components were replaced with carbon fiber," he said. "The elevators are carbon fiber. The canard is my own airfoil. The firewall is carbon fiber and titanium. A lot of the interior structures and covers are carbon fiber. The wheel pants are my own design out of carbon fiber. I also made smaller, narrower wheels and axles. There is also a carbon fiber NACA air inlet."
The engine is as highly modified as the plane.
"It started out as an O-360 parallel valve powerplant," he said. "It has no mags, just the Light Speed Engineering dual plasma capacitor discharge ignition. The ignition system gives a lot more power, a lot better leaning and much better starting. This engine has a special time sequential high pressure fuel injection system. To be able to take advantages of the benefits of the fuel injection we designed an entirely new intake system that I built out of carbon fiber tubes."
The engine produces about 250 horsepower, he said.
He continued listing the modifications: "The oil sump is carbon fiber. We reduced the weight from 13 pounds to under three pounds and the sump is still a bit larger, about 9 quarts total. We also designed and built a new accessory case to improve the oil flow through the engine. And that allows a much smaller oil cooler."
"The aircraft is a technology demonstrator for advanced engine control systems, but we are not configured at Light Speed to bring this technology to market, I mean fuel injection," he added. "Of course, we already market our Plasma CDI and will continue to do so."
Savier, who said he had no formal instruction in either electronics or engineering, taught himself by trial and error over a number of years after coming to the U.S. in 1976 from Germany.
"I was always the guy that took everything apart and sometimes put it back together," he said.
He has marketed his Plasma III ignition systems for nearly 30 years and has more than 8,000 customers worldwide.
"The Carbon Cub from CubCrafters has this ignition," he said. "It provides their planes with reliability, efficiency, a little more power and very low maintenance. Also, for five years now, all Cabri helicopters have had our plasma CDI."
Savier said SUN n' FUN and other aviation gatherings give him an opportunity to talk directly with his customers. "I continuously run into them here," he said.
Savier, who earned his private pilot's license in 1983 and now has about 5,000 hours in his logbook, noted that his focus has always been on efficient cross country travel.
"The racing has been a side effect," he said. "Inherently, if it's low drag, it is also fast. So I never built a purpose racer. I compete against a lot of people that bring their airplane to the race on a trailer. I always fly my airplane fully loaded to Mitchell S.D., and then race it at full throttle for 400 miles. I never fly a hand grenade motor that flies for a while and then blows up."
"I work to demonstrate what is possible in aviation — to make these flights and then talk about it," he added. "I hope the advances I have shown in speed and economy will cause the flying public to put pressure on the big manufacturers and move them to use more modern technology."
He said his firm has had a good business year so far. "When I say firm, I mean that basically we are a two person operation, me and Jenny Tackabury," he noted. "We manufacture and market the Plasma CDI."
He added his firm is sometimes confused with Lightspeed headsets from Lightspeed Aviation. "Light Speed Engineering came from me," he said. "I have been doing business as Light Speed Engineering since 1985."
"I could add one last thing: When I am flying cross country at 17,500 feet I am always fascinated that we can have this technology to move at these incredible speeds and the freedom to do so," he added. "Because not many countries have this kind of freedom."