In the beginning, Waco 10 owners Dave and Jeanne Allen had a 1930 Waco 10 data plate, some paperwork and a mountain of dreams.
Now, 28 years later, they fly NC662Y, a pristine, vintage flyer that draws a crowd at nearly every airport they land.
Dave, a retired U.S. Air Force pilot who later flew for United Airlines, and Jeanne, a sailplane pilot, landed at this year's SUN 'n FUN on opening day and were answering questions from visitors before they could get their airplane tied down.
Answering those questions has become second nature, according to the Allens.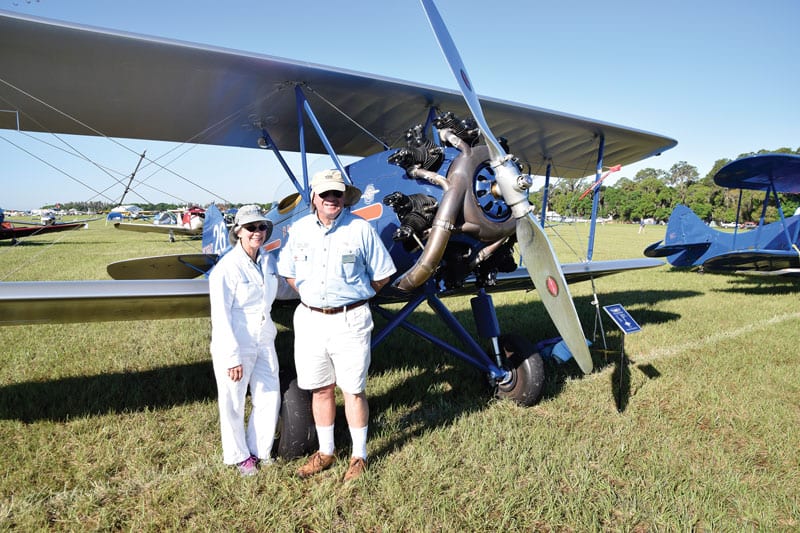 "Part of the satisfaction of flying the Waco is enjoying it with other people," Dave said. "There are quite a number of people who have no idea that there is something like this plane flying around. That pilots trained in them."
"We purchased the paperwork in Florida in 1987," he said. "And we came to Florida in June of 1987 and picked up a basket case for a Waco 10 at Boca Raton and we used some of that for this airplane. The fuselage was unusable, but we used it as a pattern. We built new wings."
The Allens are the restorers and owners of two Waco aircraft. After the Waco 10 restoration, in 2003, they started work on a 1934 YKC cabin Waco. That aircraft flew in June 2013. The work was done in the family's spacious hangar workshop at Kelly Airpark (CO15) at Elbert, Colo.
Not long after the Waco 10 restoration was complete the Allens applied to be part of a reenactment of the 1932 National Air Tour scheduled for 2003, being organized by Greg Herrick.
The Allens told Herrick they'd like to participate in the reenactment.
"Greg said there would be a lot of high rollers in the tour and I told him I'd be willing to take out a second mortgage on the house to take part," he said. "We got in and it was a life-changing experience."
The tour turned out to be a 27-city, 4,000-mile cross country.
"It was a great tour," Jeanne said. "We started in Willow Run Airport in Ypsilanti, near Dearborn, Mich., where the original tour started."
The tour stopped at airports in Indiana, Illinois, Wisconsin, Minnesota, Iowa, Kansas, Oklahoma, Texas, Louisiana, Arkansas, Tennessee, Alabama, Georgia, South Carolina, North Carolina, Virginia, Maryland, Pennsylvania, and Ohio before returning to Willow Run.
"We flew at least two, lot of times three, and sometimes four legs a day on the tour," Dave said.
Allen has been in the cockpit for much of his adult life. He served 11 years on active duty as a C-130 rescue pilot and later retired from the Air Force Reserve. He joined United in 1985 and retired in 2005, flying 737s for the airline.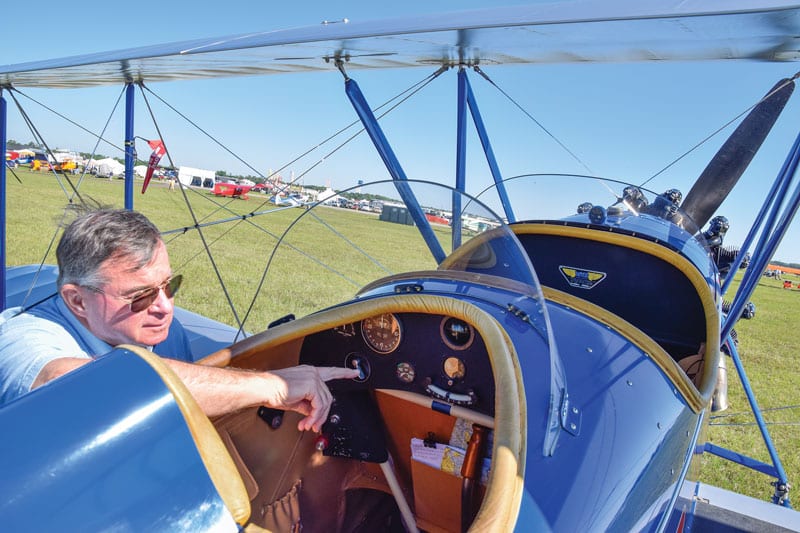 The Allens are from Colorado, but spent much of the past winter flying from Grass Roots Airport (O6FD) near Groveland, Florida.
When they came to SUN 'n FUN, they brought a binder with photographs on the history of the plane. That and a few odds and ends are all that fit in the little baggage compartment in the fuselage.
"The plane was bought new by a fellow named Fritz Martin," Dave said. "Martin was out of the Tulsa area and in banking and he purchased the plane in October 1930. The Great Depression was beginning, but photographs of the factory delivery show it with a custom paint scheme. It was a dolled-up airplane, one right at the end of the production run of the Waco 10. Why Mr. Martin would buy a dolled up 10 at the end of the production run is a mystery. The original aircraft fell on hard times and wound up as a crop duster in Arkansas in 1941 where it crashed."
Only the data plate and the paperwork survived until the Allens began recreating the plane in 1987.
Dave said flying the Waco is a pleasure, but still demanding, because it is an open cockpit tailwheel aircraft, with the tendency of the little wheel in the back to try and swap ends with the front wheels in a ground loop.
He said the open cockpit feel, the wind in the wires and the biplane experience are unique and, in his opinion, were probably best described by a fellow he knew riding up front for the first time. "He cursed and then said, 'Damn, this is like riding 17 Harleys at once.'"
The plane is equipped with the Wright J6 seven cylinder radial engine and turns a 102-inch Hamilton Standard propeller at about 1,800 revolutions per minute in cruise.
"It never sounds like it is working hard," he noted. "We get an airspeed of about 95 mph if we are lucky and can generally do 100 mph over the ground with no wind. The aircraft has 60 usable gallons and we flight plan for 11 gallons per hour."
The plane likes wide grass runways a lot more than asphalt, particularly narrow asphalt, Jeanne said.
Dave, 70, said Jeanne, 71, is a vital part of the restoration work.
"She's my quality control," he said.
"Dave was a modeler and that attention to detail helped him in the restorations," Jeanne said. "It takes tenacity."
"You have to be willing to work on something for years," Dave said, adding the project in their Colorado workshop at the moment is a Piper PA-11.
Jeanne noted that her mother, who was born in 1910, took a biplane ride as a girl and talked to her about the ride.
"I've always been interested in flying, so Dave and I have a common interest," she said. "We were an aviation family with our two sons and had a Champ before the antique airplanes."
She said she has been practicing flying the Waco and takes the stick occasionally when they are underway.
Dave said her most important role in flight, however, is to monitor the route on her iPad in the front cockpit and make corrections.
"I look for traffic all the time also," she said.
"We have the department of redundancy," Dave added with a chuckle. "I have XM weather on the Garmin 496 and she has ForeFlight on the iPad."
"The plane has gotten awards at Oshkosh, but I think that's the wrong motivation for doing a restoration," Dave said. "I think you should try to do it as accurately as you can, but get it out and share it. There is no sense in building a museum piece."
After SUN 'n FUN the Allens planned to attend the National Biplane Convention in Junction City, Kansas, then fly on home to Colorado.