While its business has been built on selling, servicing and installing avionics, it's a deep, lifelong love of all things aviation that has fueled Pacific Coast Avionics' continued growth and success.
No matter how you look at it, 25 years doing anything is a long time. Unfortunately, the vast majority of small businesses never get close to that milestone. And marriages…well, statistics show that 40% end at around the eight-year mark. Ouch!
So with those numbers in mind, you'll forgive PCA's Vice President and COO Dewey Conroy and his team if they seem more than just a bit jubilant about celebrating their silver anniversary.
"I am extremely proud of the fact that our success is totally due to the culture and commitment by our employees to put our customers first," Conroy said. "Everyone here is absolutely thrilled to be celebrating our 25th year of providing the best products and services to pilots and aircraft owners around the world. We love this industry and look forward to what the next quarter century has to offer."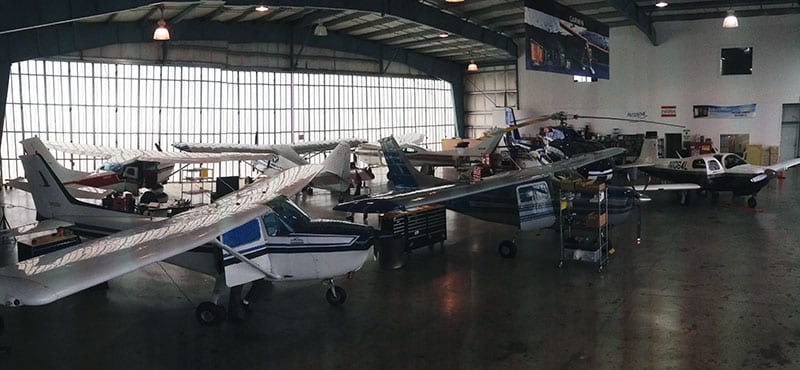 And when Conroy says, "We love this industry…" he means it. Heck, you don't get into the aviation industry to make a lot of money, you just gotta love it. And he does.
Conroy explained that his career in aviation began as a teenager when he worked as "ramp rat" at a local FBO.
"In 1978 I started working at an FBO in Hillsboro, Oregon, cleaning and fueling aircraft – the usual stuff," he said. "A year later, I went to another FBO to work in their shop and in a short time got promoted into the parts department. I spent a couple years there and then moved to Seattle to work in sales for American Avionics."
But, as much as he enjoyed his experience selling for American, Conroy had definite life goals and one of those was to own his own business. So when the opportunity came along, that's exactly what he decided to do.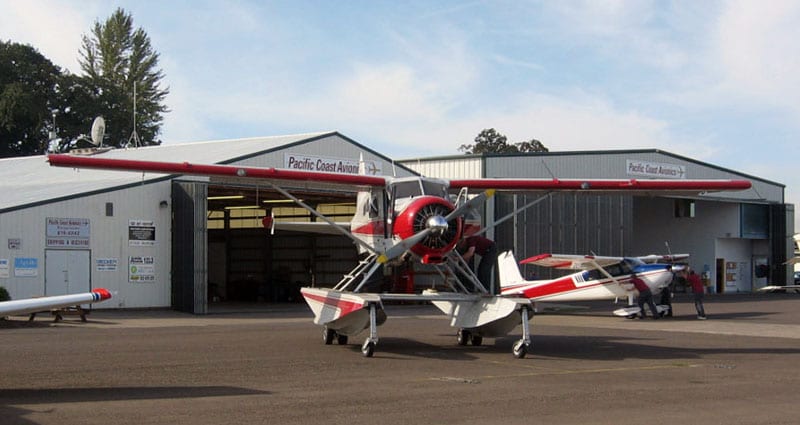 "Rick Garcia, founder of Florida-based Gulf Coast Avionics, offered me the chance to join him in starting Pacific Coast Avionics in June 1991," Conroy said. "We started with a mail order avionics and pilot supply operation located in a small office in an industrial park across from Auburn Airport, in Auburn, Washington."
The high level of avionics expertise and personalized service that would become the hallmark of Pacific Coast Avionics quickly caught the attention of area pilots and aircraft owners. And that led to growth into the avionics installation side of the business with the first project being the installation of an Apollo Loran in a Mooney.
"We saw a need in the market and started offering radio repairs and installations in late 1992," he said. "Of course, in order to do that we needed a location right on the airport. Luckily, a small shop inside a hangar had come available, so we moved in there."
Conroy explained that that move was the company's turning point. Soon it added a second avionics sales representative and a second installation technician – and that was just the beginning, according to Conroy.
"By 1996, we needed to expand our buildings to handle the growth in our installation and upgrades business. We just had no more room to park the airplanes," he said. "We tried to put together a deal with the Auburn Airport managers, but they weren't interested in working with us."
Back home in Oregon
"Being an Oregon boy, I relished the idea of moving our growing company back home," he said. "I knew the state offered a better business environment, so after making a few inquiries we found our current location here at Aurora State Airport, in Aurora, Oregon," Conroy said. "We relocated here in 1997 and immediately realized the need to hire more avionics installation technicians."
Of course when you have more installers, you get more airplanes and that means you need more hangar space. With apologies to the Chamber of Commerce, Oregon is no place to be doing avionics installations out on the ramp, especially in winter. So in 2001 PCA opened a second 8,500-square-foot hangar.
Today, the company has 17 full-time employees and has grown to provide everything from pilot's supplies to full-blow custom avionics installations ranging from single intercoms to complete avionics suite upgrades on everything from homebuilts to business jets, helicopters and an occasional warbird or two.
"No matter what the installation needs, from custom CAD layout, to precise CNC panel cutting, to powder coating and lettering, we do everything in-house," Conroy said. "We're extremely proud that thanks to our high level of work and customer satisfaction, Pacific Coast Avionics is recognized by customers and suppliers alike as one of the top avionics shops in the western U.S."
The company's successes have also garnered awards from the major avionics OEMs, including being named a Garmin Top Ten Dealer for the past 16 years. In addition, the company has also earned Elite Level Dealer status from Avidyne, Genesys Aerosystems (S-TEC), Aspen Avionics, and other manufacturers.
Conroy also explained that along with PCA's in-house fabrication capabilities, he feels that another differentiator between his company and other avionics shops is that he and his team approach every project with the mindset of an aircraft owner.
"I'm an aircraft owner and, like our customers, I realize this is a significant financial investment they are making in their aircraft," Conroy said. "It's critical to everyone here that each customer comes away from the experience feeling happy. If they do, they'll tell their friends. I guess it's working because since day one, word-of-mouth has been our best form of advertising. We don't want that to ever change."
A business built around a passion for aviation
While Conroy's career in aviation may have started as a teenager, his love affair with flight began much earlier in life.
"I don't remember if it was Sky King or the Whirlybirds TV shows we watched as kids, but my older brother and I have always been interested in airplanes," Conroy said. "My brother got his private at 17 and worked his way up as a flight instructor and as a commercial pilot. He retired after 20 years as a 737 captain with American Airlines. He's currently flying a Citation XL for a company here in Aurora."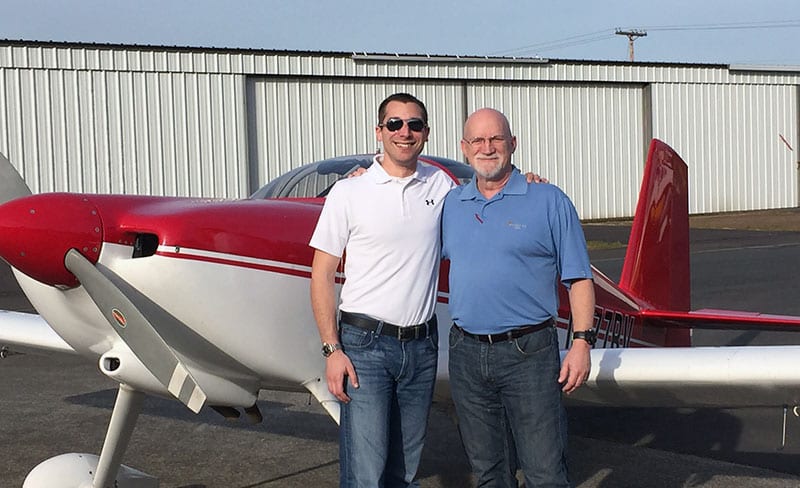 "My son, Trevor got his love of flying from me," he said proudly. "After getting his private certificate at 17, he built hours as a 'freight-dog' pilot flying a Navajo at night, while earning his degree in business management. Today, he's a professional pilot like his uncle, flying a King Air C90, King Air 350, and a Bombardier Challenger 300 for a local corporation."
As for his own aviation background, Conroy started taking lessons in April 1976 and got his private that August. But, like a lot of guys, when marriage and children came along, in addition to growing his business, flying for fun took a back seat.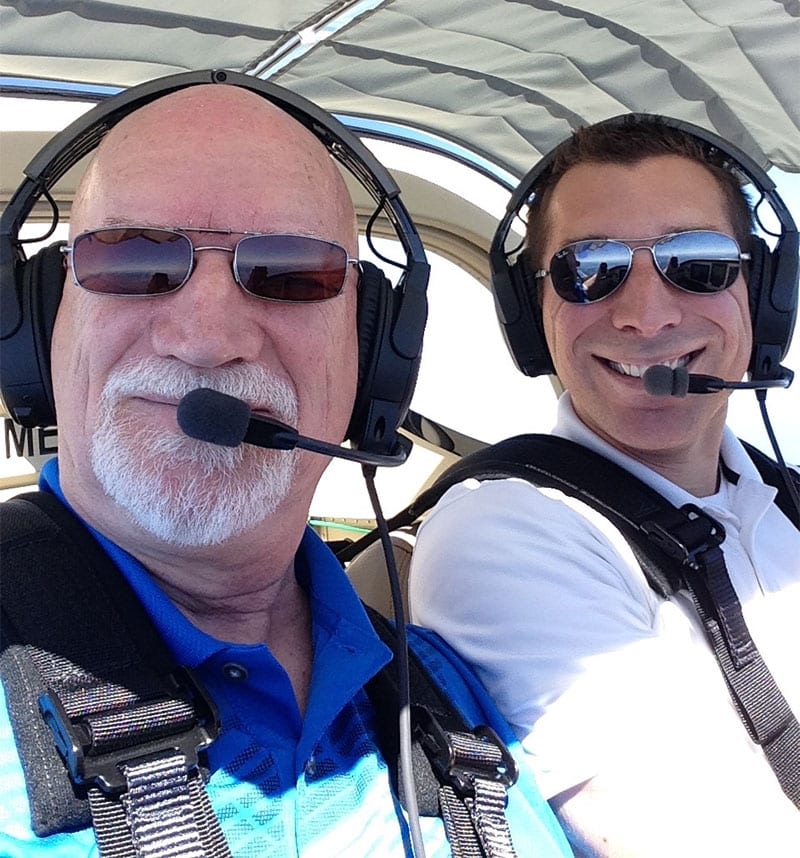 "But I never lost the passion. When my kids got older, I got back into it and now have over 1,300 hours," he said. "I have a small part of a Cessna 140 with my brother and another friend, and my son and I built a Van's RV-7."
While he's had a lot of wonderful memories as a pilot, one of his fondest comes from 2010, when he and his son were flying to Oshkosh aboard a friend's Cessna 182.
"Trevor wanted to build an airplane and asked me if I was interested in a father/son project," Conroy said. "Who wouldn't jump at a chance like that? So a couple of months later we started the tail kit on our Van's RV-7. We flew the airplane for the first time in April 2015. And, of course, the RV-7 has a full-loaded, custom panel built by Pacific Coast Avionics."
"To be honest, I helped him build the airplane," he said. "Trevor spent much more time on it that I did. But no matter, it was a great bonding experience and now we're having a really good time flying the airplane whenever we can."
Conroy said that even with nearly 40 years in aviation, his passion is as strong today as ever, and that the hours he spends flying the RV-7 or Cessna 140 just continue to fuel his love of airplanes and aviation.
"After all these years, I still look up every time I hear an airplane," he said. "It's a mystery to me why other people don't find airplanes as much fun and as fascinating as I do!"
As for his time in the left seat of Pacific Coast Avionics, Conroy's enthusiasm is as strong as ever.
"One of the biggest opportunities for the next few years is going to be the ADS-B mandate and we will be staying very busy with that," Conroy said. "In addition, we will continue to evolve into upper end products and projects for larger Part 25 aircraft. It's just as exciting to me today as it was when we filled our first order back in 1991."